While I don't think my family is as invested in Hallmark movies as I am, they still love a good Christmas movie. So I set out to find a great list of Christmas movies for Families for us to watch together.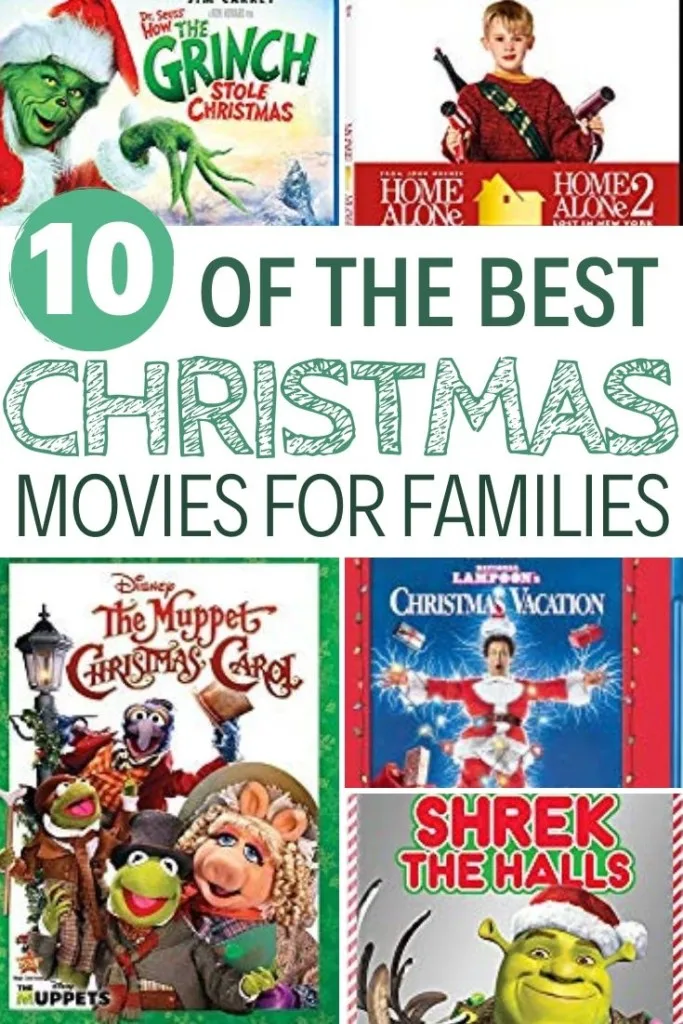 This post contains affiliate links.
There's nothing better than spending the holidays with family. I love to spend time with my family and to document the season.
One of our favorite things to do is to grab some popcorn, cuddle up on the couch and enjoy a good Christmas movie.
But not every Christmas movie is family-friendly! Luckily, there are a lot of fun Christmas Movies for Families. If you're not quite sure where to begin or what movies you should watch with the kiddos, no worries, here are a few of the best Christmas movies to watch with family.
10 of the Best Christmas Movies for Families
Santa Paws, who is Santa's helper, notices that the Christmas spirit icicle is melting because there's not much Christmas spirit left. The team is counting on Santa Paws to help spread the importance o Christmas and the spirit for generations to come.
Zeus, a former K-9 police hero doesn't seem to be the protector they thought he was until two burglars set out to break into their home while they're away for the holidays. Zeus comes to save the day and proves that he is not only a hero but so is every other dog.
A young mother rediscovers the joy of Christmas thanks to the faith of her 6-year-old daughter. This movie is definitely a tearjerker, so watching it as a family might be best.
No Christmas movie will be complete without at least one of the Home Alone movies. When Kevin is accidentally is left by himself during the holidays, and soon has to defend his house from burglars. Kevin gets pretty crafty and creates a crazy experience to scare away the burglars.
Shrek, Donkey, and Puss in Boots is back as Shrek tries to pull off the best holiday ever for his friends and family. Of course, there are always a few hiccups that need to be solved before it's the best Christmas ever.
In this fun holiday movie, a young girl is in a small accident which transports her to a dream world filled with nothing but Mother Goose characters. Can they help save the town from the not so nice characters?
This has become a classic holiday film. The Griswold's holidays are filled with nothing but chaos and comedy, but it's then realized that in the end, friends and family is what the holidays are all about.
After an unfortunate fall for Santa, Calvin soon takes over as being Santa and realizes the job is not as easy as it seems.
Another fun classic for kids, just portrayed by the muppets themselves. See the story of Ebenezer Scrooge who isn't very jolly and helpful during the holidays realize the special meaning of Christmas and the good that comes with helping others.
The classic tale of the Grinch, who sets out to destroy Christmas in Whoville because he felt shunned and unwelcome by the community. The Grinch finds out he actually has a heart and does really care for people
So there you have it, some of the Best Christmas Movies for Families. Which one are you and your family going to watch on family movie night?