Looking for a great gluten free character dining experience? On your next visit to Disney World, check out the gluten free character breakfast at Ohana. It's one of our favorite restaurants at Walt Disney World Resort with delicious food and a great experience overall .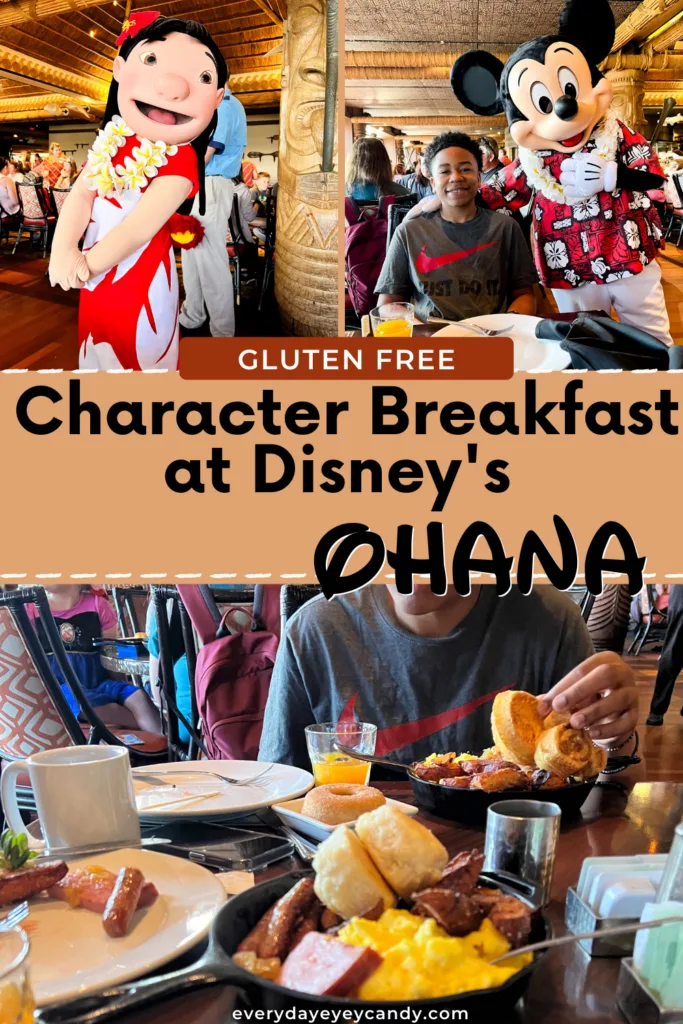 This blog post contains affiliate links. Everyday Eyecandy is a participant in the Amazon Services LLC Associates Program, an affiliate advertising program designed to provide a means for sites to earn advertising fees by advertising and linking to Amazon.com.
We eat a Ohana Breakfast at Disney's Polynesian Resort EVERYTIME we go to Disney World. Since it is my son's favorite place to have a gluten-free character breakfast at Disney, we make it a priority. Plus,it is SO MUCH FUN!
What to Know Before You Go
Since Ohana is one of the more popular Disney restaurants, we always make a reservation through the My Disney Experience App or online. When you make a reservation , you can make a note of what food allergy or food allergies that you have on your reservation. When you arrive, your server (a Disney cast member ) should be aware, but make sure! You can speak to the chef if you are uncomfortable or if it is your first time dining at Ohana. They also have an allergy menu now that lists all of the gluten-free options! So make sure you check that out also and ASK QUESTIONS.
To find more tips about eating Gluten Free at Disney World, Check out this guide for gluten free dining at Disney World.
Where is Ohana Located?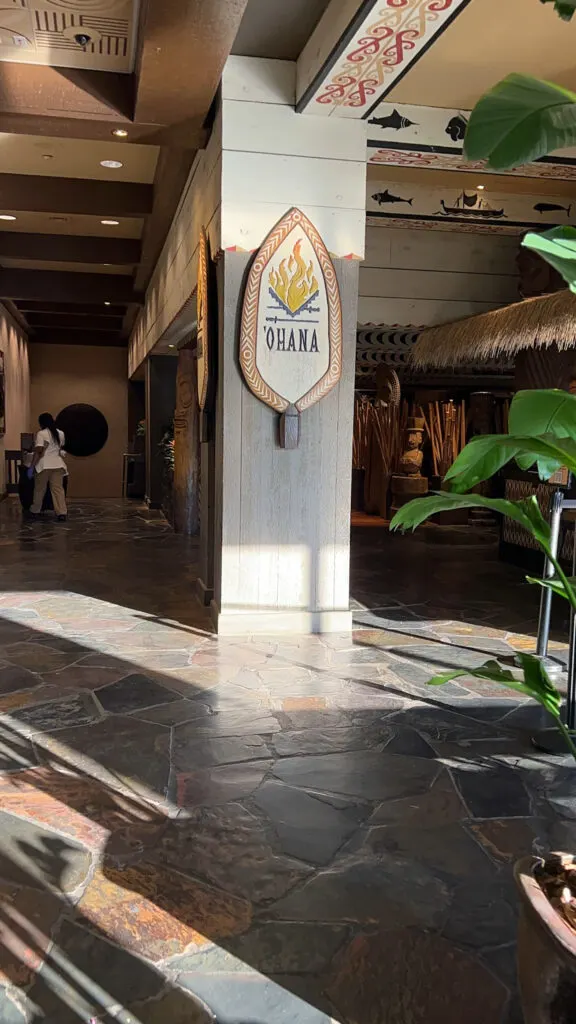 Ohana is located on the second floor of the main building at Disney's Polynesian Village resort. The Polynesian is located two monorail stops from The Magic Kingdom and there are views of the Cinderella castle from the restaurant.
Characters at Ohana Character Breakfast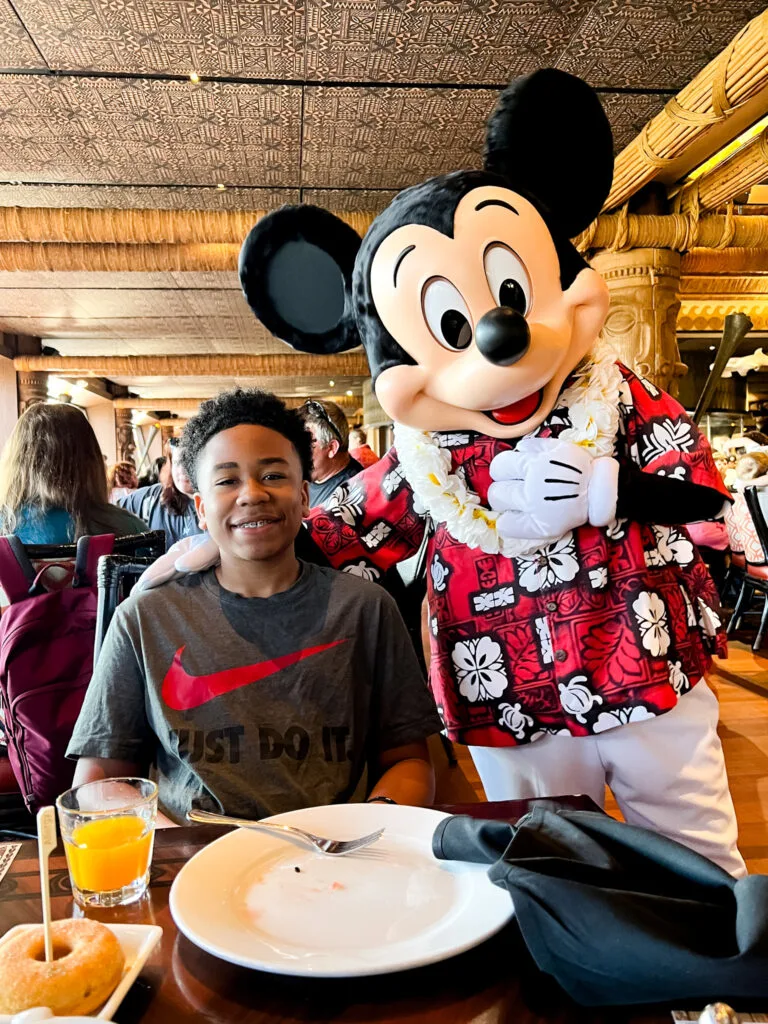 Character Meals at Disney are a must when you are visiting! It is part of the magic at Disney to have character interaction with your favorites, and Ohana has one of the best character breakfasts on a Disney property. The restaurant has a Lilo and Stitch theme and you get to see Mickey Mouse, Lilo, Stitch and Goofy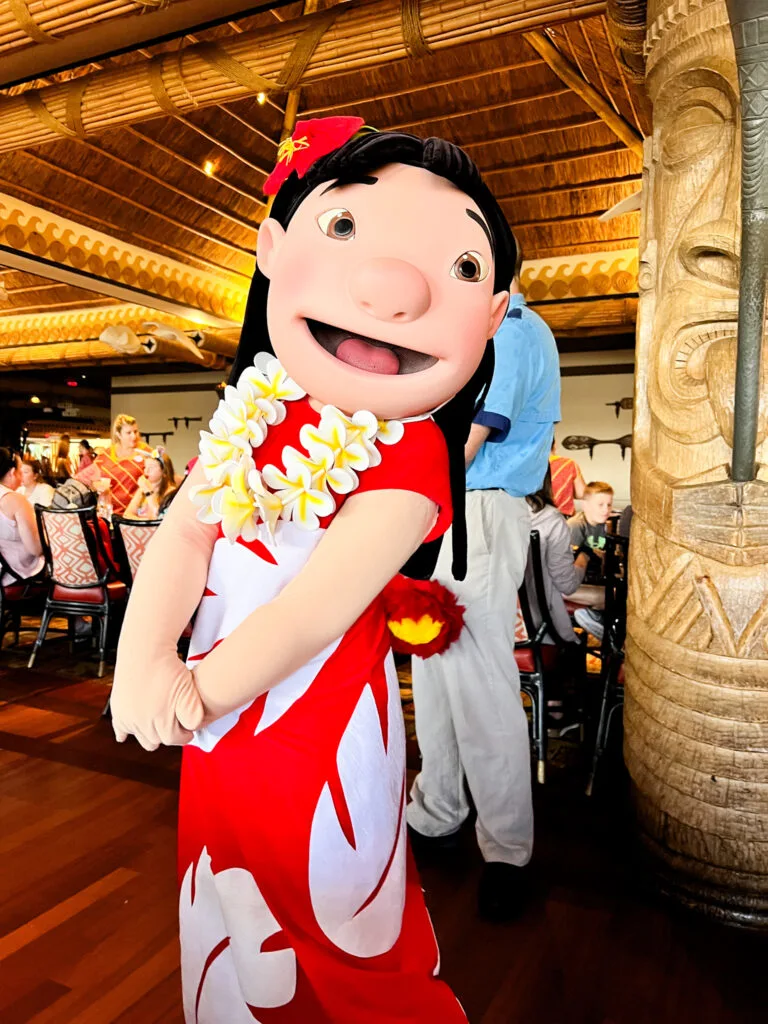 The Gluten Free Character breakfast at Ohana Menu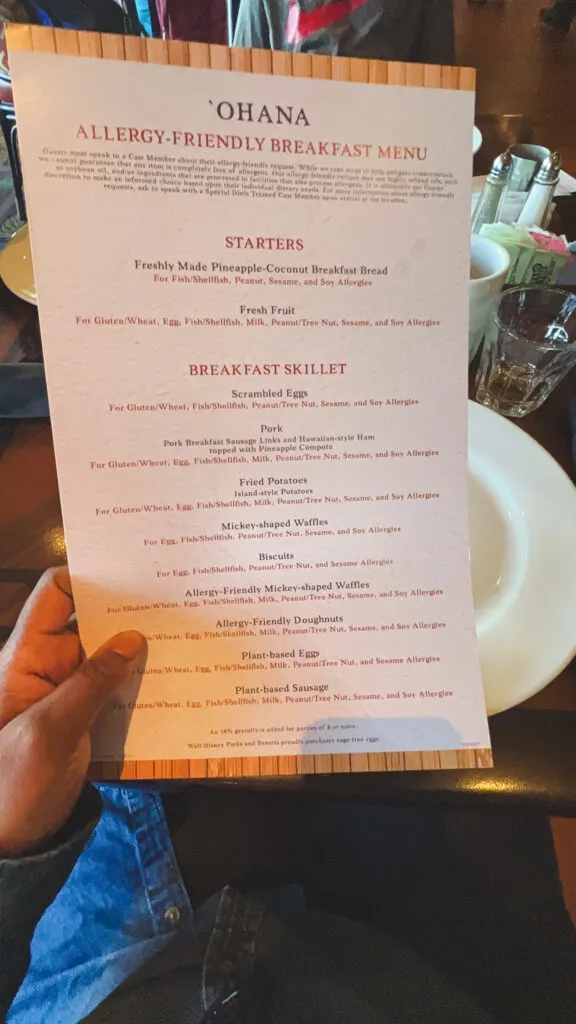 Friends, after years of just having to speak to the chef, Ohana has an actual allergy-friendly menu! The allergens for each menu item is listed so that you can see exactly what is gluten free.
So what's on the menu?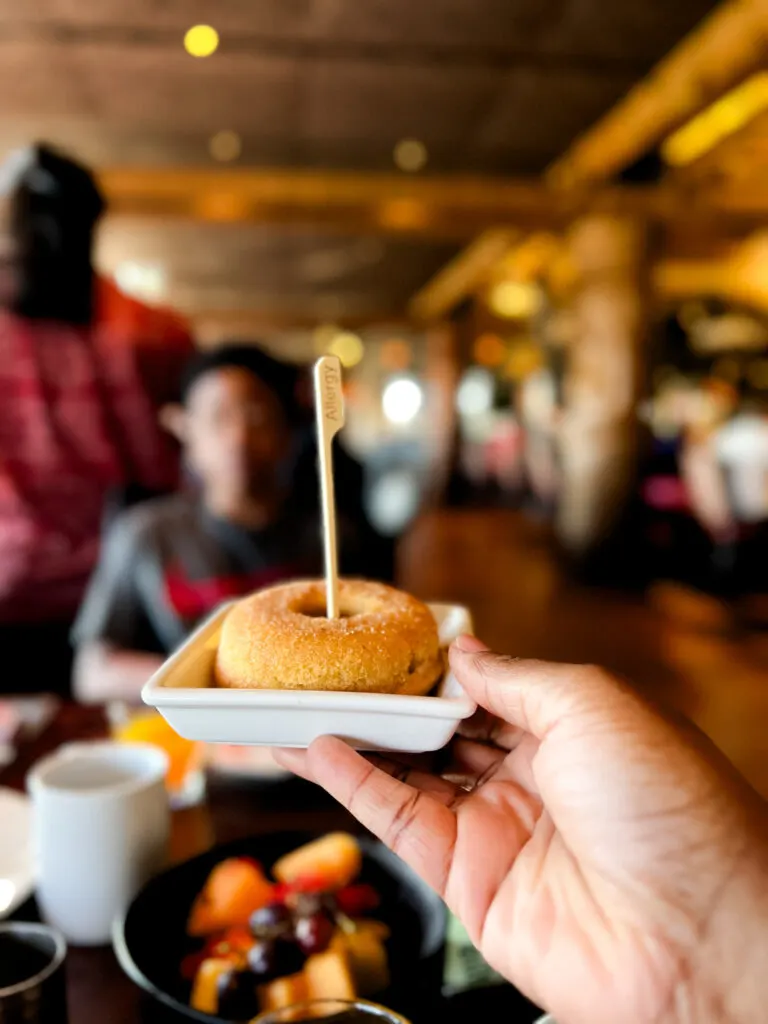 Ohana is known for it's delicious Pineapple-coconut bread, but since it's not a gluten free food, my son got a cinnamon donut from Erin Mckenna's Bakery nyc that is located in Disney Springs and there was fresh fruit.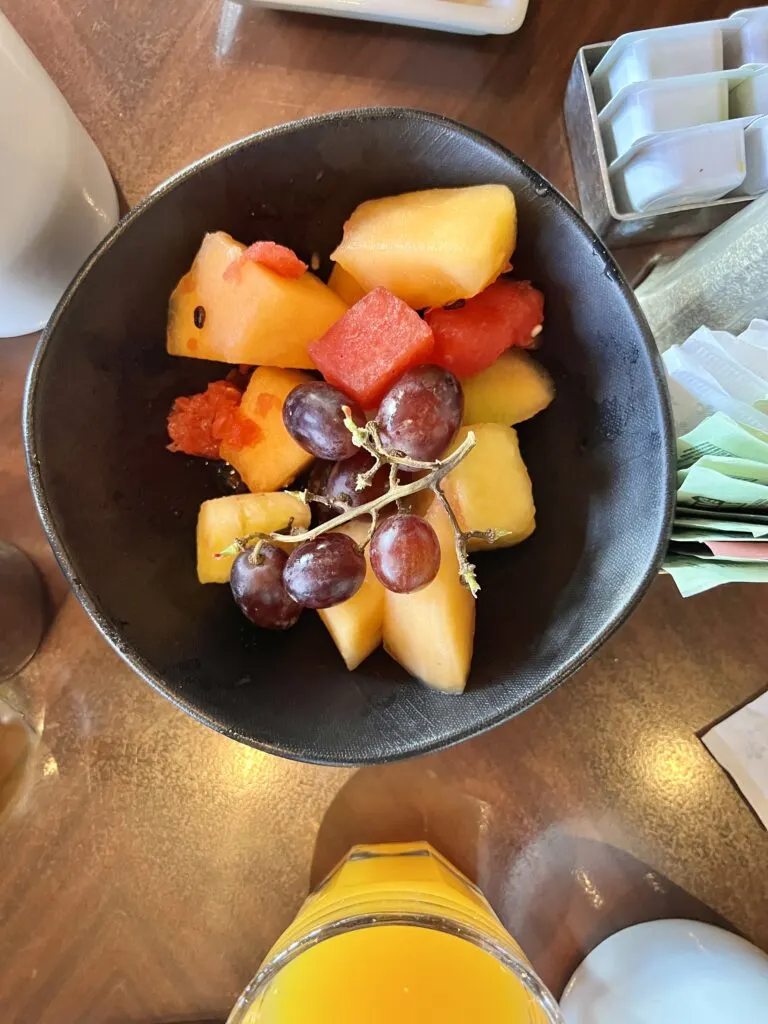 Want to eat Gluten Free at Disney Springs? Check out this guide of 10 Restaurants to try
Food is served as a family-style meal in large cast iron skillets But the gluten free/allergy meal, comes in it's own cast iron skillet and food is prepared in separate areas to avoid cross contamination. It is a LOT of food!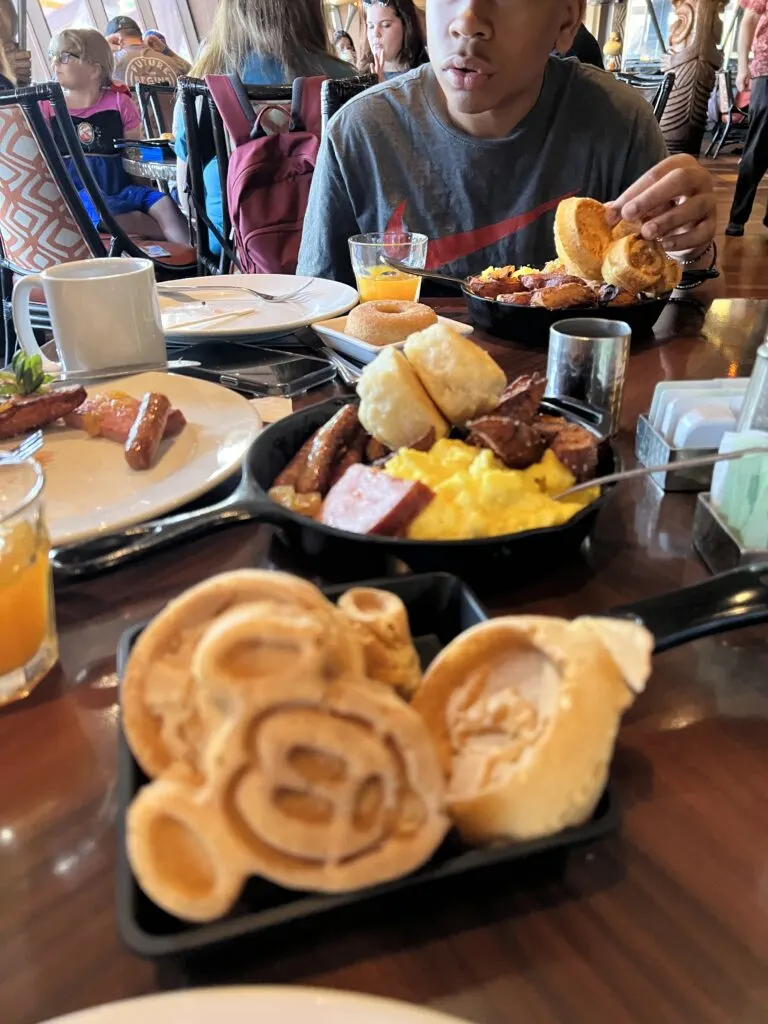 So what comes on the platter? Of course, there are gluten-free Mickey waffles and Stitch waffles! Also included are the fluffy Disney scrambled eggs (I asked once what the secret was and friends, it's butter), ham with a pineapple compote, wedge-style breakfast potatoes, and breakfast sausages. And the best part? They will keep bringing you more! And that includes the allergy meal! So if you request more gluten free waffles, they have them ready and will bring them out! No problem!
How much is the Gluten Free Character breakfast at Ohana?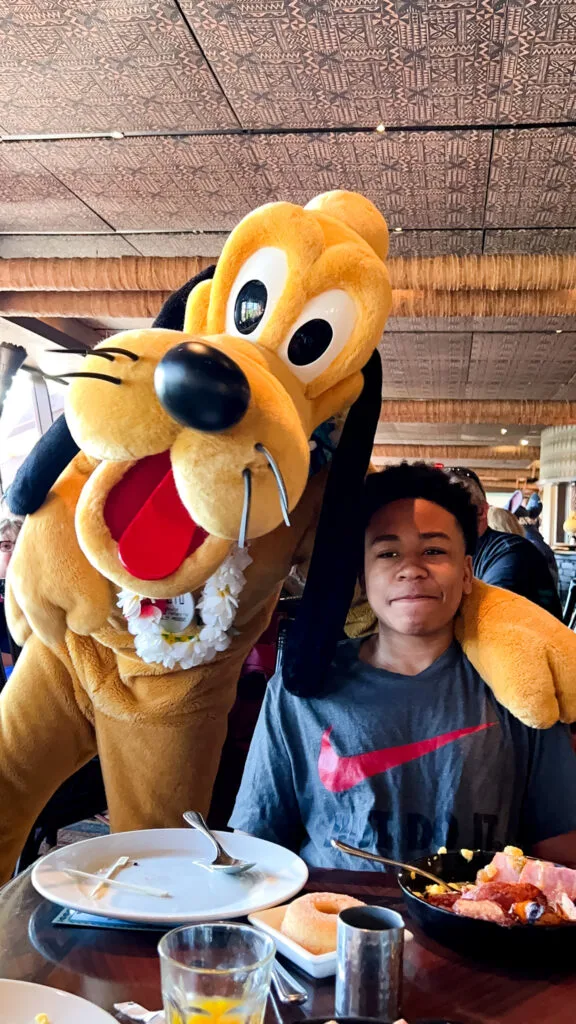 Ohana is a family-style, all-you-can-eat experience. Breakfast for adults is $59.99 ( 10+), and for kids ( 3-9) $35 plus tax. It is worth every penny to interact with the characters, the great view and the delicious food.
So are you going?
In conclusion, I have to say that because of the great service and the great food, this is one of the best character dining experiences if you need gluten-free food due to food allergies or celiac disease. The food is great and the wait is minimal even when you factor in the allergies. We can't wait for our next visit!
Have you ever eaten at Ohana or thinking about visiting Disney World with a gluten free diet? Let me know in the comments!