If you are celiac or have a gluten allergy, Disney World is one of the best places to vacation! Check out this guide to eating Gluten Free at Disney World. Follow this comprehensive guide with tips and a guide to the best dining options for a delicious and worry-free visit !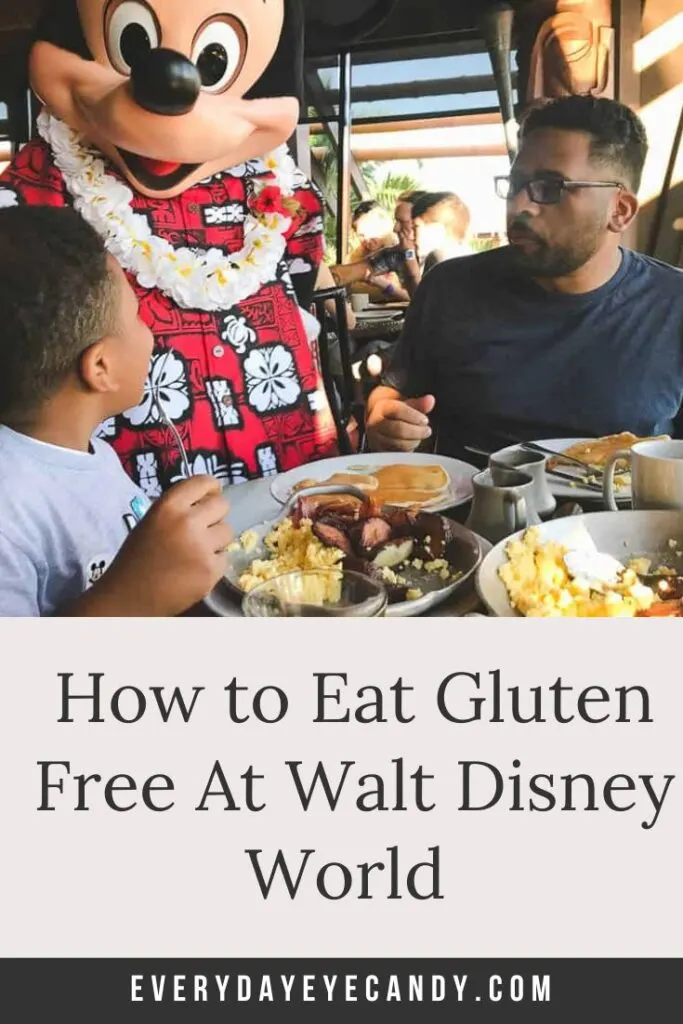 Traveling with a child who has to eat gluten free can be stressful! Especially when visiting a theme park! From researching the perfect restaurant to searching scoring the internet for updated menus and reviews, to hoping and praying that there is something in the park that your picky child will eat…it's enough to make you pull your hair out.
The easy solution: stay home. But an even better solution? Go visit a Disney World Resort.
Disney World, and Disney's other theme parks and cruises goes above and beyond to accommodate visitors with food allergies so that their guests can enjoy their vacations without worrying endlessly about what and how they are going to eat.
They understand that food is a major part of the experience. We have visited Disney World several times over the years and each time, they have made eating gluten free at Disney World a stress free experience. Each and every time.
So after answering many many questions from readers and friends, I put together this guide:
How to Eat Gluten Free at Disney World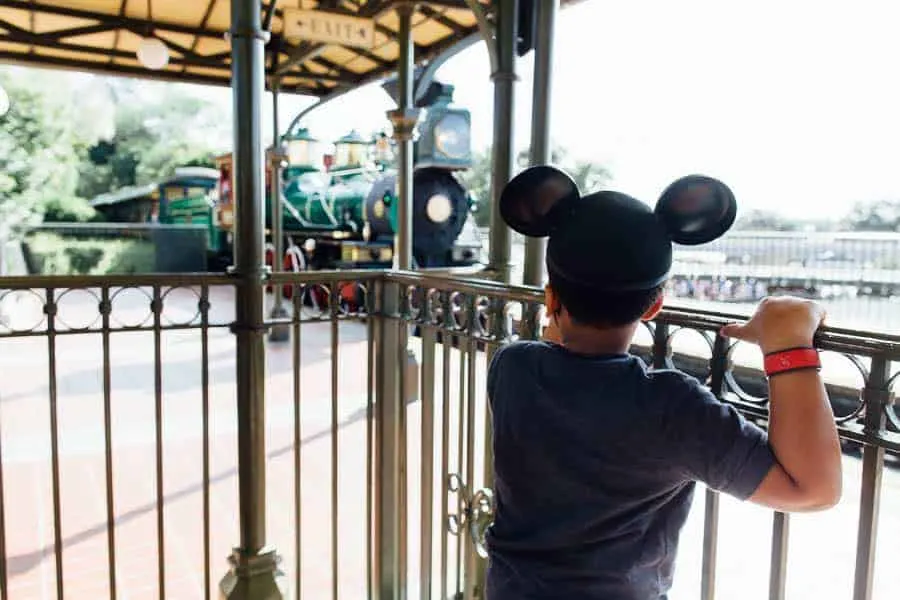 Disney is a company is known for its attention to detail. That attention to detail extends to Disney's commitment to guests with food allergies.
There are special menus and choices at most of the restaurants in the parks and resorts. When preparing to eat gluten free at Disney World, all you need is research, patience and a little time and your visit can be relatively stress free.
So let's get you ready!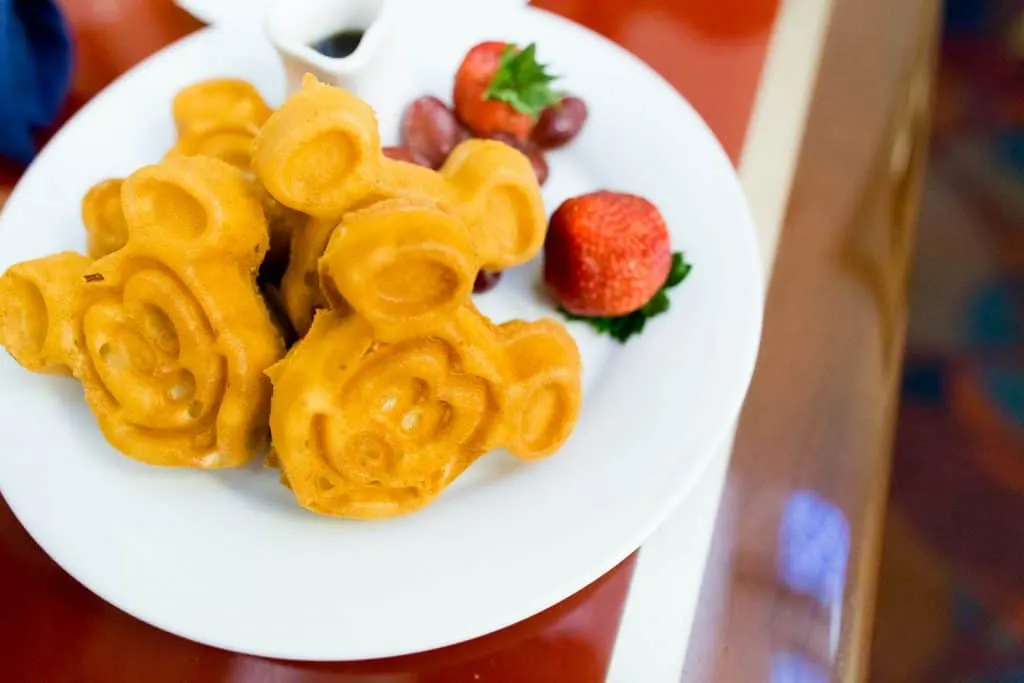 Tips for Eating Gluten Free at Disney World
First Things First : Disney World Dining Planning
Make Reservations/Plans: Our personal experience has showed us that making reservations is one of the best ways to go. Mainly because it makes it easier for us as a family with food allergies to eat worry free at restaurants in the park . With where we are going to eat planned out and or reserved, I'm not scrambling to decide at the last-minute where we are going to eat. When you book a Restaurant through the My Disney Experience App, you can make special dietary concerns and requests known.
Be Prepared: Make sure you have medications, your Epi-pen if needed and a list of hospitals and Urgent cares near your hotel and Disney World itself. Sometimes despite the best efforts, there is always the possibility of cross contamination. Better to be safe than sorry.
How to Eat Gluten Free at Disney World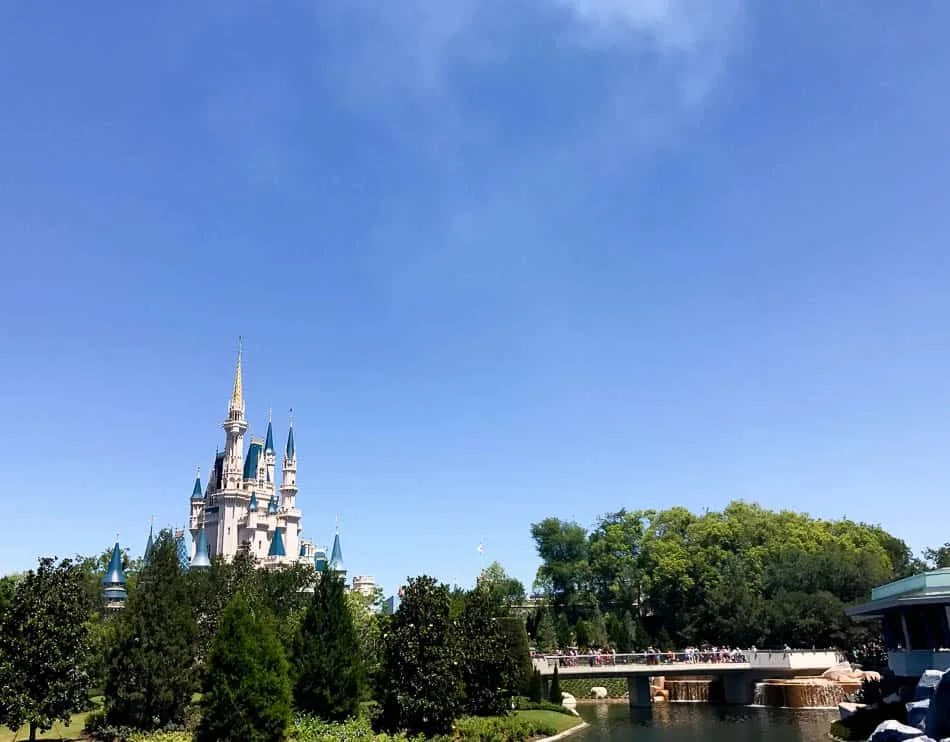 So how does this work? In 2015 Disney launched allergy-friendly menus throughout the Disney World resort that cover the top 8 most common allergens: gluten/wheat, milk/dairy, egg, soy, peanut, tree nut, fish and shellfish.
So let's talk about how each type of Disney restaurant/eatery/kiosk works.
Table Service gluten free options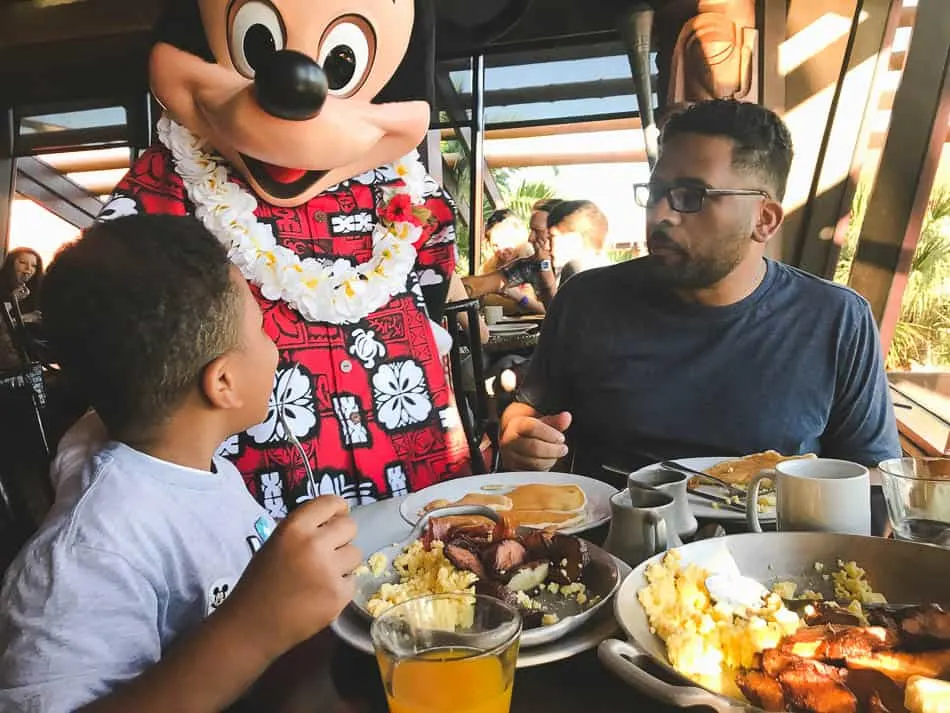 Table Service Restaurants, ( AKA a sit-down restaurant) .Most, if not all Table Service locations at Disney provide gluten-free menus and alternative meal options. Most have the same basic procedure: when you make a reservation for a restaurant, you will see the Special Dietary Requests section.
Make sure to check off wheat/gluten as your allergen( and any others that you or your family may have). When you arrive, be sure that the host or hostess knows about your food allergies from your reservation ( like a double-check).
When seated, the server will give you a special allergy menu and ask if you are comfortable ordering or if you need the Chef to come out. I ALWAYS ask for the Chef. Every Disney Cast member is super helpful and they truly don't mind!
Some of my favorite Table Service restaurants include Citricos in the Grand Floridian, Liberty Tree Tavern in Magic Kingdom, Ohana at Disney's Polynesian Village Resort.
Disney World Buffets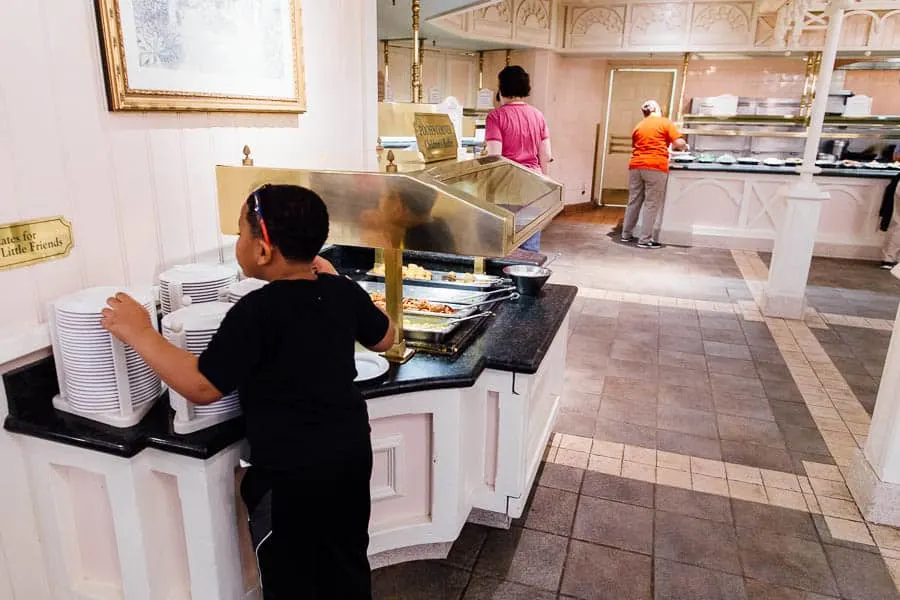 When you arrive, ask to speak to the chef. If you have made reservations before hand, your server should know that you need to eat gluten free and they will automatically notify the chef that you have arrived.
A chef will come out and actually take you around the buffet line to show you what you can and cannot eat. They are also happy to bring a plate out from the back if you are really concerned with cross-contamination.
I will say that we have never felt the need to do that even though my son's allergy is pretty severe. He has been perfectly safe with no issues of cross-contamination when we eat gluten free at Disney Buffets.
Update for 2023: for the Crystal Palace. When we visited, they had an actual allergy menu with menu items listed of everything on the buffet that was gluten free. My son looked at the menu and then was able to chose on his own. Important thing for a teenager.
Some of our favorite restaurants: The Crystal Palace in Magic Kingdom , Tuskar House in Animal Kingdom and Cape May at Disney's Beach Club Resort.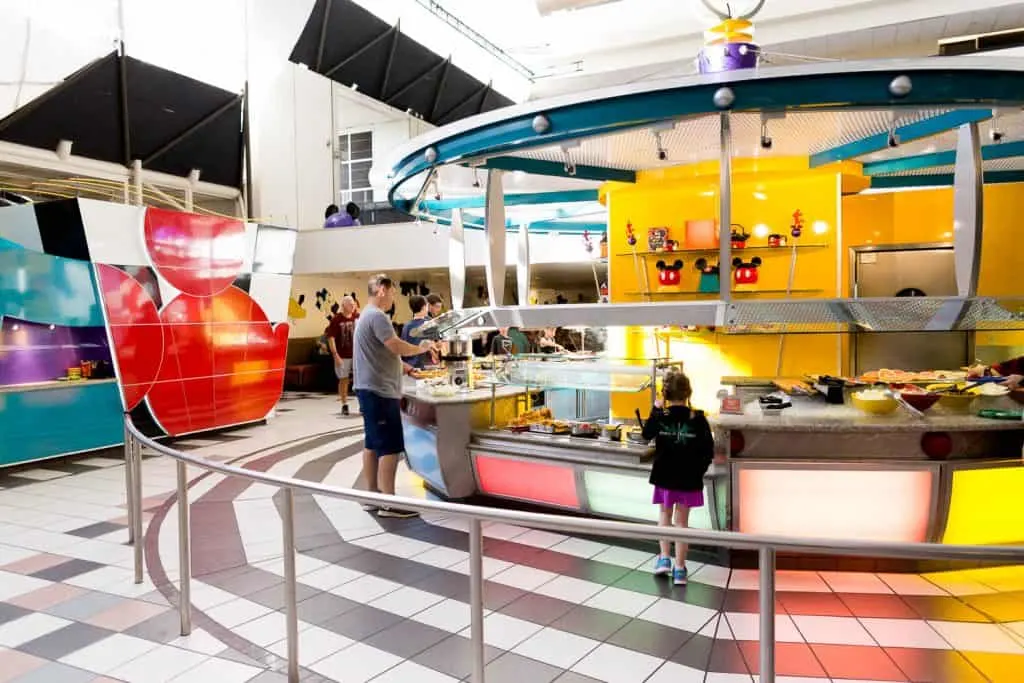 Disney World Gluten Free Quick Service and Mobile Ordering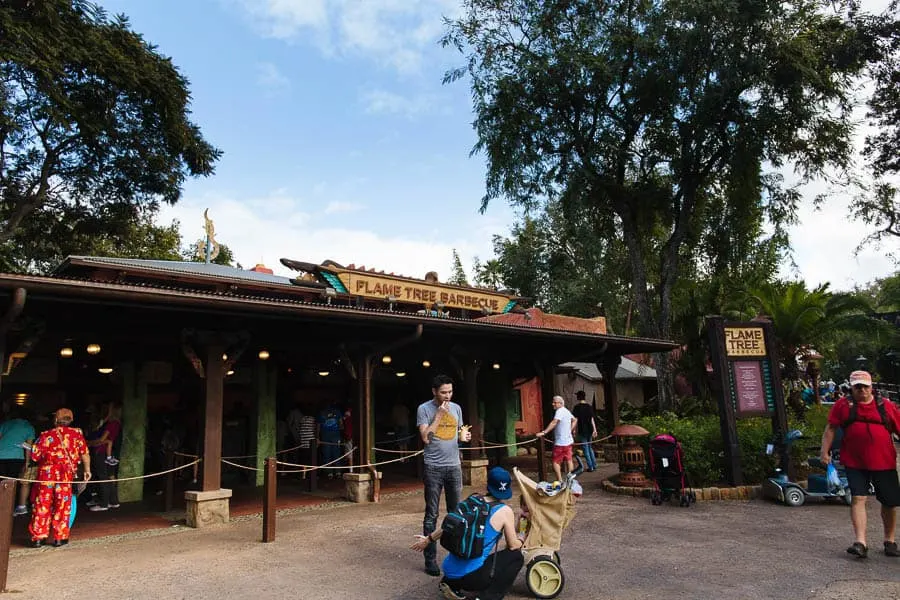 When you don't have time for a sit-down meal, or you have a kid you just know won't tolerate it, Quick Service restaurants/kiosks are perfect AND most can accommodate gluten free allergies.
Quick service includes everything from ice cream shops to pizza places to burger joints . Like I said before, there is something for EVERYONE at Disney World when you are gluten free.
Not just your standard grilled chicken!! Instead of alerting the server, you would tell the cashier that you need a gluten free meal and they get a manager or coordinator to walk you through what is safe to eat.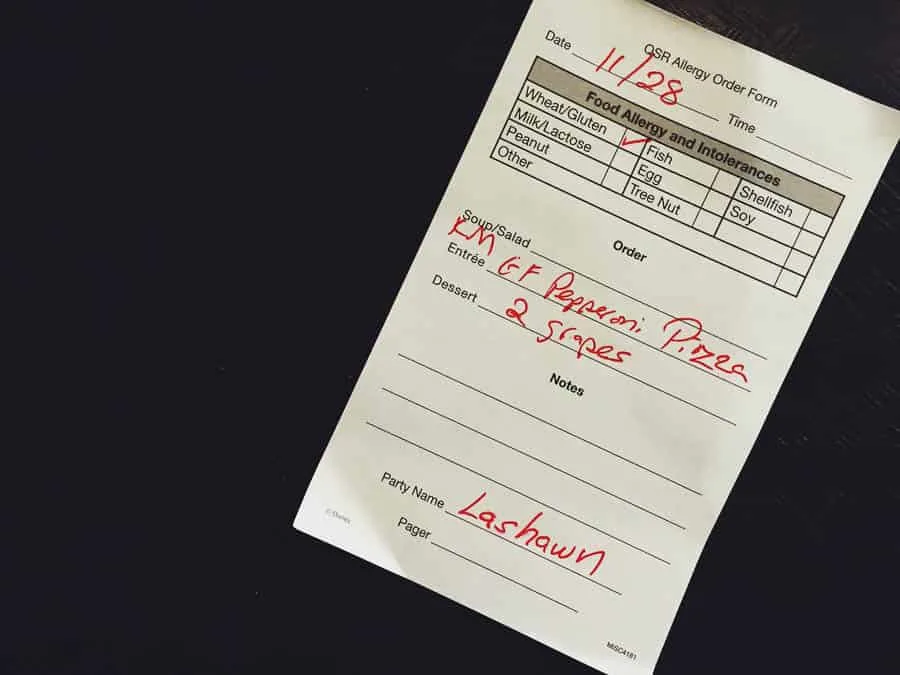 A lot of quick-service restaurants do have full gluten free menus and will make your meal using special ingredients and gluten free products and dedicated fryers for french fries and other fried gluten-free items. so don't be afraid to ask! That is how we got this Gluten Free Pepperoni Pizza after a late day at the park!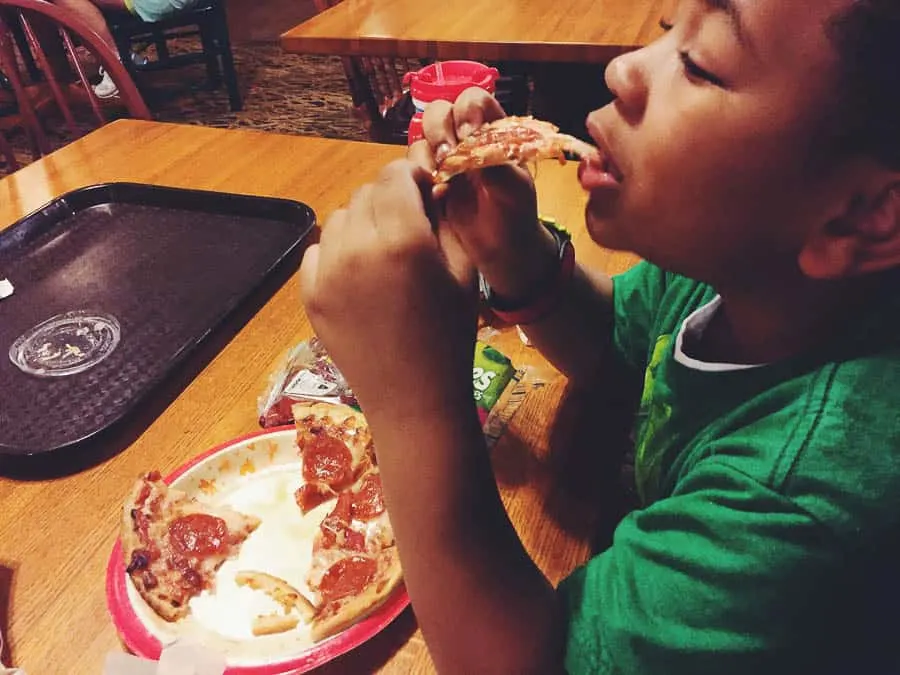 Favorite Quick service locations: Flame Tree barbecue In Animal Kingdom, Cosmic Rays in Magic Kingdom and Backlot Express in Disney's Hollywood studios
Best Gluten Free Snacks at Disney World
One of the things I was so surprised about is that there are so many gluten free Disney World snacks and treats that you can enjoy during your visit! For children especially, it's a joy to be able to randomly stop and get a snack!
It makes them feel like everyone else during the trip! I love that most of these items listed below can be found at snack locations throughout the parks,
Dole Whip: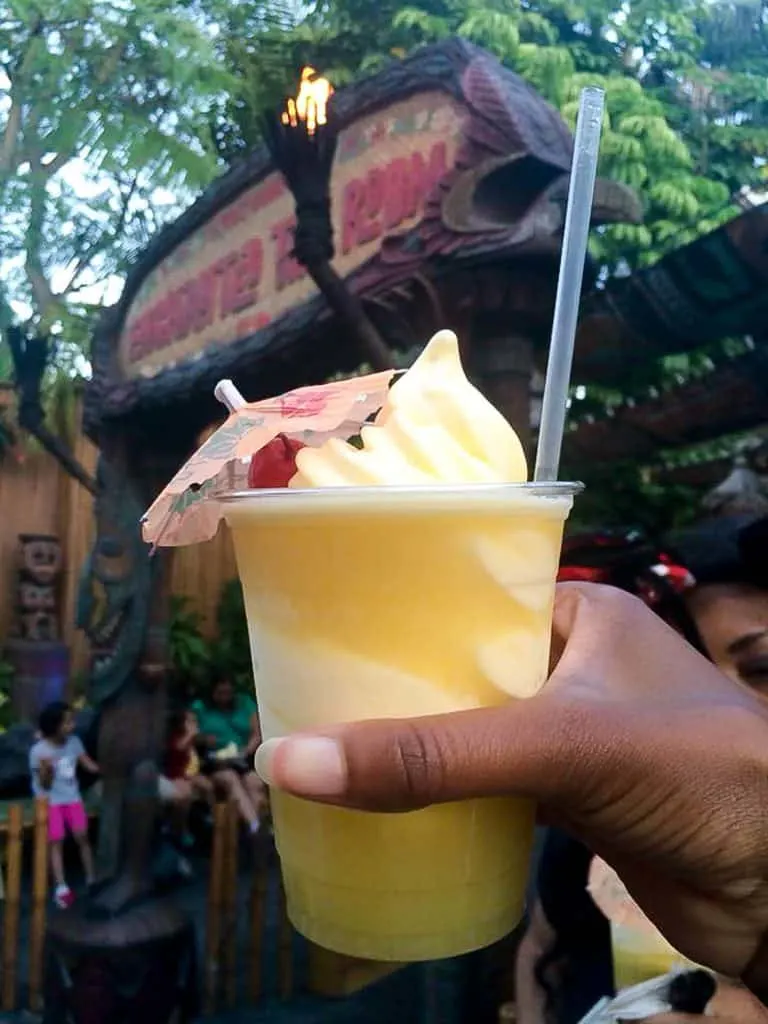 I was surprised that this cult classic is GLUTEN FREE!
Soft Serve Ice Cream
As long as you don't get a cone, it's perfectly fine for gluten free visitors.
Is the popcorn at Disney World gluten free?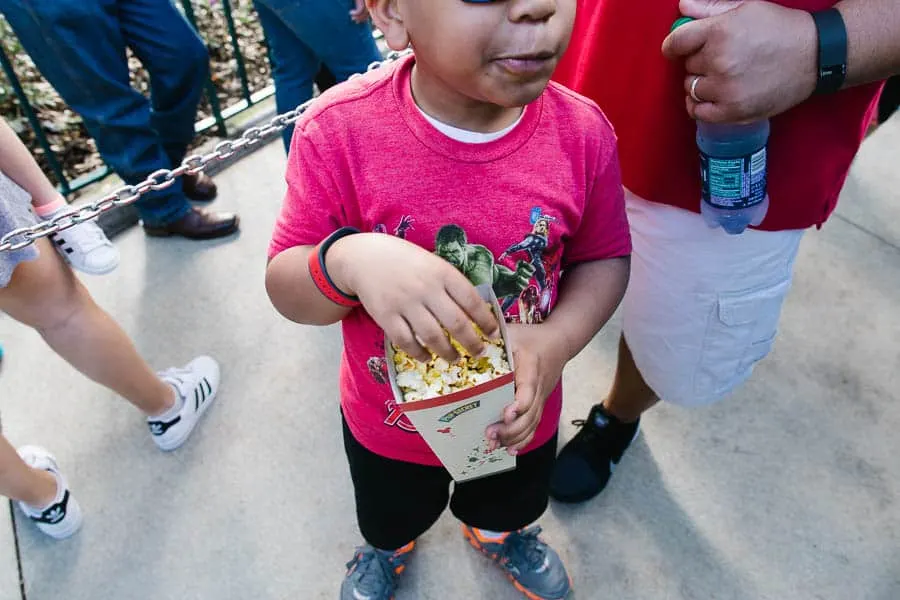 My child is obsessed and it's a must have each and every visit.
Mickey Ice Cream Bars
YES it's gluten free!
Cupcakes and Cakes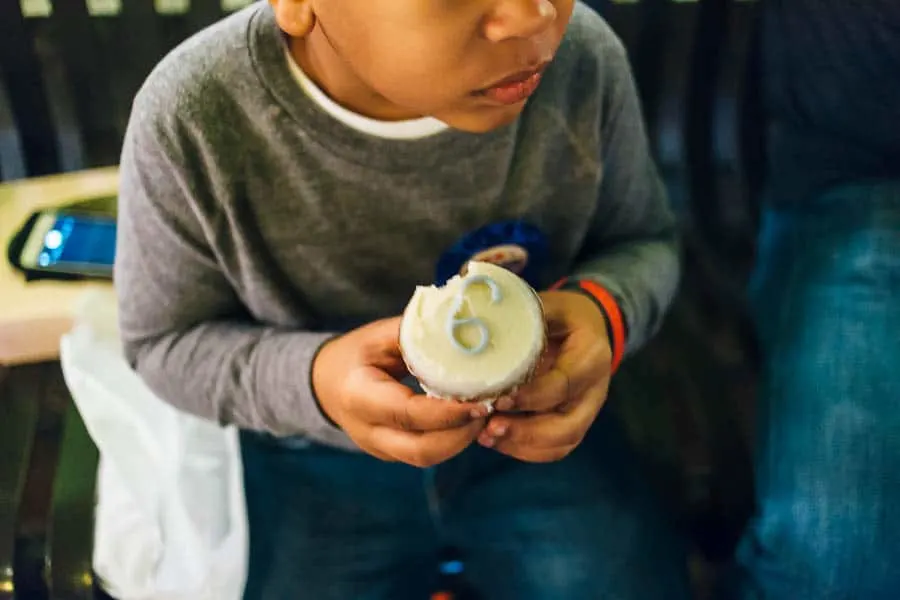 Besides the gluten free baked goods at the Gardens Kiosk at Animal Kingdom, you can also enjoy vegan gluten-free cupcakes at Erin McKenna's Bakery NYC in Disney Springs. And don't forget to get Gluten Free Beignets at Scat Cat's Club – Cafe at Disney's Port Orleans Resort – French Quarter.
Disney Springs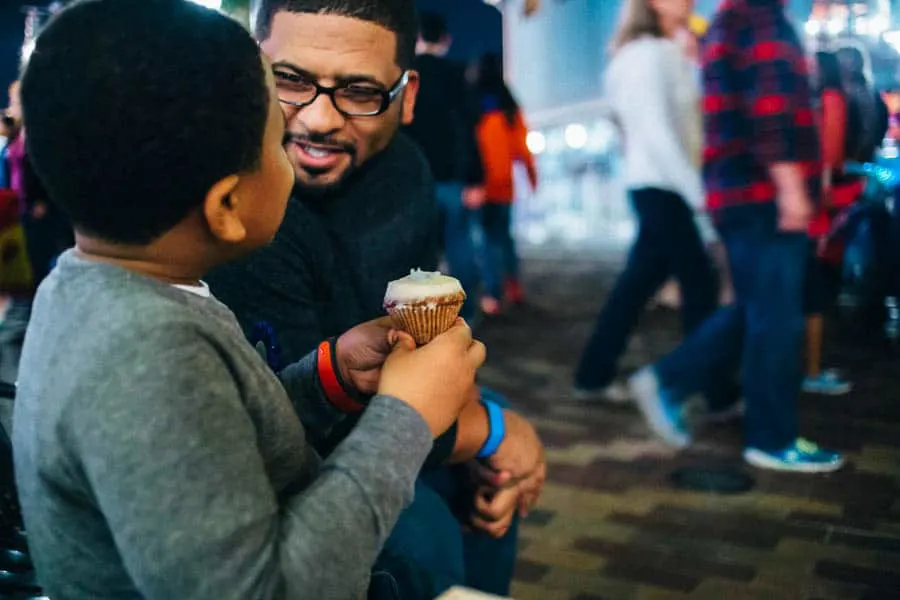 Disney Springs is perfect for shopping and FOOD! Formerly known as Downtown Disney, this entertainment, dining and shopping area is home to many amazing restaurants. The restaurants aren't Disney owned, but many of them still follow the same policies and can be reserved through the app.
So follow the same procedure. And if you can't reserve a spot, make sure you tell your waiter/waitress that you need a gluten free menu. In my experience when the server isn't sure, they will go ask the chef who can tell you exactly what is and is not safe to eat.
( if you want to know more about gluten free at Disney Springs, read this guide here. )
One of the biggest lessons I've learned about having a child with a food allergy is that you should always speak up and ask questions. The beauty of Disney is that they honestly want you to have the best vacation experience you can even with allergies.
So ask questions until you are comfortable! Hopefully, this guide helps you to get comfortable enough to ask your own questions to be able to relax and eat gluten free at Disney World.
More questions about how to eat gluten free at Disney World? Sound off in the comments!