This Easy Gluten Free Blueberry Scones recipe is full of fresh blueberries and is delicious. These bake up to be perfectly soft and flaky scones!
Updated 2/16/2023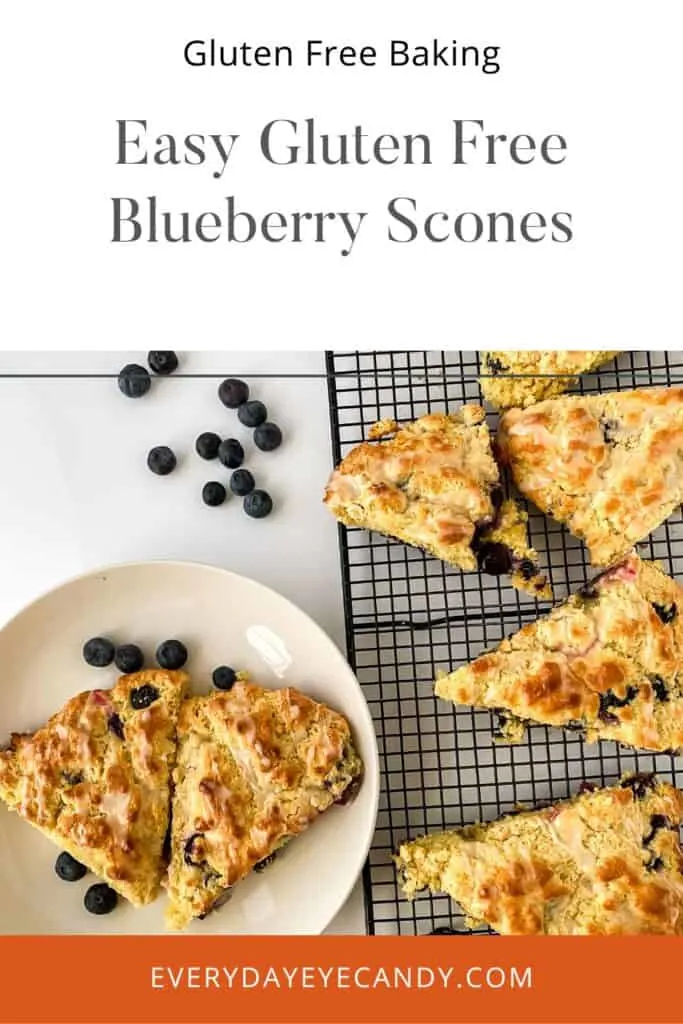 This blog post contains affiliate links. Everyday Eyecandy is a participant in the Amazon Services LLC Associates Program, an affiliate advertising program designed to provide a means for sites to earn advertising fees by advertising and linking to Amazon.com.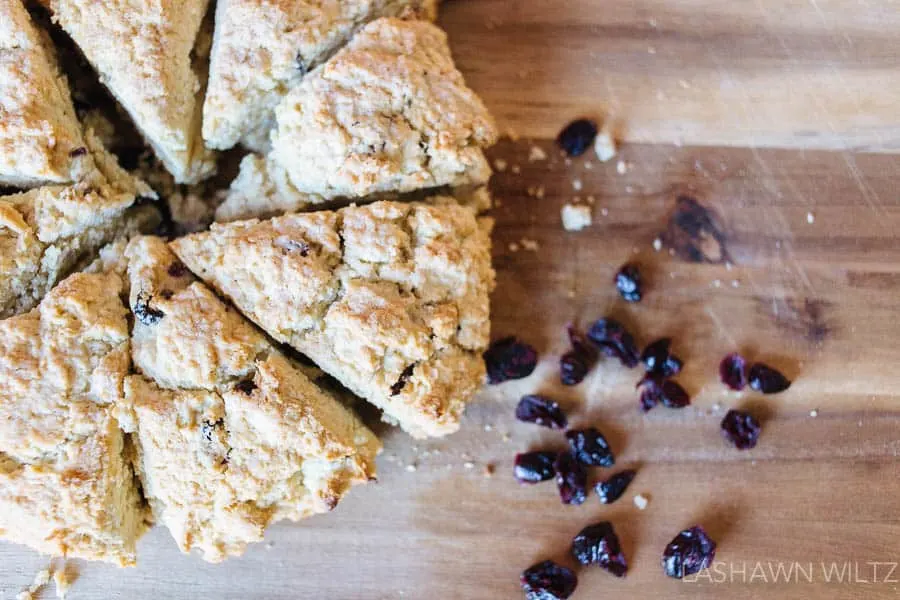 It occurred to me that I haven't made scones in a loooong time. And that I hadn't shared with you guys an updated recipe this recipe in AGES.
I've come a long way in my gluten free baking since the first time I made chocolate chip cookies. So I knew I need to share an updated recipe.
Because there is nothing better than a warm perfect scone with morning coffee.
These are THE BEST scones. I'm going to share tips to get the best results from this gluten-free scone recipe.
What You Need To Make Gluten Free Blueberry Scones
Before you get started, make sure you have everything you need.
Equipment needed for these Gluten Free Blueberry Scones
Wooden Spoon
Rubber Spatula
Whisk
pastry brush
Parchment paper
a Baking sheet
Basic Ingredients
diced cold butter ( unsalted butter)
Gluten Free All Purpose Flour ( I used Cup4Cup Multipurpose Flour) Bob's Red mill 1 to 1 baking flour also works
1 cup almond flour
granulated sugar
baking powder
salt
egg
blueberries
vanilla extract
buttermilk
Before we Get Started: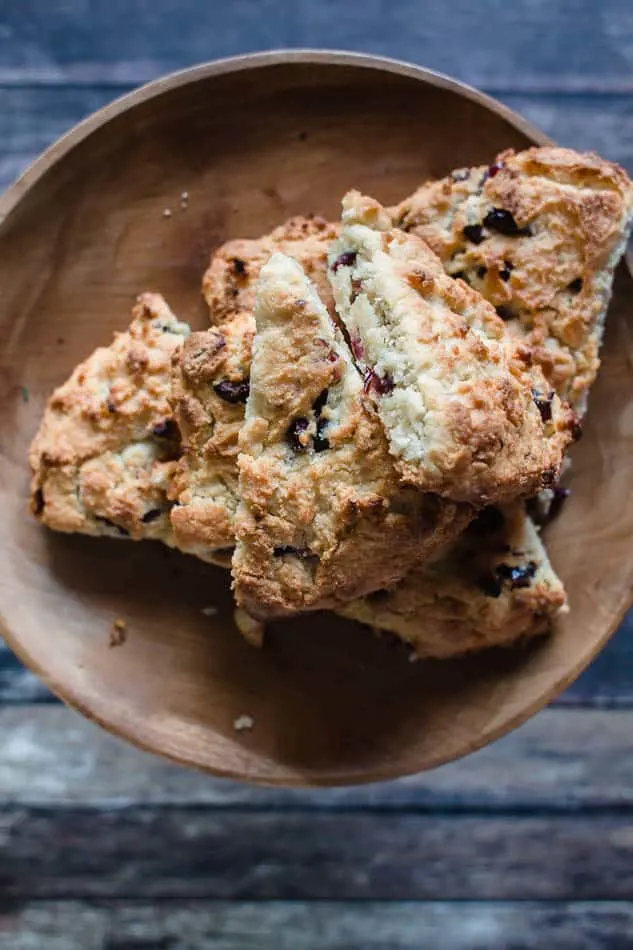 What is the secret to these easy gluten-free blueberry scones? Follow these tips and you will have the flakiest scones ever!
When it comes to Gluten-free baking, the brand of Gluten Free Flour you use matters. I use Cup4Cup or Bob's Red Mill for baking because they are one-to-one flours and are so close to regular flour. No grittiness at all. (if you have tried any gluten free baking at all, you know this can be a problem).
But the KEY to good scones, in general, is that all of your dairy products need to be COLD. You want to keep the butter as cold as possible for as long as possible. The milk too. Scones rely on cold fat for their flakiness.
So I tend to freeze my butter, keep my flour in the refrigerator and I put my pastry board in the refrigerator before using it. Just so that everything can stay as chilled as possible.
DO NOT OVER BAKE. An over baked scone is a dry scone!
Don't use fat free milk of any kind for the scones. They will be dry. The higher the fat content in your dairy, the more moist and tender your scones will be.
How to Make Gluten Free Blueberry Scones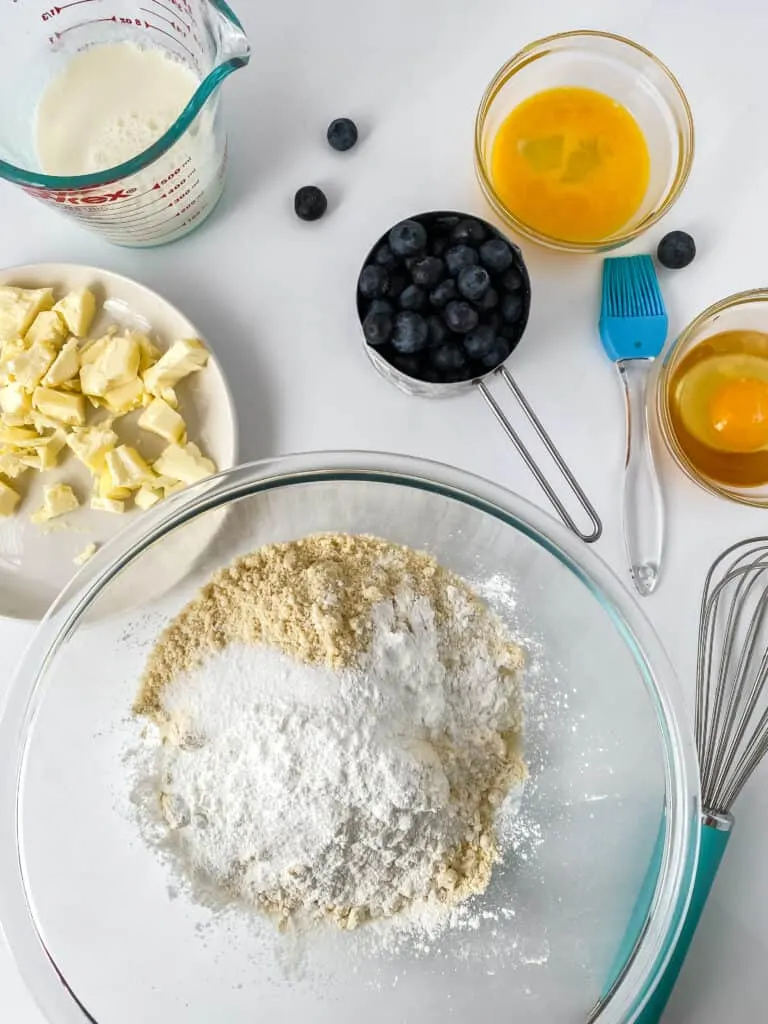 Pre-Heat your oven to 400,
Add flours, baking soda, sugar into a large bowl and stir to combine
Cut your COLD butter into cubes using your pastry blender
Using your hands or a pastry cutter, cut the butter into the flour mix, until you have pea sized crumbs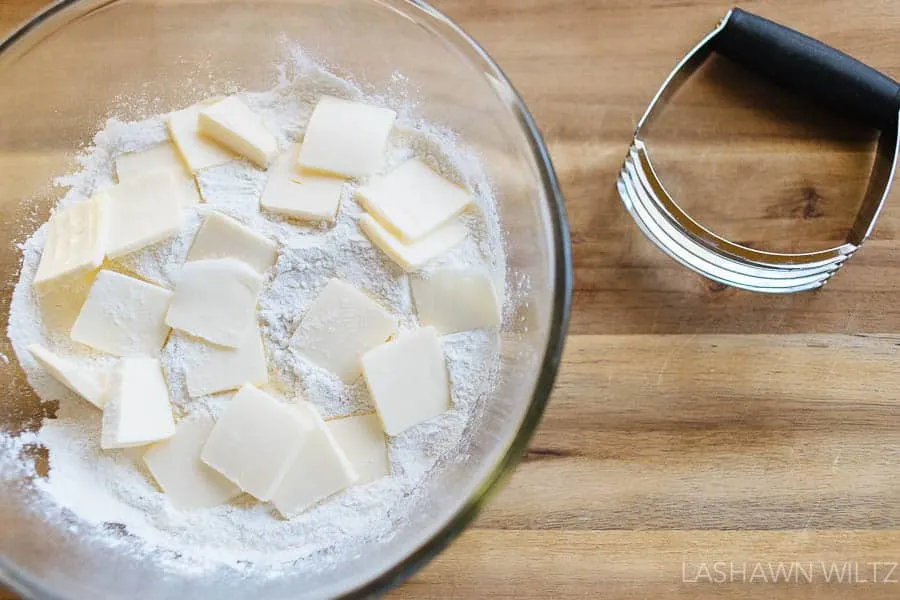 Add Milk, stirring to incorporate
Fold in blueberries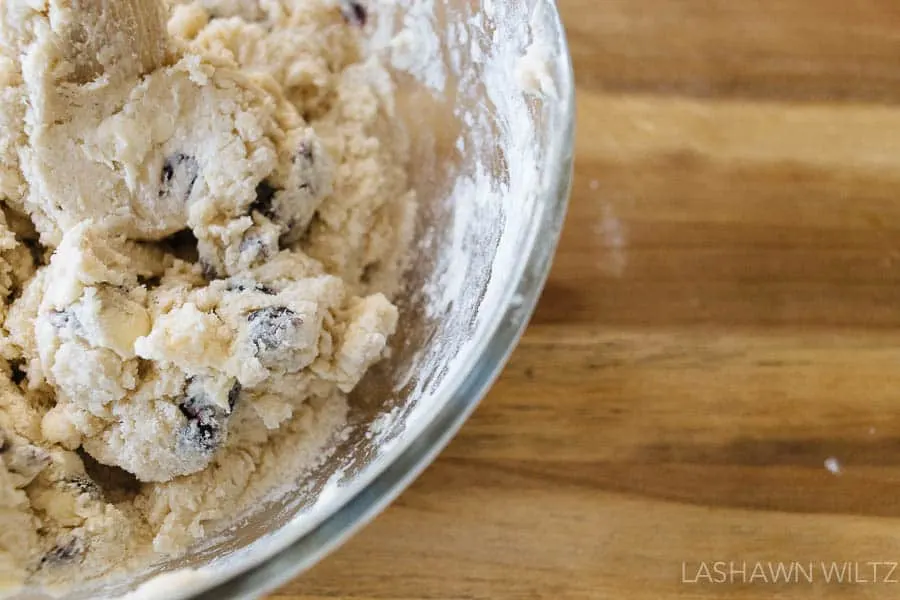 Upend the contents of the bowl onto a cold floured surface and dust your hands with flour
Gently knead to incorporate all the ingredients and then pat into a round disc. But Don't overwork!
Place dough on greased or parchment-covered cookie sheet
Brush with egg wash or milk.
Sprinkle with sugar
Cut into wedges with a sharp knife ( 8 slices for traditional-sized scones)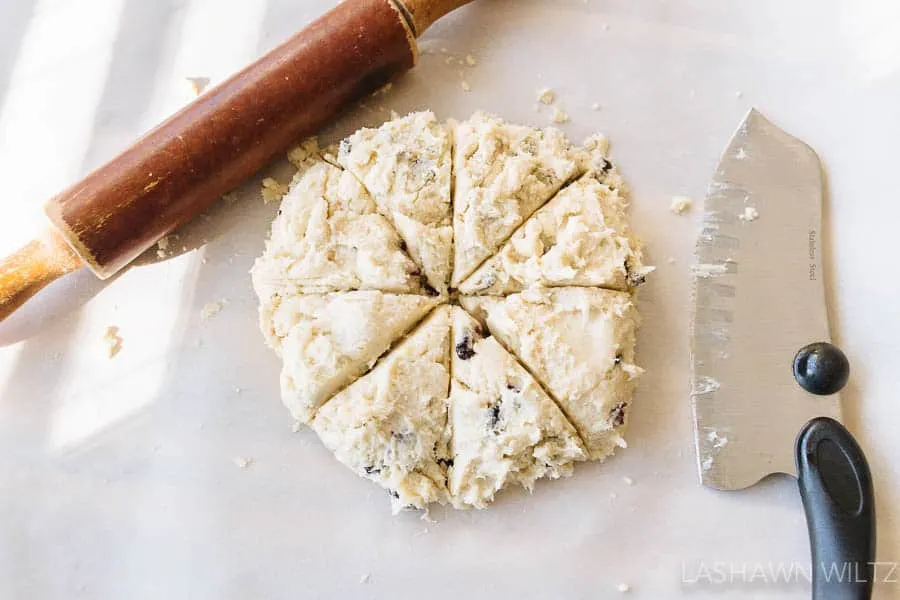 Bake for 12-15 minutes or until golden brown around the edges.
Let cool on a wire rack for 5-10 minutes.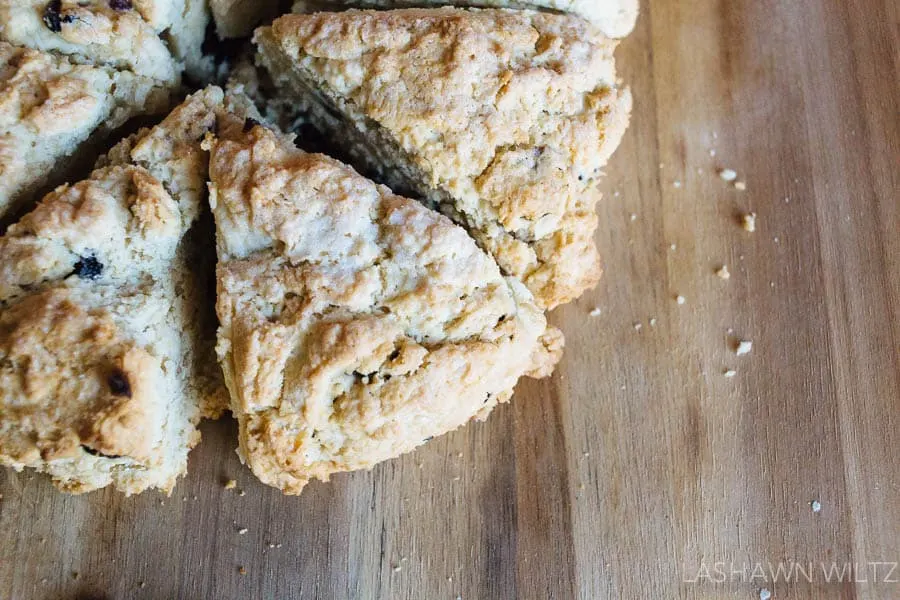 Gluten Free Scone Varieties to Try
Add in…
Lemon zest
Lemon juice
fresh fruit
Chopped almonds or pecans
Cranberries
chocolate chips
Scone Toppings include: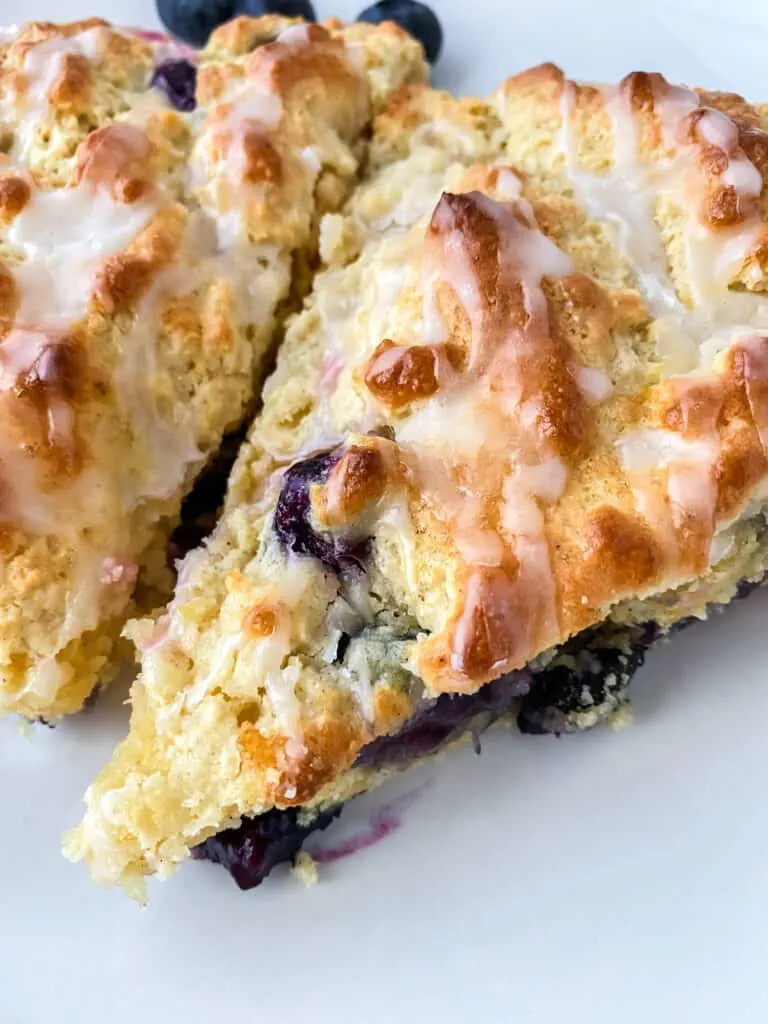 A simple glaze ( 1/2 cup of powdered sugar or 1/2 tsp vanilla)
Dusting of confectioner sugar
Sprinkle raw coconut sugar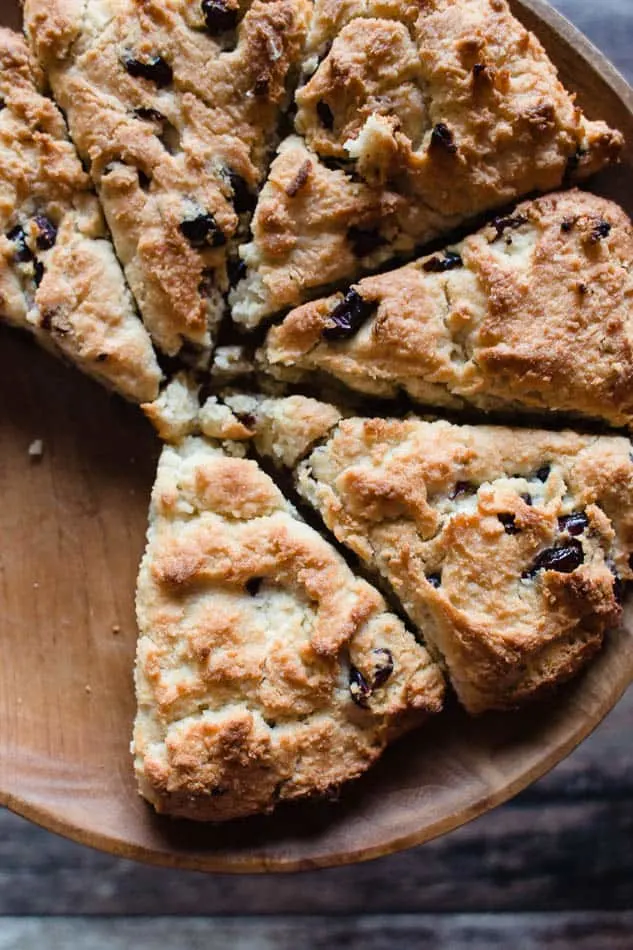 For details, check out the recipe card below.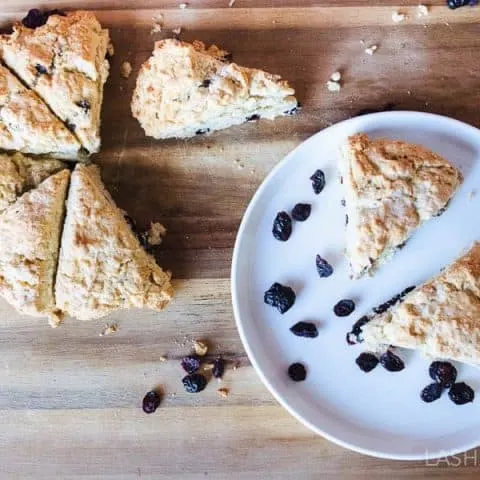 Easy Gluten Free Blueberry Scones
Ingredients
1⁄2 cup diced frozen unsalted butter
2 cups Gluten Free All Purpose Baking Flour( cup4cup or bobs red mill) 1 cup almond flour
1/3 cup granulated sugar
2 tablespoons baking powder
1⁄2 tsp salt
1 egg
1 cup blueberries
Zest and juice of one lemon
1 tsp vanilla
2/3 cup buttermilk
1 egg + 1 tsp water (egg wash) or 2 tbsp milk
Instructions
Whisk all purpose flour, almond flour, granulated sugar, lemon zest, salt, and baking powder. Add diced frozen butter and coat with dry mixture.
Create a well and add butter milk, an egg and vanilla.
Mix into almost incorporated. Add blueberries. Mix gently until incorporated.
Spray a parchment lined baking sheet with non stick baking spray.
Add mixture to the center and form into a circle.
Using a knife or bench scraper, cut 8 slices, but not all the way through. Brush with eggwash or milk
Bake in 400 degree oven for 12-15 mins or until golden brown Remove from oven and let rest for 5-10 mins.