Looking for Instagram Reel Ideas that don't involve pointing or dancing? Check out this post with 10 ideas to bring creativity to your Instagram account.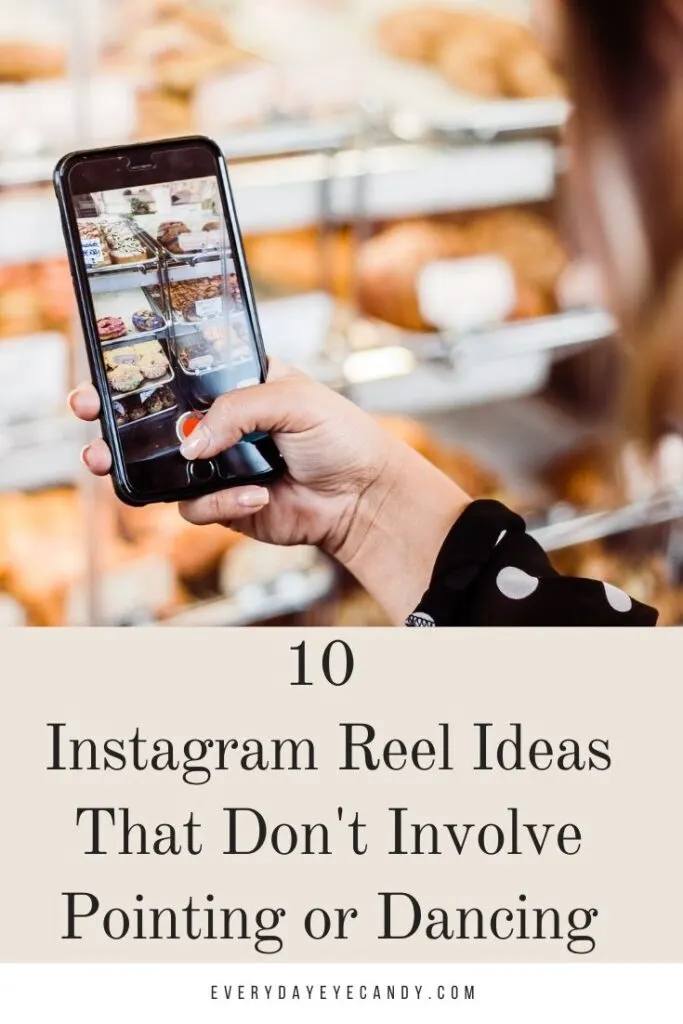 Since the rise of Tik-Tok, short-form video content is what all the social media platforms want. Especially Instagram. The argument is that people today are more into short videos because our attention spans are shorter. Or that video is the future.
Short-term video is the new trend and the best way to make content for most of social media platforms.
Since the release of IG Reels in 2020, Instagram has slowly but surely started to become a video-first platform, edging out photos as the main part of the Instagram algorithm. Instagram is forcing business owners and content creators to use video or not be seen by potential customers, a wider audience or ever their own instagram followers.
Regular photos are not getting the traction they used to, so to grow on the Instagram app, you must adapt.
But what if you are not generation Z or don't want to dance or point and you feel like that's not you or a part of your brand? How do you compete?
10 Instagram Reel Ideas That Don't Involve Dancing or Pointing
Before we start, it's always important to remember that all content should have a goal in mind: Are you trying to educate? Entertain? Sell something? Create awareness of your brand? Inspire?
Remember, it's fun to use current trends, and trending songs and just copy what you see others doing. But the question you should always ask yourself is: will this appeal to my target audience?
Best practice tip: Instagram announced that content with watermarks ( say from Tik Tok) would become less discoverable on the app. This makes it more important than ever to create original content so that you can show up in the Reels tab on the explore page or next up.
Ok, lets get to those ideas…
1.DAY IN THE LIFE/VLOGS
Mini vlogs or Day in the Life reels are so versatile. These can be just short clips taken during the day as you go through your daily life. Also, a great way to showcase travel is one of these mini vlogs.
Example: Nabela Noor's @nabelanoorhome account or @asiyami_gold for travel vlogs
2.A Part of Your Routine
Another great idea is to showcase a part of your routine. Examples include your morning routine, how you study, what you ate, your workout routine. These are fun and creative ways to make a reel. And they are often sharable.
Example: @olivianoceda
3. Create a Tutorial ( tips and tricks)
These are a good idea if you want to share your experience. How to replant a fern, how to do a deadlift the right way, how to make almond milk at home. It doesn't have to be detailed, a quick tip often works the best.
Ex: @ericrobertsfitness @plantween
4.Photo Reel
If video is not your thing, reels using a series of stitched together photos to the beat of a trending song will always work.
EX: look at @ashleemajormass travel reels just photos from her travels.
5.Recipes or Cook with me Reels
A great example of a recipe reel is @joythebaker. But you don't have to be a food blogger to do a food reel. These are as simple as how you make your morning smoothie or how you make that special coffee drink like @cecliagonzz.
6.Review a product or share a shopping haul
Reels are a fun way to review a product or share your Trader Joes, Target Shopping haul.
Ex: check out @laurenelyce amazon reel and this fall sweater haul from @holleygabrielle
7.Romanticize your Life
This type of content is more aspirational or meant to soothe. It's a quick video that shows a mundane task in great light or slow motion or just pretty. Video ideas for this include organizing, self-care, shopping, making coffee. basically it's real life, but pretty.
Ex: The grocery run from @simplyshena this morning routine from @_charliomendez
8.Hop on a Trending Sound
When you run out of new ideas or feel like you have done everything, hop on a trending sound. The latest trends are easy to find: simply scroll the reels feed and whatever sound you hear over and over…it's trending. Trending sounds can be songs or voiceovers. The best part about them is that they work for everyone: content creators, small businesses, trainers, and coaches.
Ex: @Kayemccoy_ @caitinmariedasilva
9.Before and After
Another great reel idea is to show a before and after. These are a great way to share remodeling, fitness before and afters, decorating and even cleaning videos
Ex: This fitness before and after @itssimplyjackson or this decorating one from @carmeonhamiliton
10. Educate
Educational Reels are an easy way to answer common questions. A second video expanding the same topic also works to keep the content going. Educational content tends to be very sharable and can easily go viral.
This one from @lavishlyjackie on how she cleans her Keurig or this one on how to duplicate yourself in a reel from @yoursocialteam
Hopefully, these 10 Instagram Reel Ideas help you with your content creation and help you to fill your content calendar!