Pumpkin Spice Cold Brew is the perfect fall drink to make at home! This easy delicious DIY Pumpkin Spice Cold Brew Recipe is made with real ingredients like real pumpkin, coffee of course and your favorite milk and takes 5 minutes to make!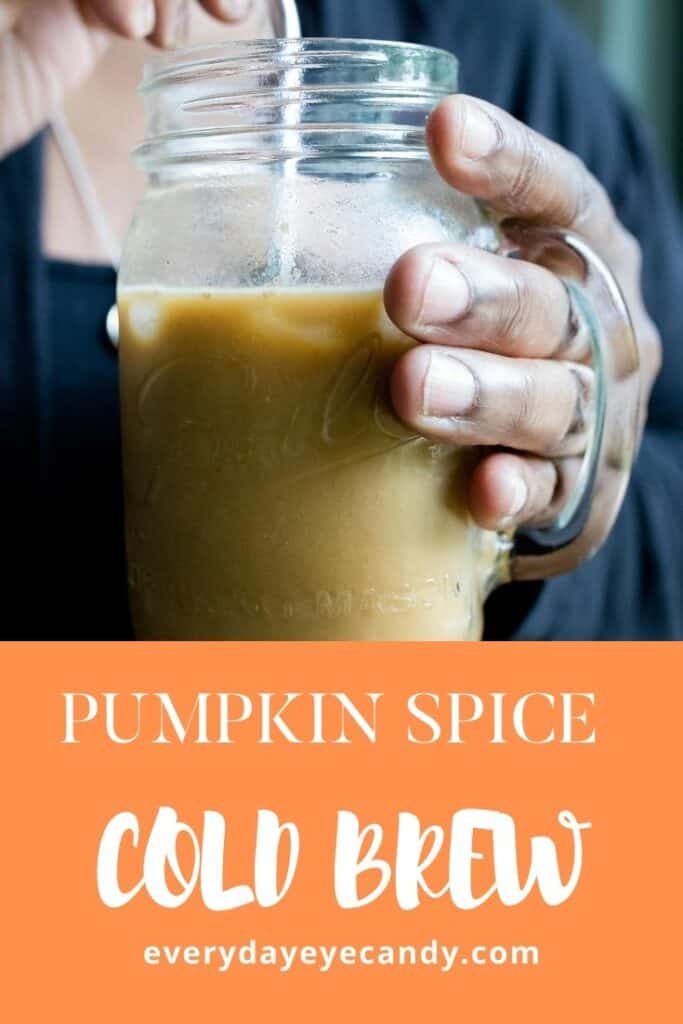 This blog post contains affiliate links. Everyday Eyecandy is a participant in the Amazon Services LLC Associates Program, an affiliate advertising program designed to provide a means for sites to earn advertising fees by advertising and linking to Amazon.com. This in no way affects my opinions of the books included in this post.
I don't know about you, but the last thing I want when it is still 90 degree weather in August is a hot latte.
Starbucks fall menu is coming and that means it's that time of year for many many fall inspired espresso drinks.
That means that it's time for the return of the psl . Or as it's officially known: the Pumpkin Spice Latte.
Now, I will also tell you that I am not a fan of the traditional pumpkin spiced latte. But it's pumpkin spice season and I don't want to miss out LOL.
But you know what I do love? I love cold brew.
And I actually LIKE sweet notes of pumpkin in various drinks and desserts ( not too many but you get my point).
A friend of mine SWORE by the Pumpkin Spice Cold Brew ( and the new Pumpkin Cream Cold Brew) that she tried last season even though she doesn't like the traditional Pumpkin Spice Latte.
Since I love cold brew, I was curious and decided I had to make my own copycat recipe.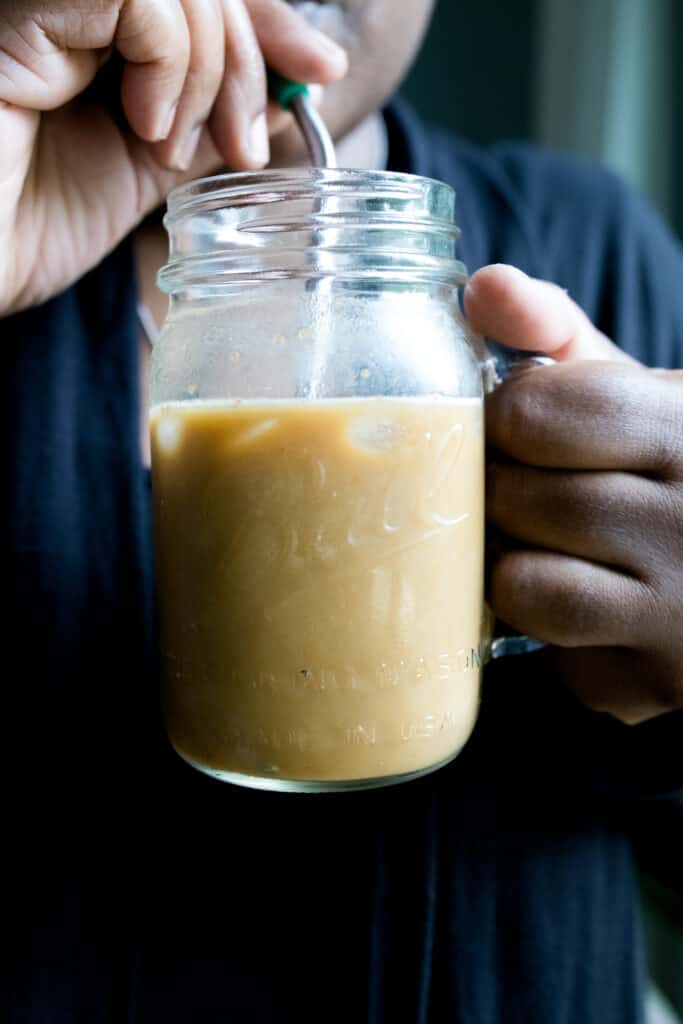 And i LOVE my own version and will admit that I will never ever buy another one in the store.
Why make this at home?
Well lets see:
You can easily find everything you need right in the grocery store or amazon.
You don't have to sit in the EXTRA long line for a Starbucks pumpkin cream cold brew
If you learn to make it you can have this limited time fall treat all year.
You can put it in a cute mason jar if you make it at home.
What you need to make this Pumpkin Spice Cold Brew Recipe!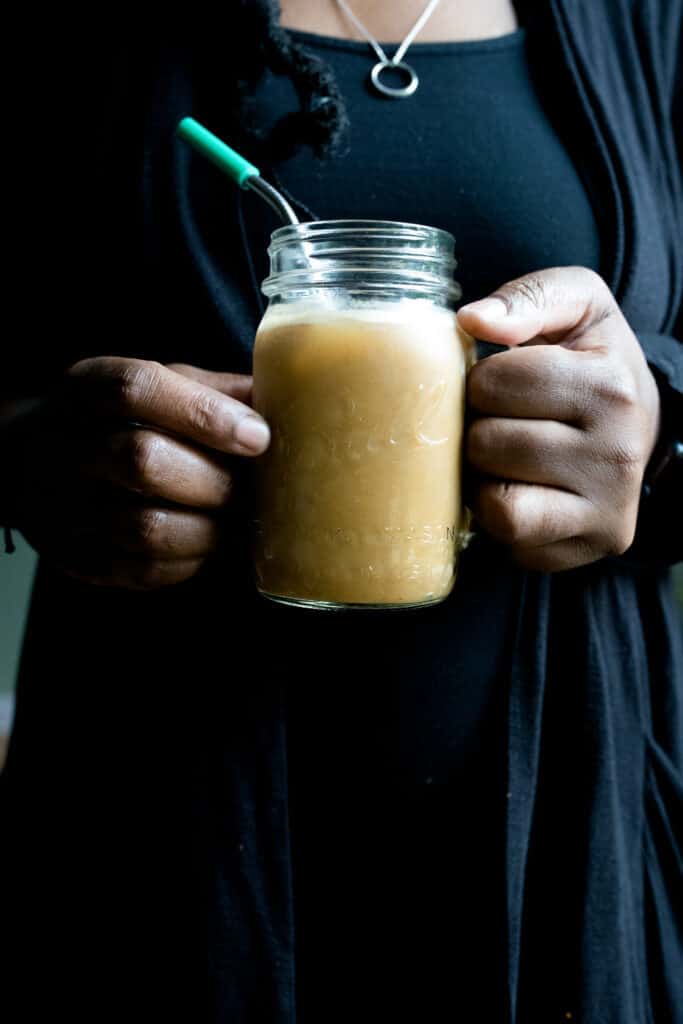 ANY Brand of Cold Brew Coffee: You can make your own cold brew at home in a french press with your favorite ground coffee or whole coffee beans, or head to the store and pick up your favorite cold brew or cold brew concentrate.
Milk: We are dairy free here so we use non-dairy milk. I used Oat Milk ( Almond Milk doesn't froth as well, but a good alternative). But feel free to use whatever milk you usually use in your at-home coffees. Whole Milk, Heavy Cream / heavy whipping cream or even sweet cream also works really well.
Pumpkin: So listen. My main issue with the pumpkin spice signature latte is that THERE IS NO PUMPKIN. It doesn't even taste like pumpkin! So my version has REAL PUMPKIN puree in it. You won't need much, but it makes such a difference to the natural flavors.
Pumpkin Pie Spice: Because it helps, and gives it a little more traditional flavor. .
Vanilla Syrup: I used sugar free but you can use the regular version if needed. ( maple syrup
will also work, but it's not quite as sweet)
How to make the Pumpkin Spice Cold Brew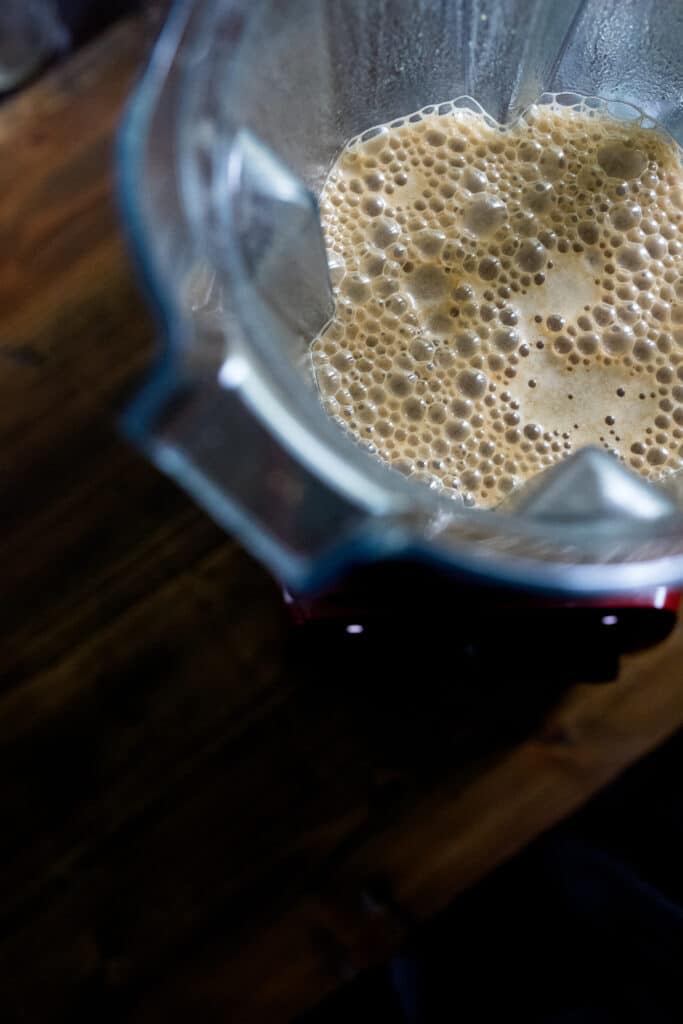 Are you ready?
Add all of the ingredients to the blender with your milk choice.
Blend until is smooth and creamy
Pour into a glass
Using a milk frother, froth your milk of choice
Mix with a tall spoon.
Easy right?
And this drink tastes delicious!
I hope you enjoy this easy recipe much as I did! you want, you can make the pumpkin mixture ahead of time and when you are ready, throw the cold brew and the pumpkin mix in the blender and enjoy with a piece of Pumpkin Bread , an apple cider donut or a pumpkin donut!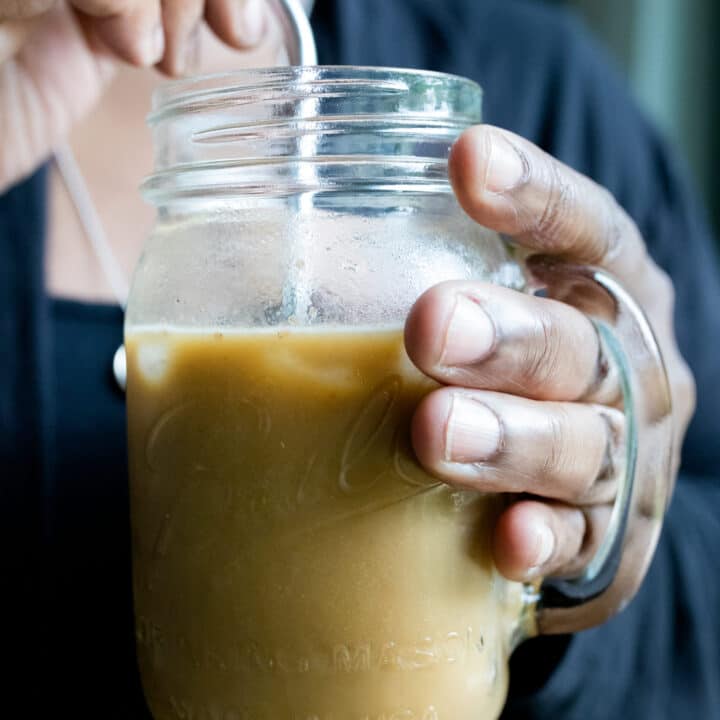 Pumpkin Spice Cold Brew
This easy delicious DIY Pumpkin Spice Cold Brew Recipe is made with real ingredients like real pumpkin, coffee of course and your favorite milk and take 5 minutes to make
Ingredients
4 oz cold brew coffee⠀
1 tbsp pure pumpkin puree⠀
1 tbsp vanilla syrup ⠀
4 oz milk of your choice ⠀
1/4 tsp pumpkin spice
Instructions
Place all ingredients in a blender and blend until smooth and creamy
Pour into a glass over ice
Enjoy
Recommended Products
As an Amazon Associate and member of other affiliate programs, I earn from qualifying purchases.