Check out these Perfect Gifts Coffee Lovers will appreciate! Get ideas for Christmas gifts from this list of 20 Gift ideas for Coffee Lovers.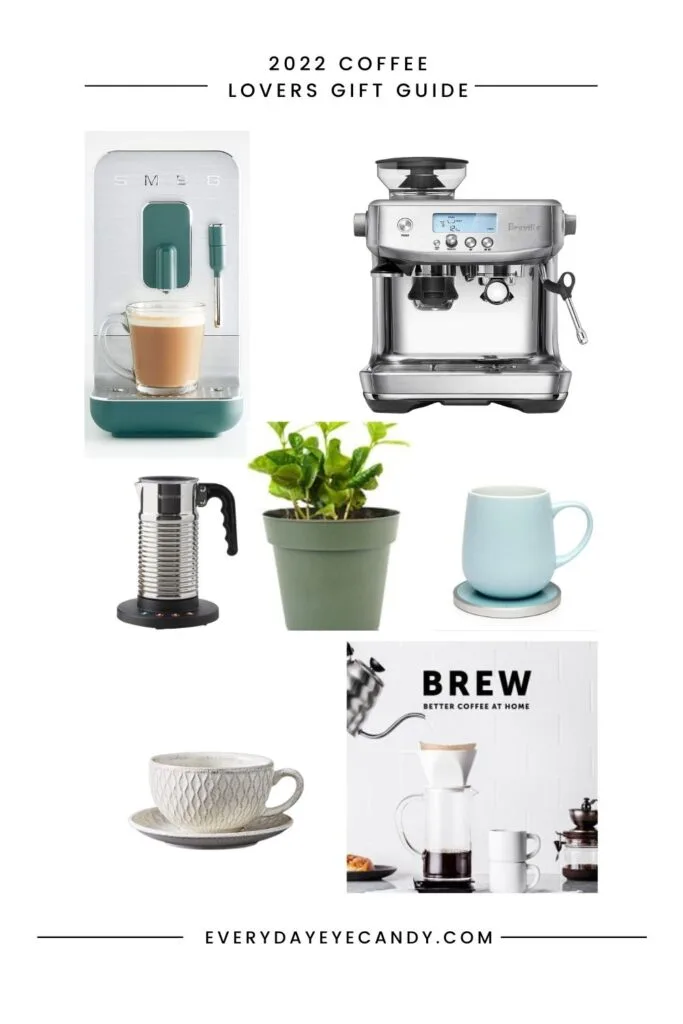 This blog post contains affiliate links. Everyday Eyecandy is a participant in the Amazon Services LLC Associates Program, an affiliate advertising program designed to provide a means for sites to earn advertising fees by advertising and linking to Amazon.com.
I love that most of you are also coffee lovers. We are all sleep-deprived, working women who love that first hit of caffeine in the morning.
But even if you aren't, you know someone like us! Someone who thinks the smell of fresh-brewed coffee is awesome.
Someone who would mainline it if they could. So I created this list.
So if you have a coffee lover, what should you get them? Coffee, yes, but what if you don't want to be traditional? What if you want something fun, different or useful?
What if you just don't have the brain capacity to sit down and think about this and just want a list of suggestions so that you can just click and buy?
I got you! These work for all of the coffee addicts in your life.
Friends, moms, sisters, teachers etc.
So without further ado, check out these 20 Gifts for Coffee Lovers!
20 Gifts for the Coffee Lover in Your Life
Don't forget to check for shipping times for UPS, FED Ex and USPS when you are shopping online to make sure your gift won't be late!
2022 holiday Shipping Deadlines
Post office( USPS)
Retail Ground: Dec. 17
First-Class Mail: Dec. 17
Priority Mail: Dec. 19
Priority Mail Express: Dec. 23
UPS
Ground: Check the UPS website for a quote.
3-Day Select: Dec. 19
2nd Day Air: Dec. 21
Next Day Air: Dec. 22
Fed Ex
FedEx Home Delivery, FedEx Ground: Dec. 14
FedEx Express Saver, FedEx 3Day Freight: Dec. 20
FedEx 2Day: Dec. 21
FedEx SameDay: Dec. 23
If you are looking for other gifts this year check out these gift guides below!
Other gift guides to help you shop!
The Ultimate Gift Guide for Working Moms
The Best of Oprah's Favorite Things Under $100
The Ultimate Guide of Gifts from Small Black Owned Businesses