I seem to always write one of these posts when we travel somewhere where I might end up taking a lot of photos. Usually I agonize over what lens to bring, what accessories etc etc etc.
I keep doing them because…people seem to want to know LOL. As you read this, we've been up since before the crack of dawn,making our way to San Francisco for a family gathering on C-Dub's side of the family. My what's in my camera bag list for this trip is smaller than previous ones and I'm going to say that's because I've evolved. When really, it's just that my back is tried from carrying all the things and I know we will do a lot of walking.
So anyway, here is
What's in My Camera Bag for San Francisco
*this post contains affiliate links. If you click and decide to buy something, I may get a small commission to help keep me fueled with Coffee. Thanks in advance for keeping me caffeinated.*
This year….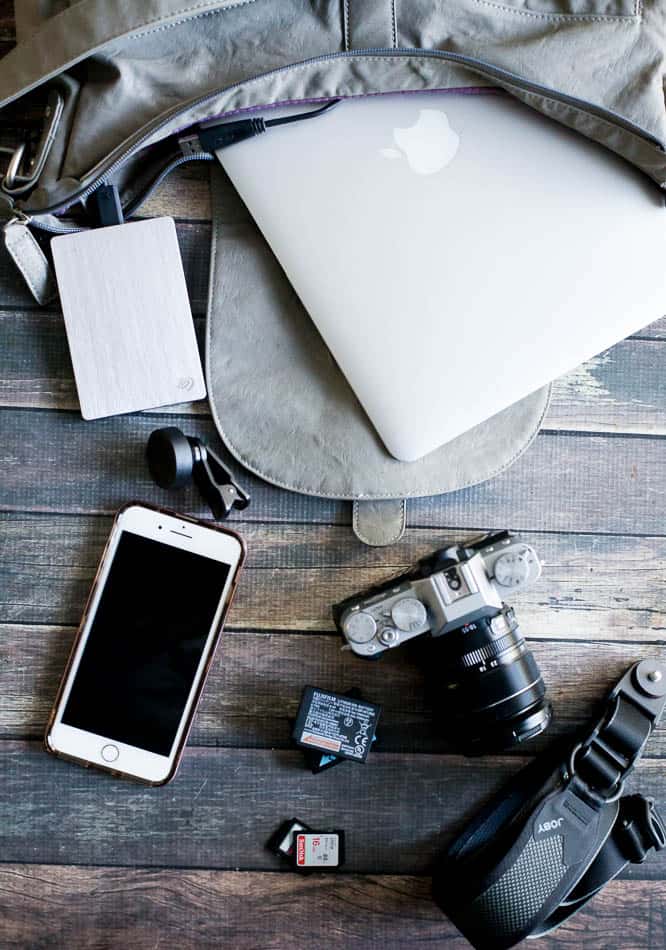 1. I'm talking my new Fuji XT-20 with the 18-55 Kit lens. Because my back is tired of carrying around Big Cameras.
2. My Joby Camera Strap: Because I can't wear a camera around my neck. Even a small one.
2. My MacBook Air : Because it's small and light, great for travel, and I like to download my photos everyday at the end of the day while traveling.
3. SeaGate 1 TB external Hard Drive. : Because my photos don't live on my computer. Takes up too much space.
4. My iPhone 7Plus: Because I never leave home without it. It's my point and shoot. And how else am I supposed to share my trip to Instagram? LOL
5. My Fisheye Lens for my iPhone: A brand sent this to me and I have no idea who it is by, but I love it and it's always in my bag.
6. Xtra Batteries.: The batteries on the Fuji die quickly.
7. Xtra Memory Cards.: Because I take a lot of photos. That is all.
8 .My old Kelly Moore Hobo Bag: I keep saying that I'm going to get another bag, but then I do, but keep traveling with this one. SMH. Mainly because it holds my laptop and camera and doubles as a purse. And I can wear it cross body
That's It.
I may long for the low light capabilities of my Canon 6D while I'm there, and honestly, up until the very last-minute, I wasn't sure WHAT camera I was taking.
But listen.
I've finally gotten to the point where I realize and PRACTICE that it's not the camera per say, it's the person behind the camera that's taking the photo. Sure, equipment will help you do that easier, but really, a camera is a camera. I prove that to myself every time I only use my iPhone. Or every time I take a photo for someone on their camera.
The only reason I'm even slightly nervous about the camera is that I haven't practiced with it as much as I would have liked. So I'll be learning while shooting. But really, that's the way it's supposed to be isn't it?
Be sure to keep up with us on Instagram in photos and in my stories!