Today I want to share with you some of my favorite creative apps for Instagram Stories. Why? There are over 500 million daily users for Instagram Stories. So how do you get users engaged, show your influence and stand out?
The simple answer is to create incredible Instagram stories. But how? One way is to use some of my favorite creative apps for Instagram Stories.
So I'm sharing with you 15 of the best apps on the web in 2019 that can take your Instagram Stories to the next level.
15 of the Best Creative Apps for Instagram Stories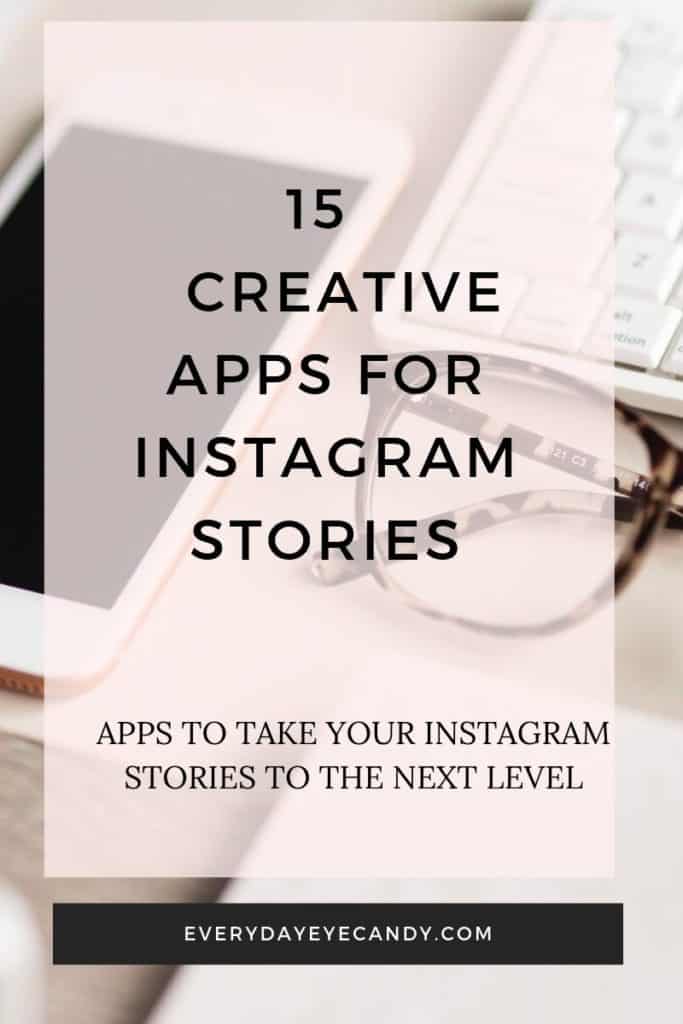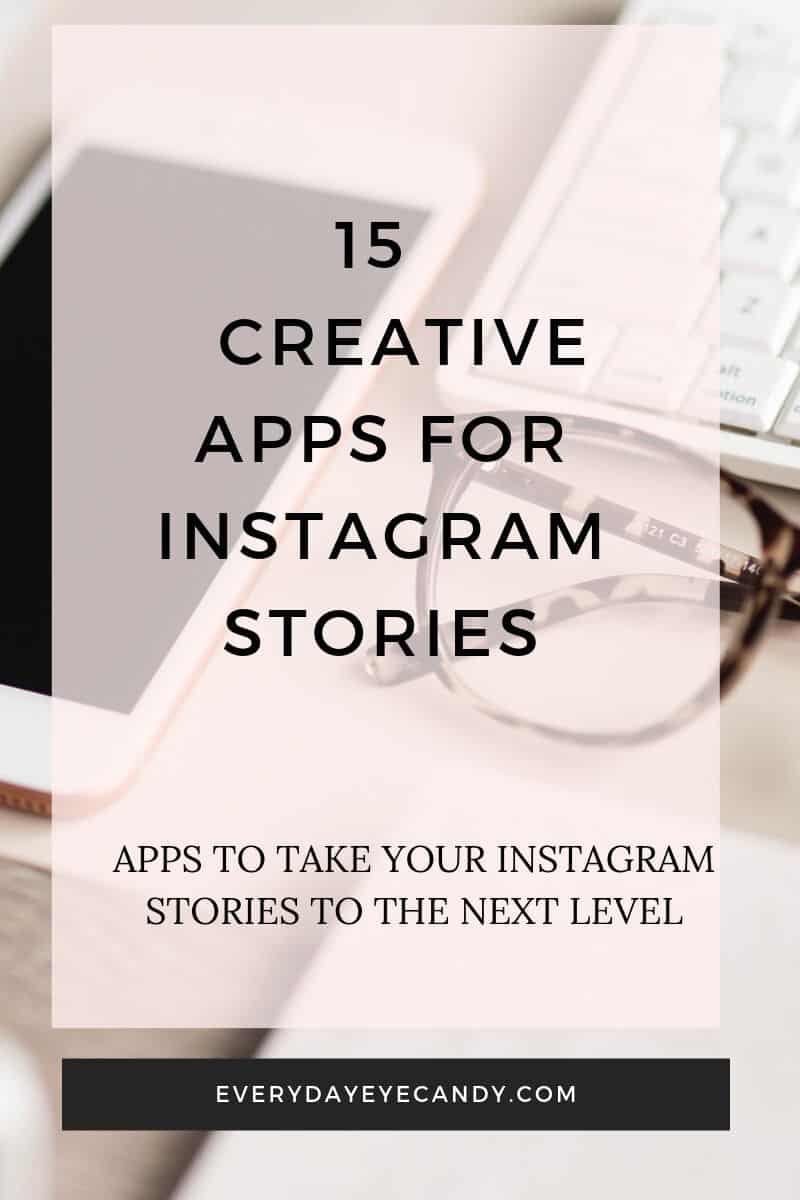 Best Apps for Photos
The following three apps were included in my Best Apps to Edit Your Instagram Photos and I have included them here because they are also perfect for your stories. Each one of these photo apps are great for stories because they just involve adding a filter.
And can be used to help your photos in your stories match the photos on your feed. Branding!
1.VSCO
The OG of editing apps for your Instagram Photos, VSCO is still a great classic to use to brand your photos and make them pop. I know this section is for photos, but did you know you can apply filters to video too?
That is a paid option in the app, but worth looking into if you already use VSCO to edit your photos and want to continue the same aesthetic in your stories.
Check out my step by step for How To Use VSCO for Instagram.
2. A Color Story
This one is my favorite for IG Stories because it's a simple one-click filter add on for most of my photos. I use it for photos from my Canon 6D and my iPhone.
I have my favorites, but I mainly use the free pack that comes with the app.
3.Foodie
If you love are a food or lifestyle Instagrammer, this app is just for you! Foodie is designed to know exactly where it is positioned over your dish and then take the perfect photo of your food.
There are also over 30 filters (with names like Picnic, Sweet, Fresh, and BBQ ) that are catered to accentuate the colors to match the food type.
Best Apps for Video
For creative Instagram Stories, you HAVE to do video! These 5 apps are a mix of easy, intermediate and complicated.
Whatever level you are in video editing, one of these apps will work for you.
4. InShot
Everyone loves this app. It really is a great robust app for creating video for your Instagram Stories. You can add music from their libraries or yours and use filters for your videos. I've only ever used the free version and it's fine.
5. Clipomatic
Did you know that the majority of Instagram users watch Stories on mute? So unless you take the time to write a blurb, they don't know what you are saying. Enter Clipomatic. It makes subtitles for you while you are speaking.
Available on IOS
6. Jumprope
One of our goals should also be to be useful for our audiences. Jumprope helps you to create useful AND engaging recipe, beauty tutorials, a fitness routine that look professional with time-lapse, filters and voiceovers. Then it formats your video to export to Instagram.
7. VideoShow
My favorite! I am not an expert at video and when I first started, I just needed something that made sense. Video show is easy to use, you can add music from your library or use the music from the app.
8. StoryBeat
I just discovered this app, so I'm playing with it. But I will say this is one of the best apps I've seen for adding music to Instagram Stories. ANY song. It has its little issues, ( like the fact that it will cut longer videos to 15 secs) but it's free.
It's available for iOS and Android.
Best Apps for Templates
There are SO MANY template apps our there that after a while, they all run together. I've weeded out the subpar apps, and I've included the ones that will give you the most bang for your buck.
9. Unfold
The OG of Instagram Template apps. If you just want to change things up, this is the perfect starter pack to get you with creative templates for your stories. I like that they are clean and classic. So that anyone can use them.
10.Mojo
This is actually my favorite because of the animated stories. You know, the IG stories where the photos move? There are a lot of options out there, but this one is my favorite for ease of use and for the many options that they have. I love it so much I paid for the Pro Version.
11. Stories Edit From Planoly
I love the classic nature of these templates and the featured collections curated by creative Instagrammers.I love that you can customize the colors of the templates to better match your photos and your brand.
Best Apps for Graphics
If you want to promote a blog post, or an upcoming event, or a product, you need graphics!
12. Canva
Canva is great for creating your own graphics for IG stories. You can create graphics for blog posts, your own stories templates and highlight covers for your account.
Available for IOS and Android
13. A Design Kit
One of my favorite apps for adding text, designs, stickers, writing on your photos.( you know how people get that fancy handwritten script on their stories?) From the makers of A Color Story, this app is one of my favorites.
Available IOS
Best Fun Apps
And finally, I've included these apps because…they are just fun! To keep users engaged, sometimes you have to change things up sometimes!
14. 8MM
I've had this app in my arsenal but rarely use it. But I think it's perfect for recording travel stories. There are lots of vintage filters for videos and it's easy to use! I only have the free version.
Available for iOS.
15. Filmm
Another video app, Filmm is from the makers of a color story and is a fun way to add vintage filters ( like 8MM, VHS, dust, grain) to your vidoes. You can also edit videos ( change exposure, sharpen etc) and add music. I used it a lot for my #fifteensecondsofsummer series this summer.
Available IOS
Hopefully, this comprehensive list of creative apps for Instagram has inspired you to create beautiful, fun content that engages your audience!
Need ideas for your own Instagram Stories? Download my FREE Instagram Stories Idea Ebook below!