Check out this step-by-step for how to use VSCO for Instagram feed and Stories images. VSCO is my favorite app for editing photos for Instagram.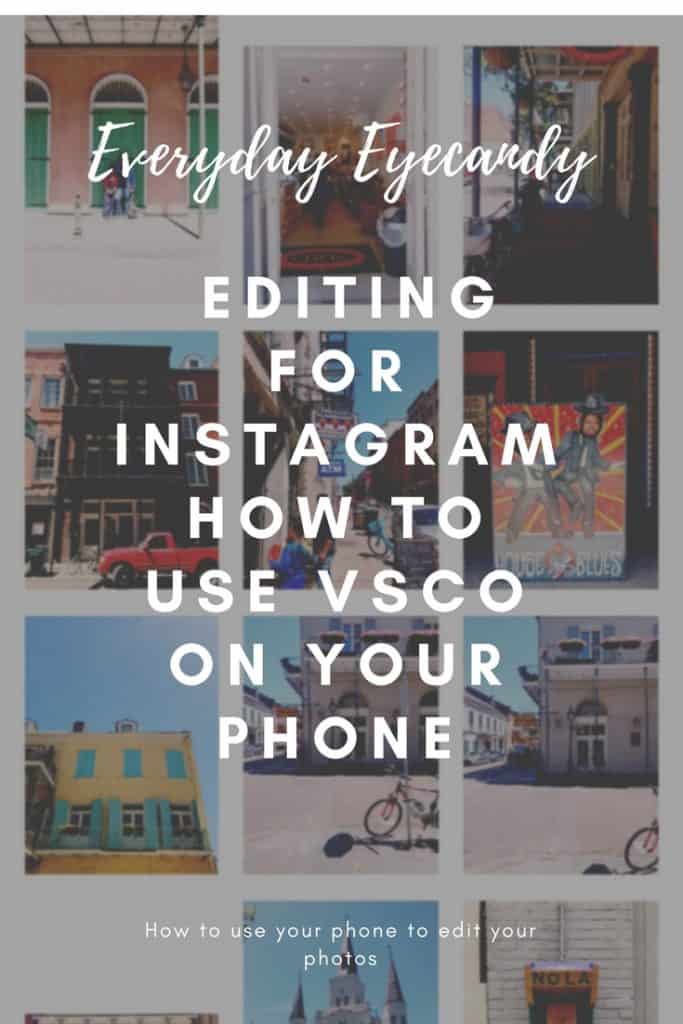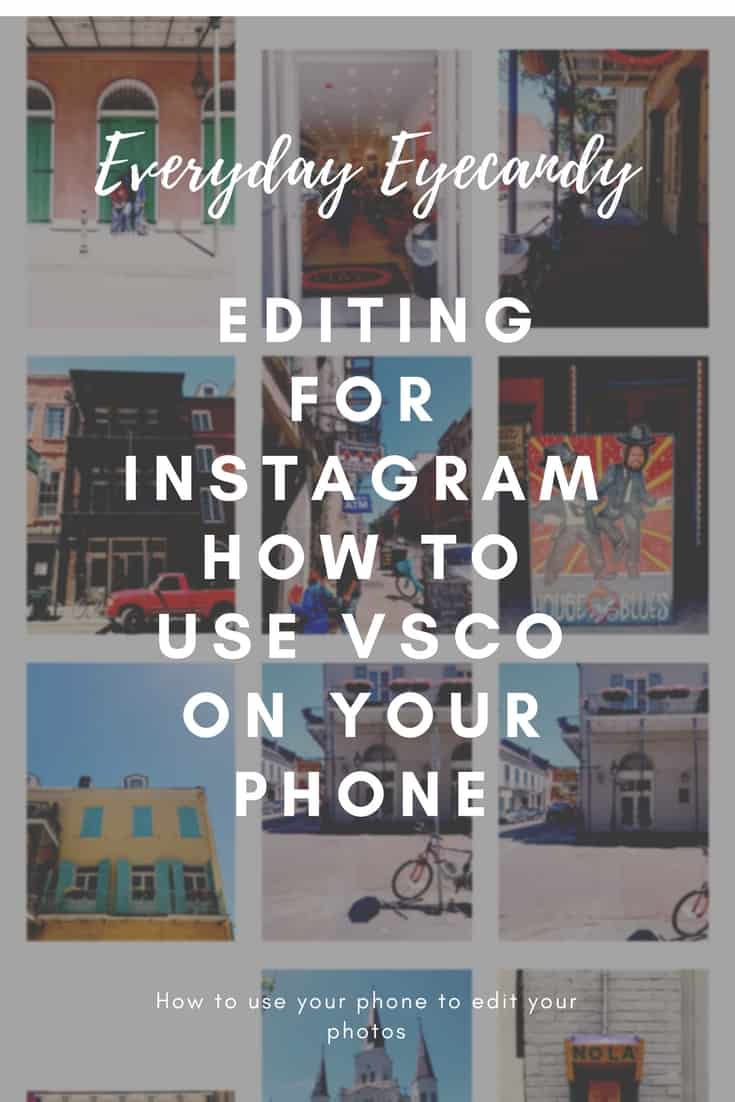 Editing for Instagram: How to Use VSCO on your Phone
I get a lot of questions about editing for Instagram. Let me let you in on a secret: I do most of my editing for Instagram right on my phone.
Even photos that come from my camera, I can edit on my phone if I need to. There are so many apps out there that will get the job done based on what kind of look you are looking for. I've talked about my love for VSCO before, and I decided it's time for an update.
I love VSCO! It is my favorite photo editing app for my Instagram photos. It's simple, it's fast, and it's powerful.
The film-like filters are beautiful and can be added to your photos with one tap or adjusted for your individual preferences.
You can download it for free from the App Store or Google Play right from your phone or by visiting the VSCO website here.
Related Article: 15 Apps for Creative Instagram Stories
There are SO MANY filters to choose from when editing photos with VSCO that it can be overwhelming. But you can arrange it so that you have your favorites listed first. I suggest you pick a few favorites and always work from those to keep your look on Instagram consistent.
I always suggest you pick a few favorites because the sheer amount of filters can be overwhelming. I tend to stick with one, with about 3 backups, and 3 black and white options that I always use.
Once you start to use VSCO regularly, you will know which of your favorite filters will fit which photos.
VSCO Step By Step Instructions
To edit a photo in VSCO, you first need to open up the library.
When you first open it up, you can import your photos right into the app. Tap on the PLUS button in the top center of the page to add a photo from your phone to your library.
I love looking at my VSCO library. It's like an Instagram feed preview. Which is good if you are trying to keep your look consistent.
I'm going to show you step by step how I edited a recent photo in VSCO. Let's start with this recent photo from New Orleans…
When you open up VSCO, your filters are presented at the bottom. You can arrange your favorite presets first so that you don't have to go searching for them by:
On the main screen, tap on an image in your VSCO feed and then tap on the little two-line icon
this launches your preset dock. From there tap on the 3 lines with a star.
This view will show you all of your downloaded presets.
Tap on the star next to the preset to favorite a preset.
Favoriting a preset brings a preset to the front of your preset dock.
On an iPhone, drag to change the order of your presets. For Android, hold & drag the arrow icon on the right-hand side of the preset or tool name to move it to the location you'd like.
So, my 5 favorite presets are always first, and I know that 99% of my photos will use one of these presets.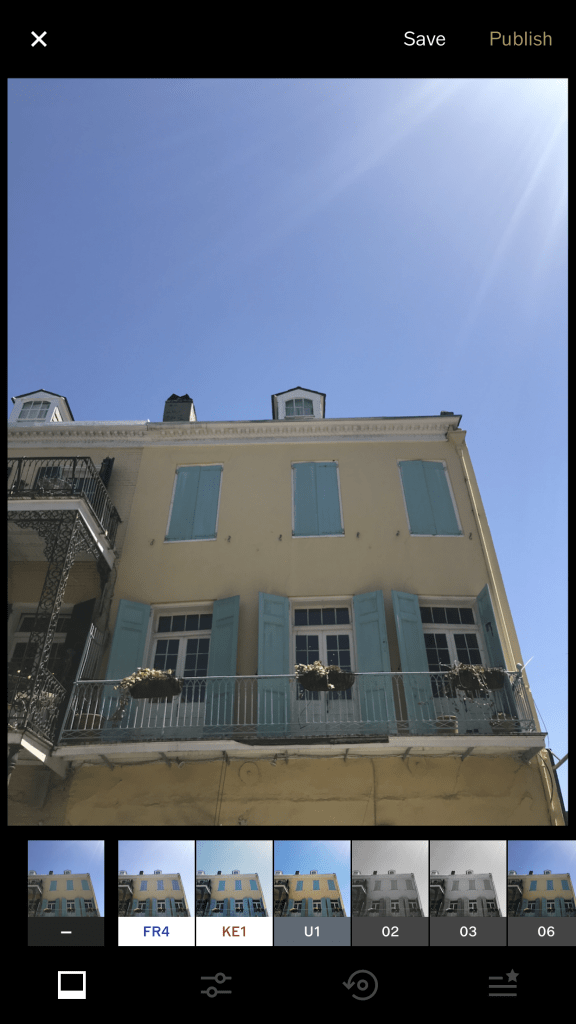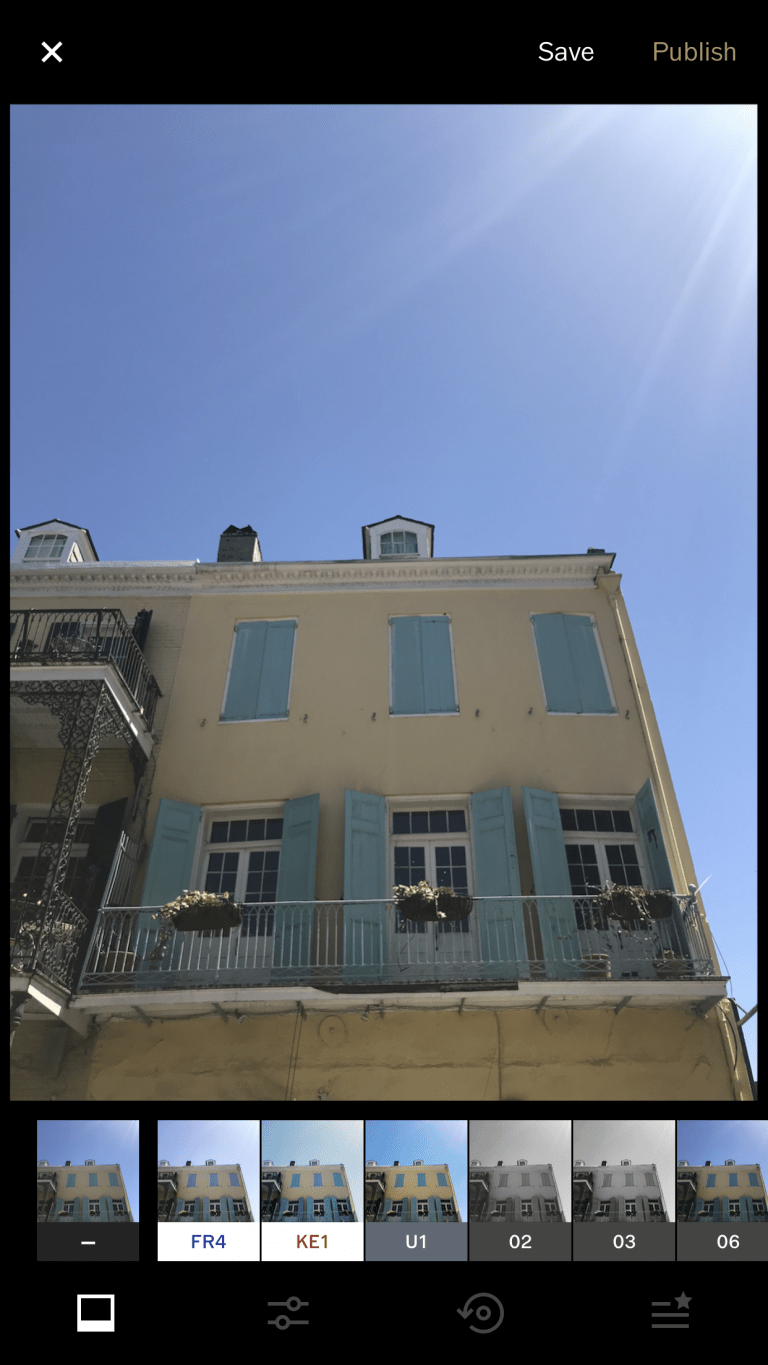 Just applying the preset alone makes my photo look beautiful. But I like to be slightly different, and to make this photo my own, I do a few other things…
1.Apply filter U1/Bright Sun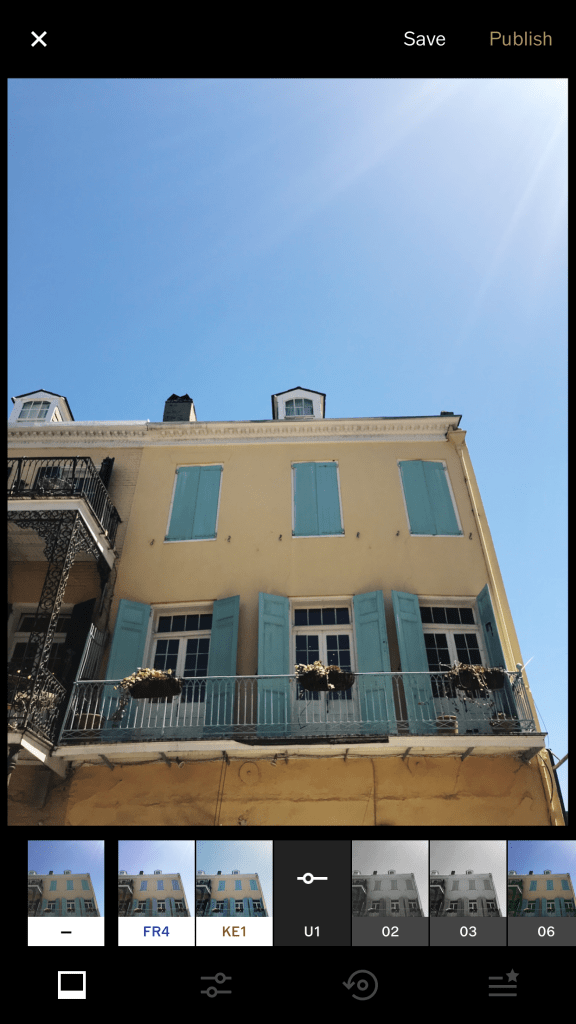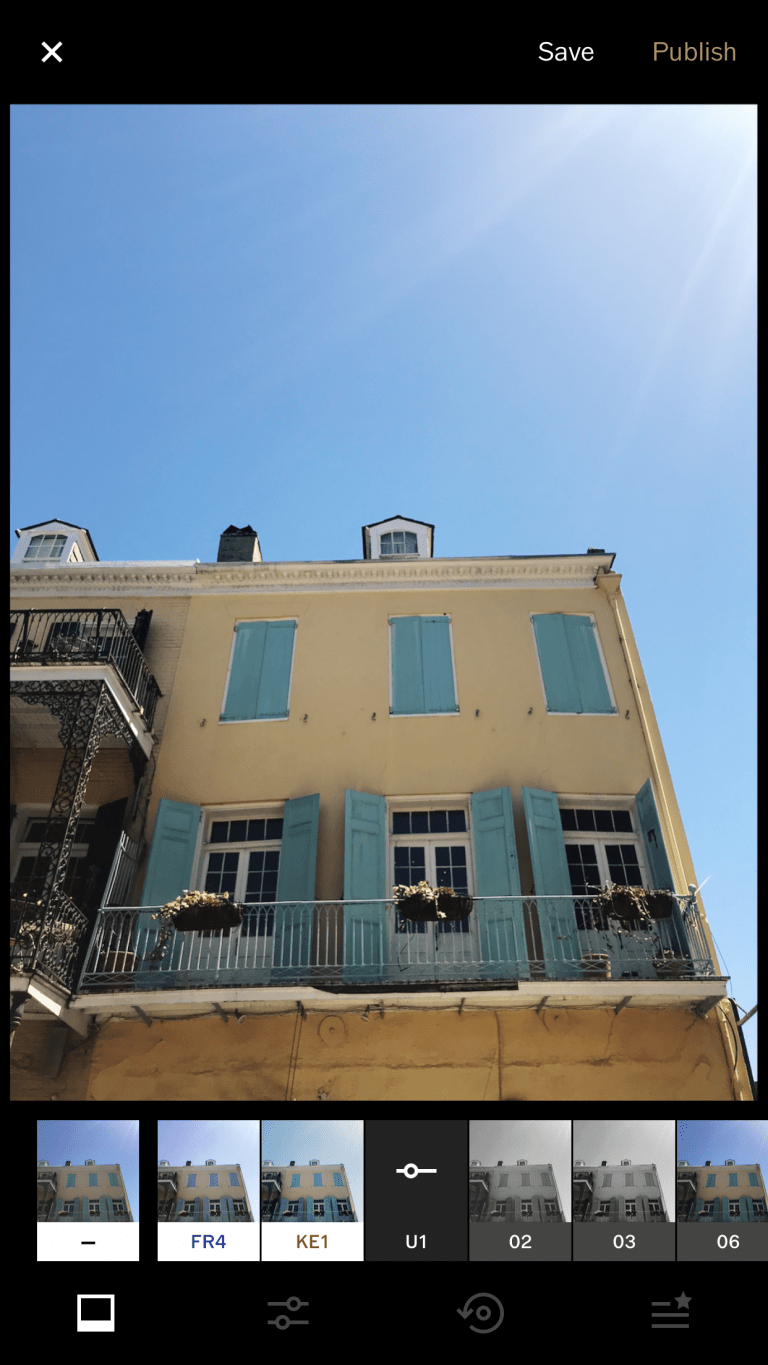 2. Increase Exposure to +1.6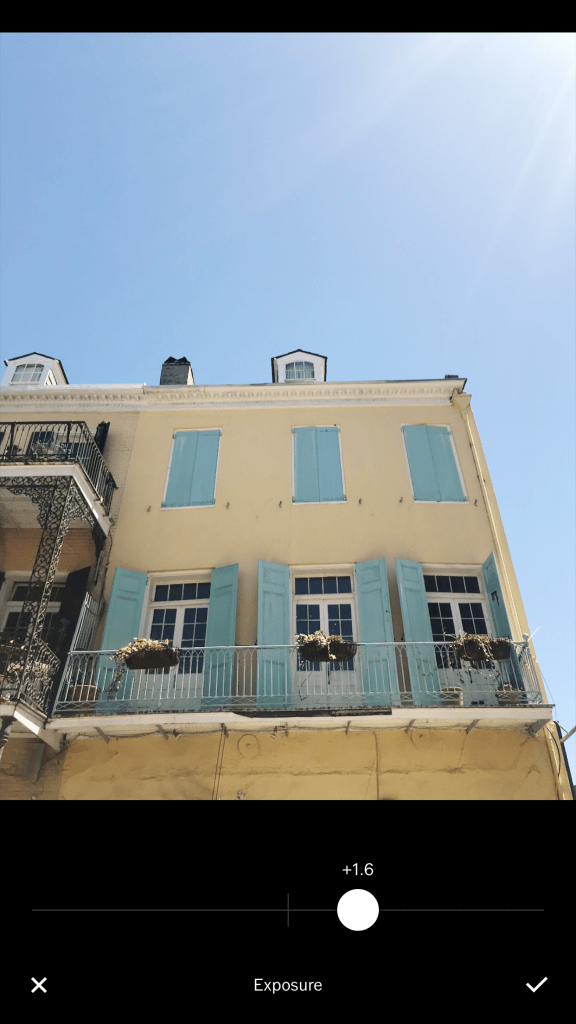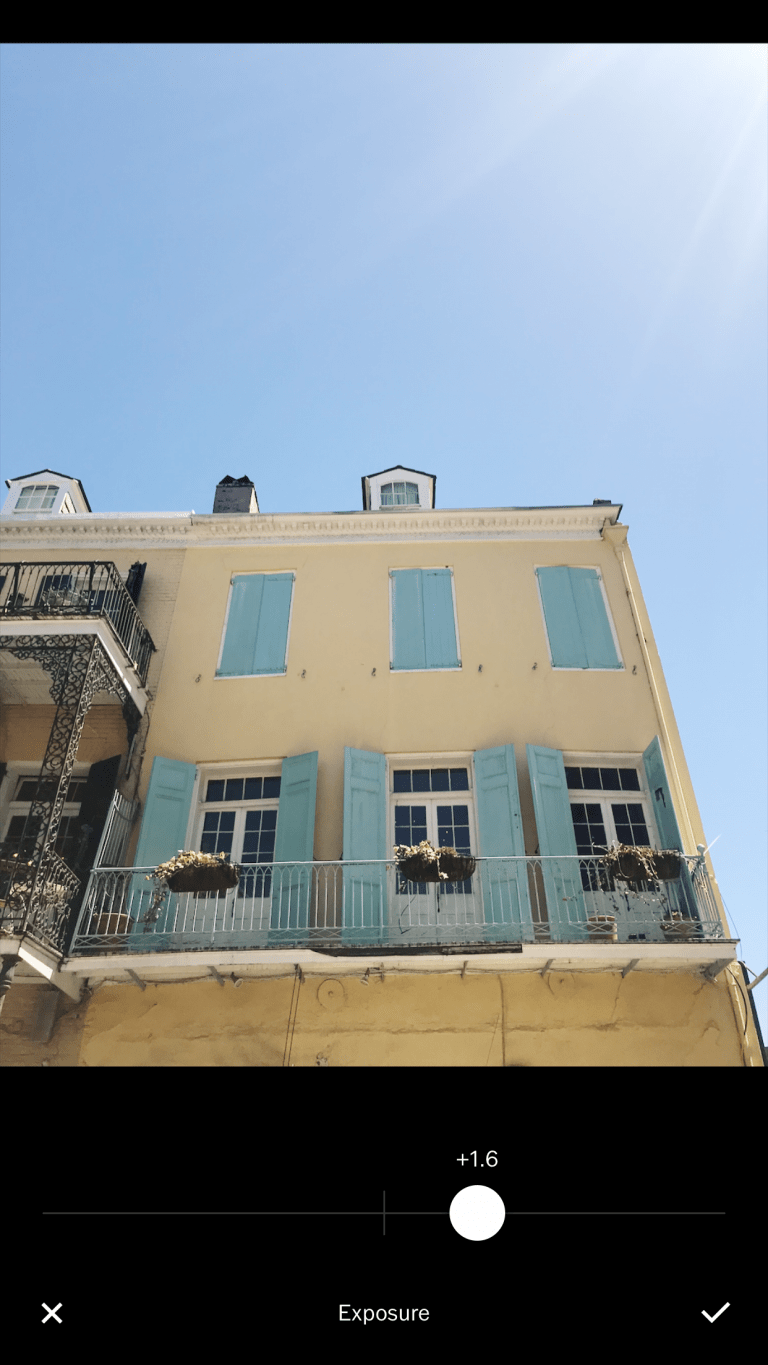 3. Add Contrast +0.5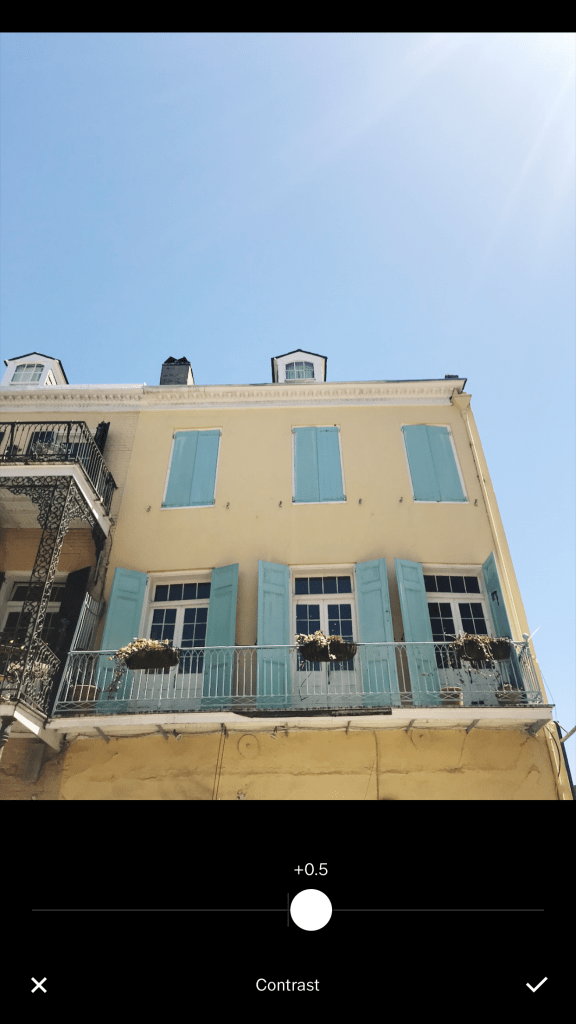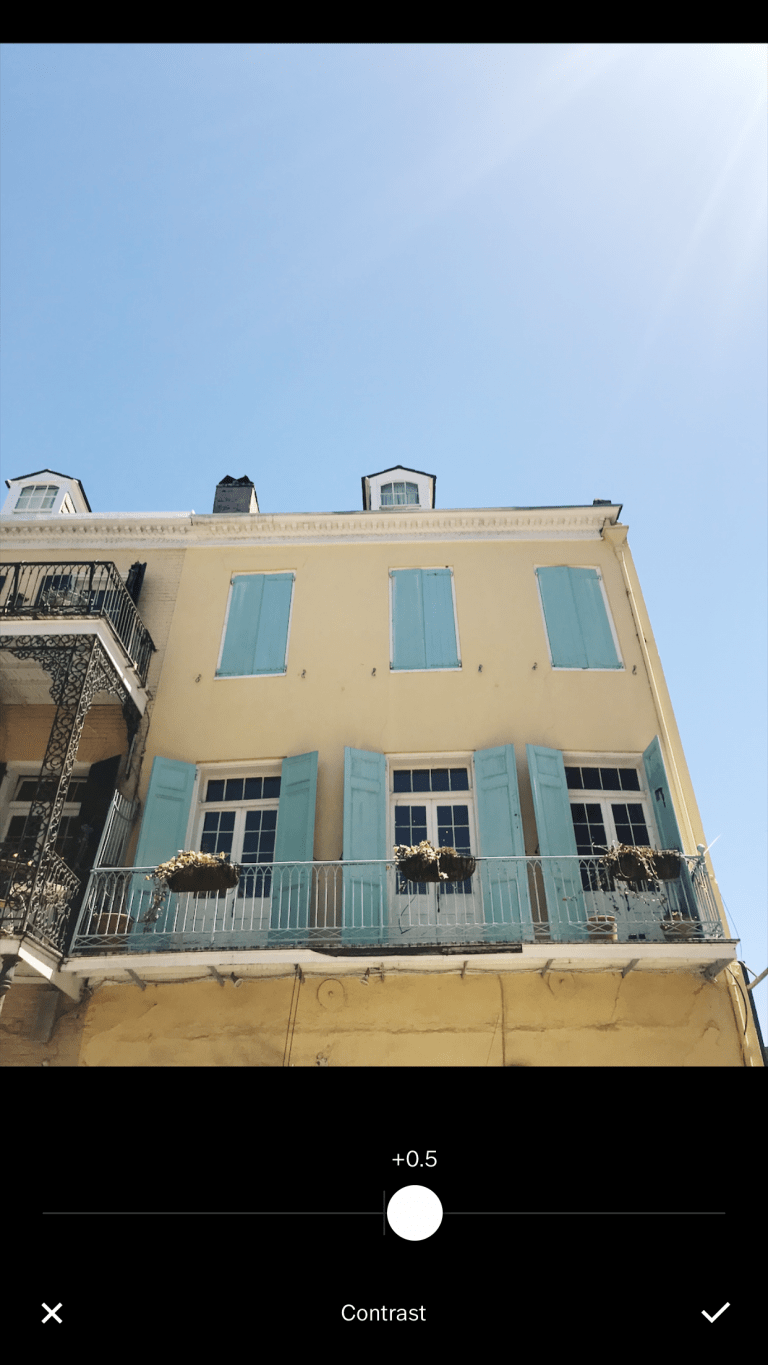 4. Straighten and use the Y-Skew to help straighten the photo.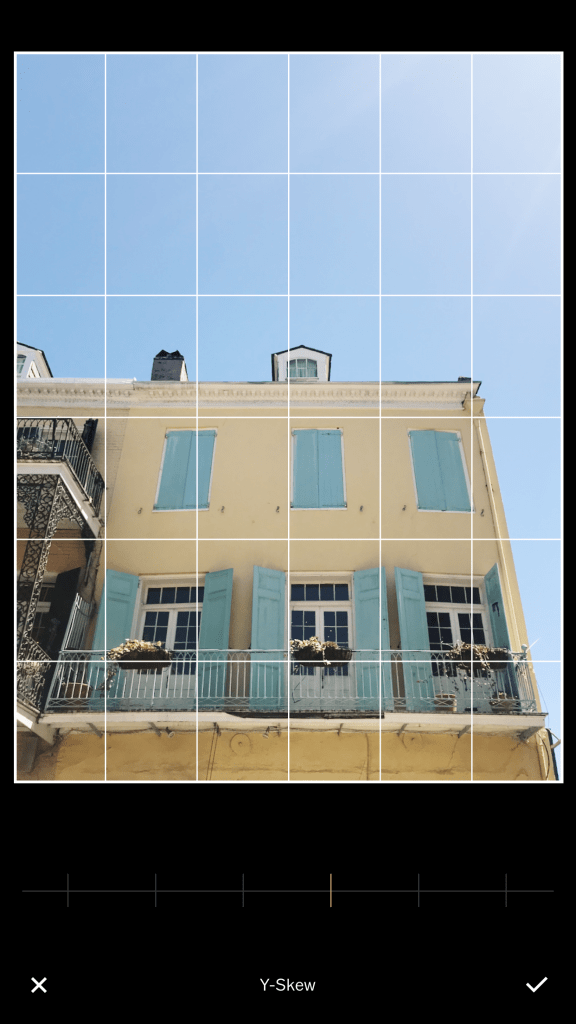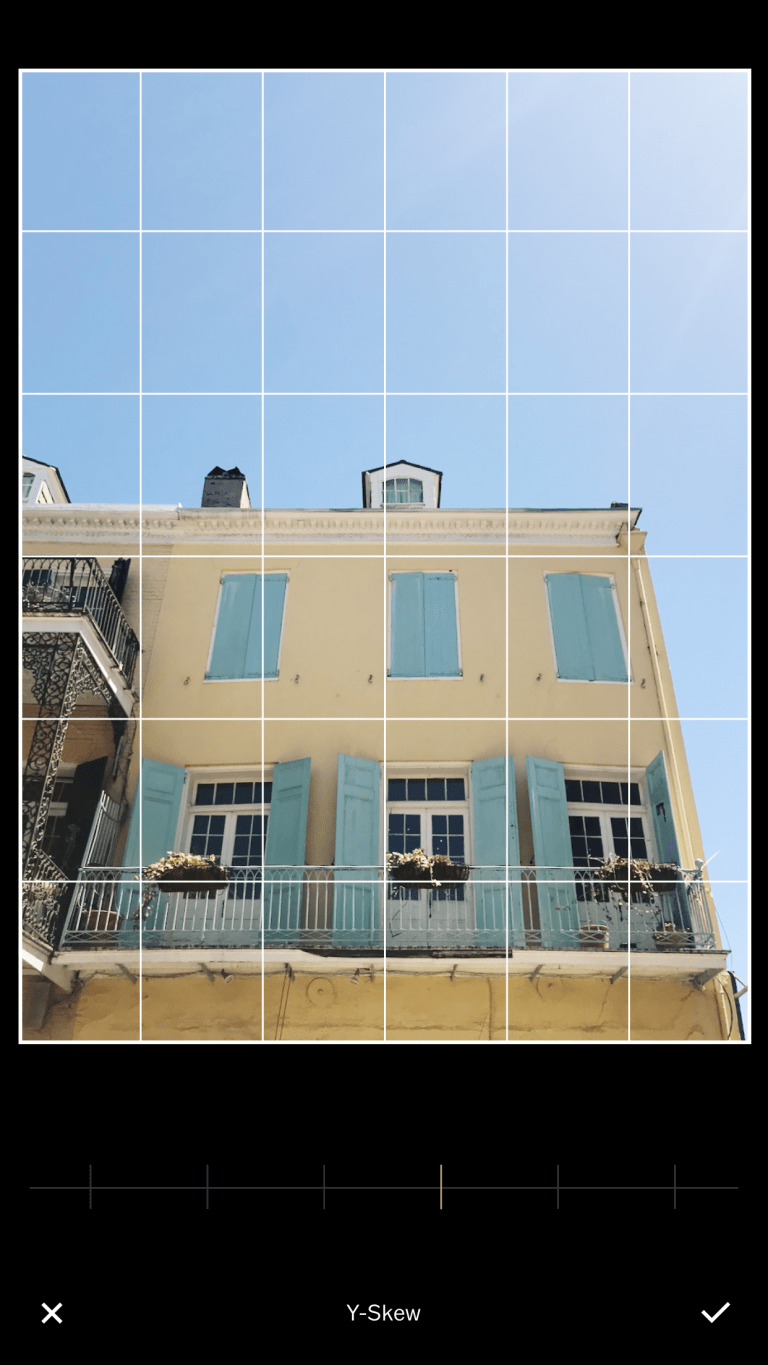 5. Add Saturation +2.2 to help the colors pop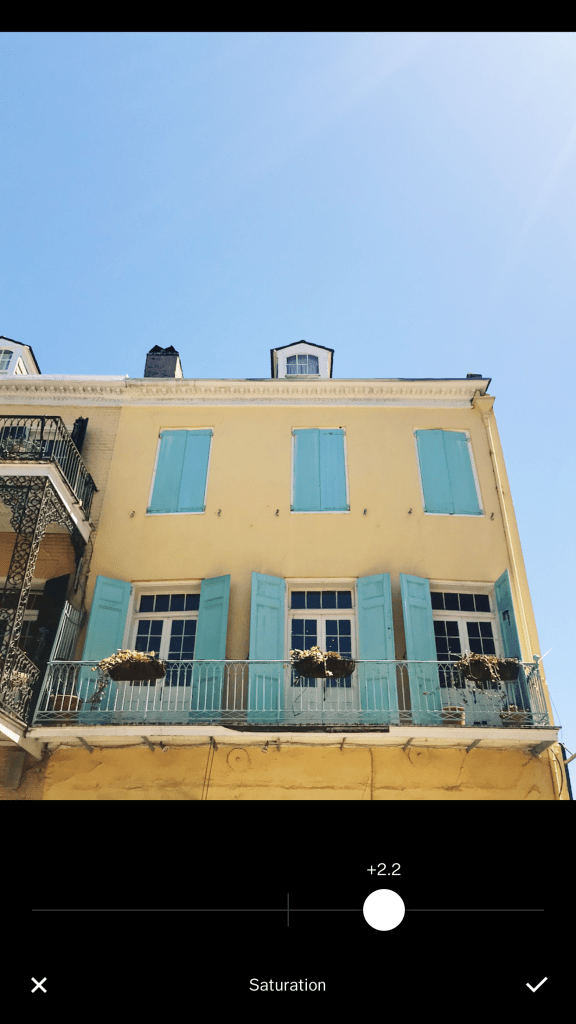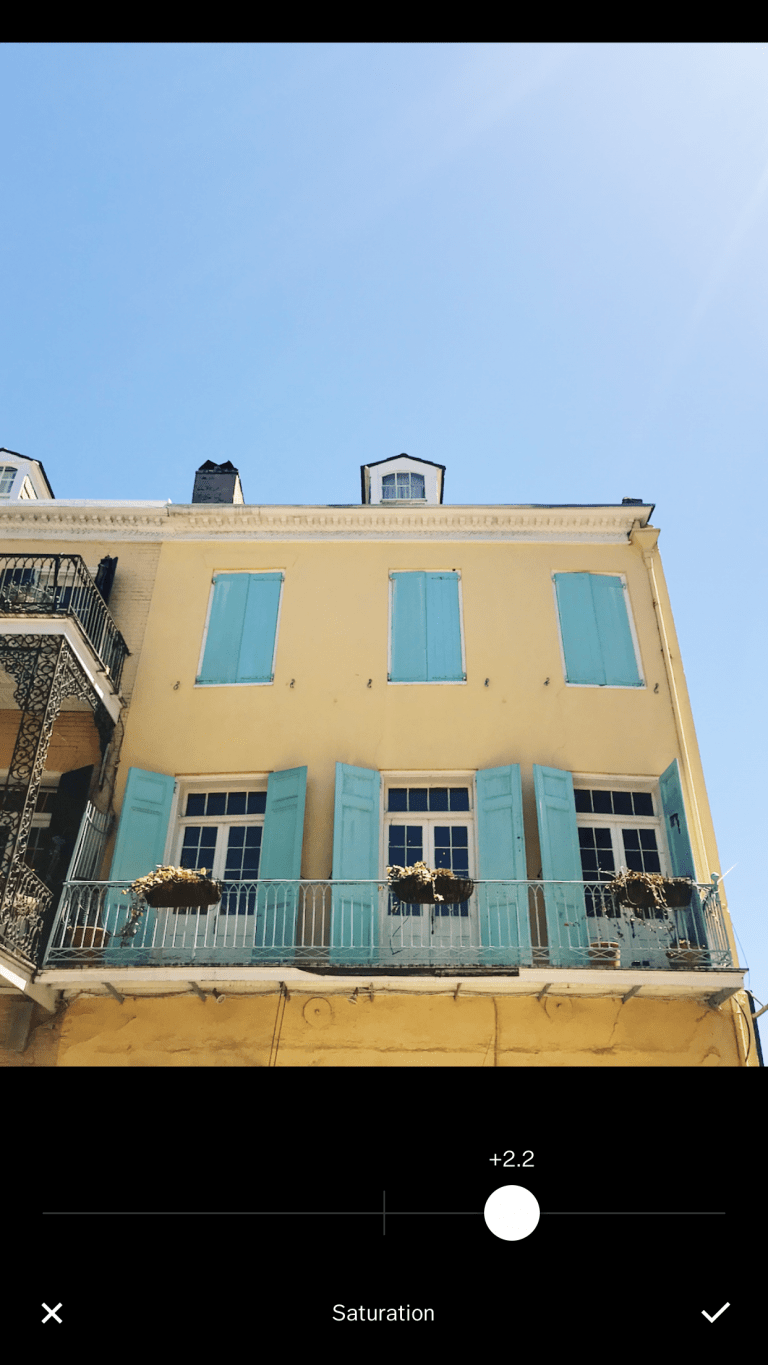 Add Clarity and Sharpen and export it to my camera roll.
Sometimes I take a photo into another app like Retouch to get rid of something random that doesn't need to be in my photos and sometimes I take the photo into PS Express for a more precise crop.
Here is my final photo: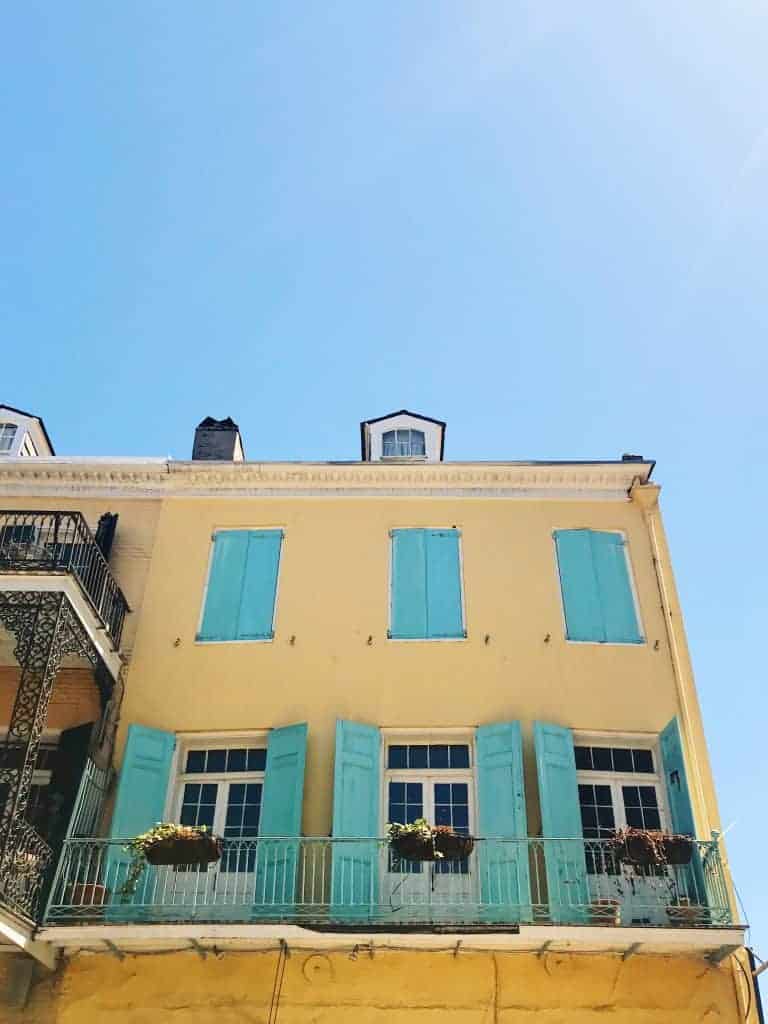 Easy peasy. Like I said before, the beauty of VSCO Cam is that it's powerful and easy to use at the same time. A few clicks and your ordinary photo can become Instagram gold.
I've included a video JUST IN CASE you want to see everything in action. Enjoy
What else do you want to know about editing for Instagram? Do you use VSCO? What's your favorite filter?