My brother uploaded some of our old VHS home movies to youtube recently, and I can't tell you how much fun it is to watch videos from my childhood. The little things that you miss in photos like the way my father's voice sounds, the way my brother was so fidgety as a kid, how shy I was.
I decided that I wanted to document our summer with video. And it's been so much fun.
I get a lot of questions about how I make my #fifteensecondsofsummer videos. So today, I'm giving you a peak inside of my process and how to make videos for Instagram stories.
Because it's so fun and a great way to document your days.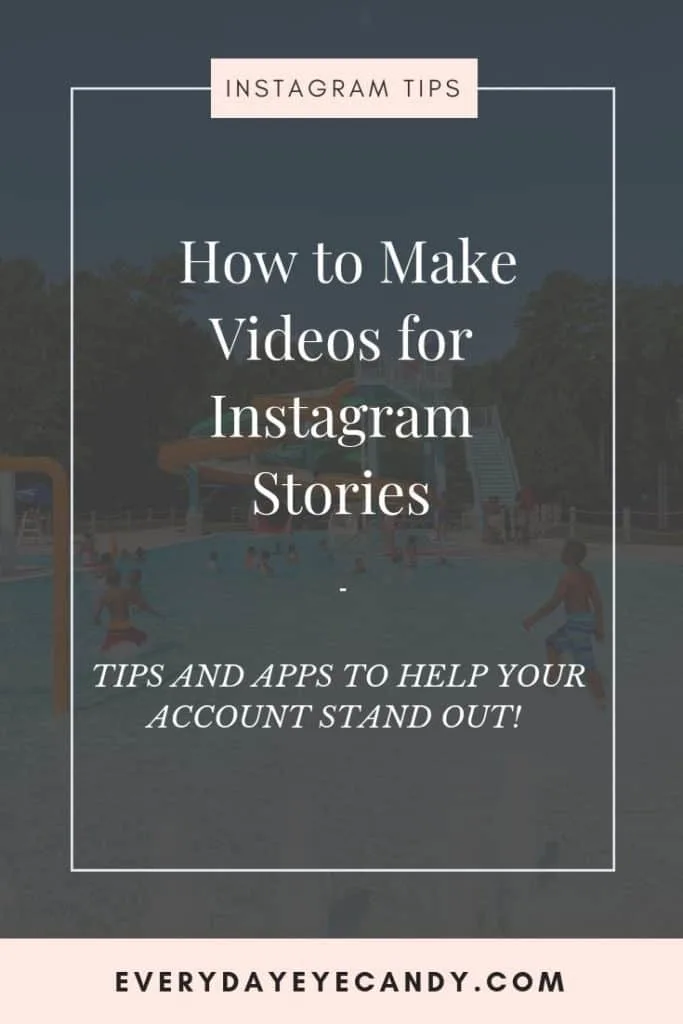 So why the fifteen-second videos?
I wanted something easy. Just simple videos that I didn't have to put too much effort into. Something I could post fast in my Instagram stories and string together at the end of the project for one big video.
What I'm looking for:
If there is something specific going on that day, like a trip to the pool, I get footage. But truly, every day, I'm looking for everyday moments.
Little things that make up our lives right now. Things like: I unload and load the dishwasher every morning. I work on my computer, dropping the kid off at camp, watering the plants, Pookah playing fortnite.
Little mundane everyday moments that are really extraordinary.
How I get clips
This is the hardest part. LOL. What I did in the beginning, was to set an alarm every couple of hours to remind me to record whatever is going on right then in my day. I record in 5-second blocks so that it is easier to trim later.
Apps and Editing
The key to keep this simple is the fact that I do all of my editing on my phone. At the end of the day, or sometimes early in the morning, I pull all of my clips into an app called Video Show.
I've been using Video Show for a while for my coffee stories so it's my go-to app for video editing on my phone.
I bring all of my little 5 second clips in and I make them flow. I usually trim them down between 1-2 seconds so that I typically have about 7 clips to fit our day into those 15 seconds. I then add music.
Video show lets you add in music that you have purchased from your iTunes and the paid and unpaid version has free music you can use. OR, you can just let the sounds of your day flow through. It's up to you!
Sometimes, if I want to be really creative, or I need to edit my video a bit more, I like to use the Film App from the ladies of A Color Story. It's great to add those filters to make it look like VHS tape or vintage film.
They just updated the app, and now you can add music too. Since a Color story is my go to app for editing the photos in my Instagram stories, I love it.
Dimensions and Exporting
Before you export your new video from whatever app you are using, make sure that it fits the Instagram story dimensions. Instagram Story dimensions are 1080px by 1920 px. This is also known as an aspect ratio of 9:16.
I then upload my video to Instagram stories, add, the hashtag #fifteensecondsofsummer and publish!
It has now become a part of my routine and I look forward to it every day. This is the same routine I use at the end of every week when I string all of these 15 seconds together to make my big video posted to my IGTV on Sunday evenings.
Now if you want to participate, there is still plenty of summer left!
And I plan on continuing it after our summer is over.
Stay tuned for a new hashtag!
So that's it! That is how I make videos for Instagram Stories. Below I have included all the apps I use or have used while making these videos for Instagram.
Apps for editing
Video Show to bring all of my clips together and to add music for IOS and Android
Filmm App ( for editing brightening clips and for fun filters) for IOS only
Spark Camera App lets you record many clips and then string them together. Apple only
Music
Soundstripe to add in licensed music. This is a monthly subscription service. I used this mainly on my longer videos.
Music through Video show
So that's how I make my fifteen seconds of summer videos for Instagram stories! Questions?