Family Movie night is a great way for the whole family to spend time together! Check out these 52 for family movie night ideas! There are 52 great ideas from the big screen for every week of the year!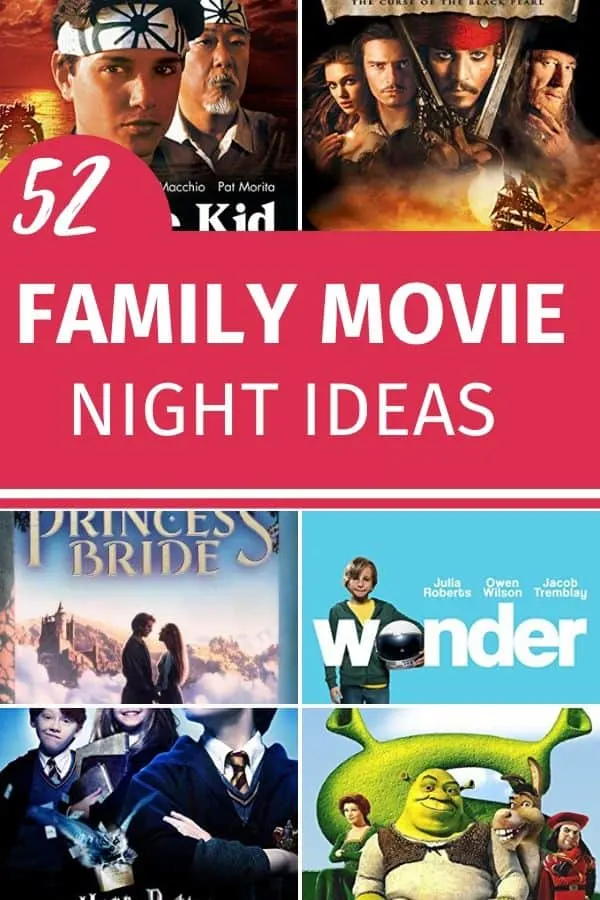 This blog post contains affiliate links. Everyday Eyecandy is a participant in the Amazon Services LLC Associates Program, an affiliate advertising program designed to provide a means for sites to earn advertising fees by advertising and linking to Amazon.com. This in no way affects my opinions of the books included in this post.
Family movie night is a great tradition to start. What's better than something to brings together the adults, the older siblings and the younger siblings together in the living room, under cozy blankets to watch good family movies?
Family time is important in this fast moving world, and these times with our kids is short. Last year I realized that every weekend we basically made our own movie night for the entire family with popcorn boxes and the big screen TV . I decided to make it official!
If you are like us, you might always start the night with : well what do we watch? There are so many great options out there to keep us occupied all year long!
So to keep us all from having to watch the same movies over and over again, I've collected/researched 52 family movie night ideas across different genres. I've broken this post up into Comedy, Adventures, Animated, Sci-Fi/Fantasy, and Drama.
This list has everything from classics like the Princess Bride, Muppet Movies Indiana Jones and the Karate Kid! Basically something for everyone!
Most of these movies can be found on Amazon prime or Netflix .
But whatever you pick, I hope this list will help you have the best movie night every week!
If you want to document this process, check out this Family Movie Night Journal that is sure to make it even more fun!
So enjoy this list and if you have any suggestions share! I'll add them in!
This blog post contains affiliate links. Everyday Eyecandy is a participant in the Amazon Services LLC Associates Program, an affiliate advertising program designed to provide a means for sites to earn advertising fees by advertising and linking to Amazon.com.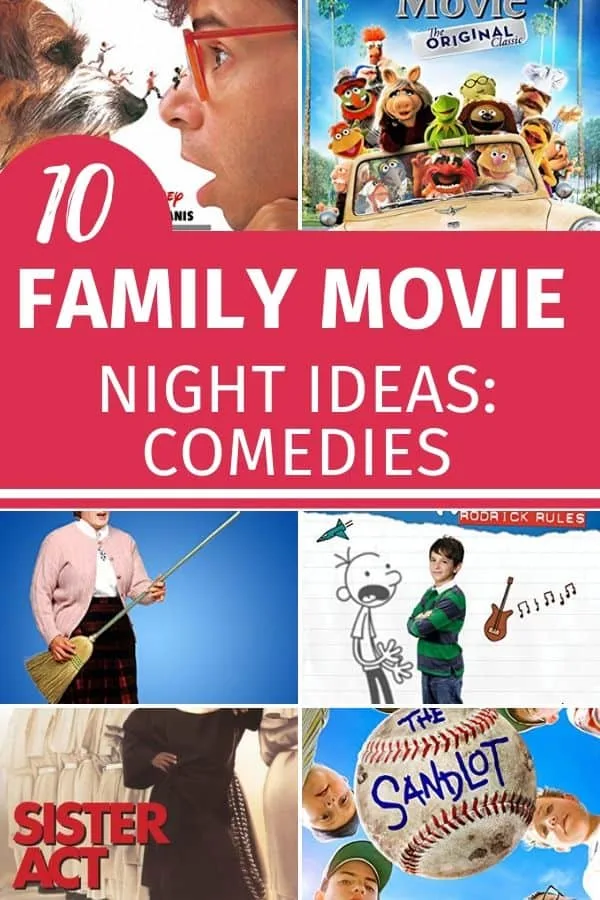 Family Movie Night Ideas: Comedies
Looking for comedies for family movie night? Check out these 10 Comedic family movie night ideas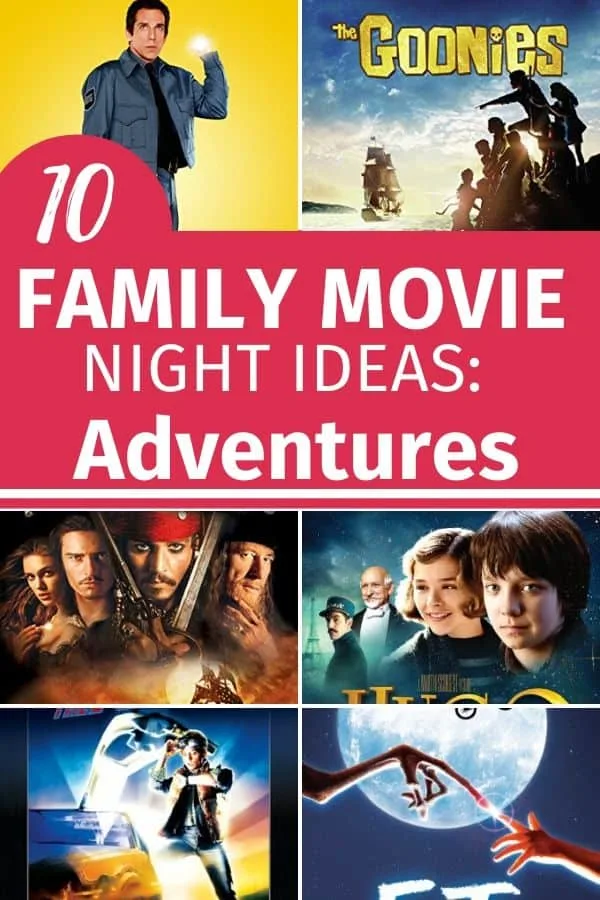 Family Movie Night Ideas: Adventures
Adventures are perfect for family movie night! These Family-Friendly Adventure movies ideas for family movie night are full of adventure and fun!
Ben Stiller leads an all-star cast including Robin Williams and Dick Van Dyke in this hilarious blockbuster hit! When good-hearted dreamer Larry Daley (Stiller) is hired as night watchman at the Museum of Natural History, he soon discovers that an ancient curse brings all the exhibits to life after the sun sets.
A group of ordinary kids discover a secret treasure map, their sleepy seaport lives are suddenly transformed into a fun-filled, roller-coaster ride.
Steven Spielberg's contemporary classic! A stranded alien needs to phone home - he meets the suburban kids who help him get there. Winner of four Oscars.
The children of spy agents must save their parents in this adventure.
Set in 1930s Paris, an orphan who lives in the walls of a train station is wrapped up in a mystery involving his late father and a robot.
When monsters are unleashed from their manuscripts & terrorize a town, it's up to R.L. Stine, Zach & Hannah to get them back in their books.
A thrilling misadventure involving three ingenious orphans and a villainous actor named Count Olaf (Jim Carrey) who wants their enormous fortune.
Marty McFly (Michael J. Fox) is blasted to 1955 in the time machine created by Doc Brown (Christopher Lloyd) and finds himself in a time-shattering situation that jeopardizes his future.
The heroic tale of the courageous exploits of the Robinson family after they are shipwrecked on a deserted island. Using teamwork and ingenuity, they overcome the obstacles of nature and transform their new home into a "civilized" community.
Join the adventures of Jack Sparrow and his nemesis Captain Barbossa.
When young King T'Challa is drawn into conflict with an old foe that puts his homeland Wakanda and the entire world at risk, he must release Black Panther's full power to save them.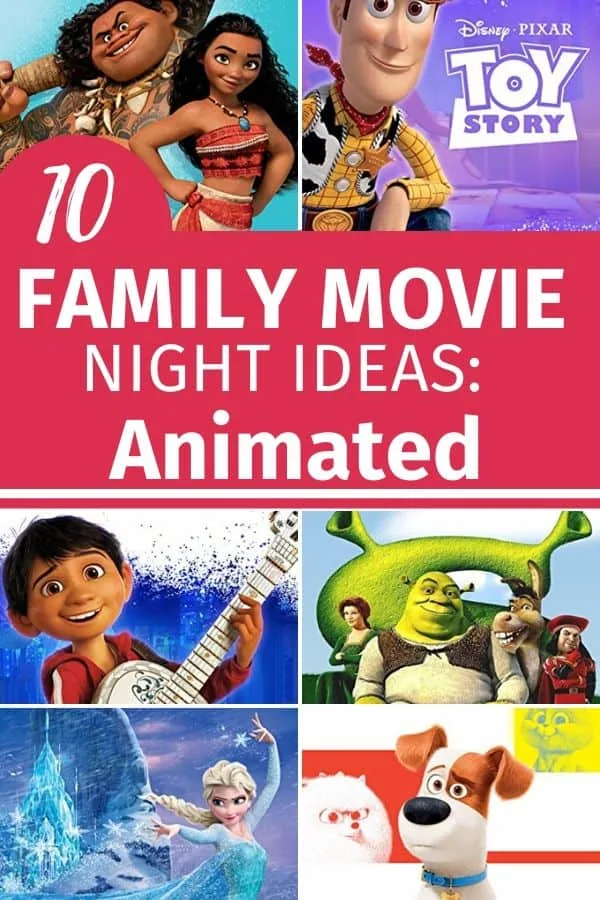 Family Friendly Animated Movies
There are so many animated films to choose from for family movie night. These films are usually made with a kid audience in mind( with inside jokes for parents) so they are perfect for family movie night!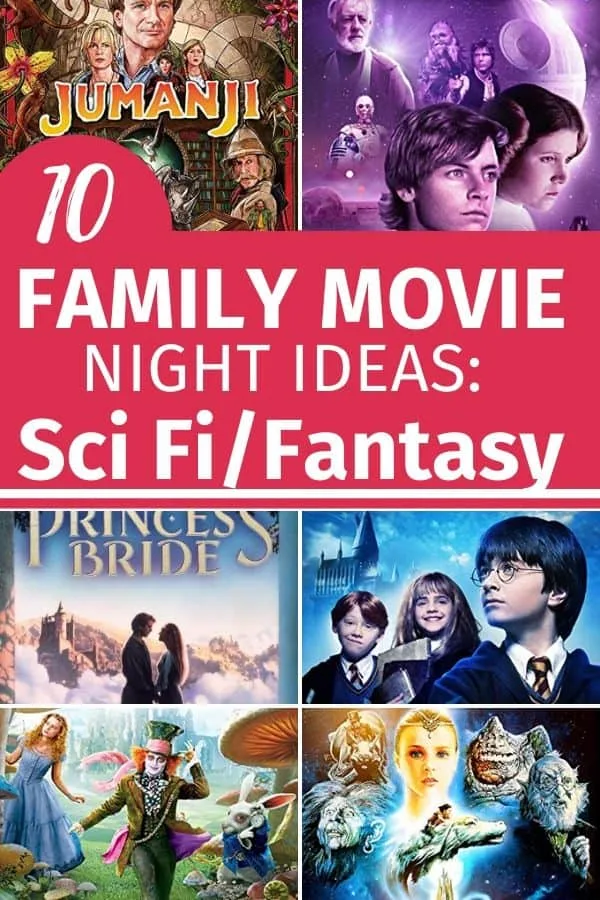 Family Friendly Fantasy/Sci-Fi Movies
Want to fuel your kids imagination? Both kids and parents will love these Fantasy/Sci-fi family-friendly movie night ideas!
Of course, the Star Wars trilogy holds a special place in my heart! It's the perfect series for family movie night!
The Wizard of Oz follows Dorothy and her dog Toto as they get caught in a tornado's path and somehow end up in the land of Oz.
Take an unforgettable, uniquely magical, musical journey through the deliciously delightful, whimsically wonderful world of Willy Wonka And The Chocolate Factory.
HARRY POTTER!! Based on the wildly popular J.K. Rowling's book about a young boy who on his eleventh birthday discovers, he is the orphaned boy of two powerful wizards and has unique magical powers.
A young girl, who enters a world of her own creation, experiences her first awareness of love, responsibility and danger.
Based on William Goldman's novel of the same name, The Princess Bride is staged as a book read by grandfather (Peter Falk) to his ill grandson (Fred Savage). Falk's character assures a romance-weary Savage that the book has much more to deliver than a simpering love story, including but not limited to fencing, fighting, torture, death, true love, giants, and pirates.
An English nanny reconnects a father and mother with their two kids.
Ghosts invade New York and force a trio of spirit exterminators to save the city in one of the biggest comedies of all time. Bill Murray, Dan Aykroyd and Sigourney Weaver head the all-star cast.
A mysterious game transports its players to the jungles of Jumanji! Thrilling effects!
A family fantasy/adventure epic based on the acclaimed best-seller about a troubled boy who discovers an extraordinary storybook-and the fantastical world within its pages.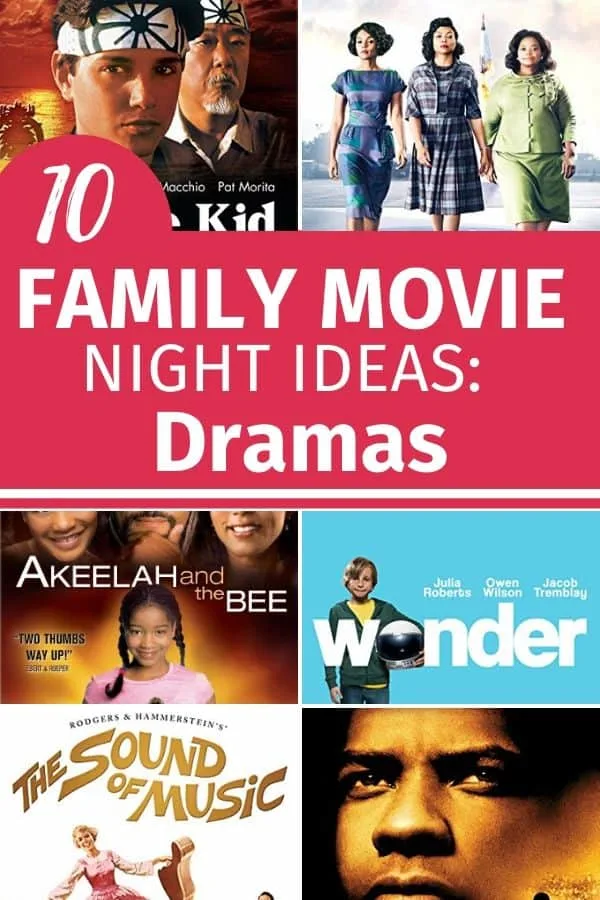 Family Movie Night Ideas: Dramas
These are movies that even parents will love! Check out these dramatic family-friendly movie night ideas.
Based on the hit Broadway musical, the original version of this movie never fails to disappoint. Perfect for movie night.
True story of a newly integrated high school football team.
A young girl from South Los Angeles tries to make it to the National Spelling Bee.
An elderly martial arts expert (Pat Morita) teaches a high schooler (Ralph Macchio) to defend himself from bullies.
Rodgers & Hammerstein's cinematic treasure, "The Sound of Music" is the winner of five Academy Awards, including Best Picture. In this true-life story, Julie Andrews lights up the screen as Maria, a spirited young Austrian woman who leaves the convent to become a governess for Captain von Trapp's (Christopher Plummer) seven unruly children. Her charm and songs soon win the hearts of the children - and their father. But when
An incredible & inspiring untold true story about three women at NASA who were instrumental in one of history's greatest operations – the launch of astronaut John Glenn into orbit.
Genetically engineered dinosaurs run amok at a tycoon's island amusement park. Based on Michael Crichton's novel.
Julia Roberts, Owen Wilson, and Jacob Tremblay star in an inspiring story of a loving family whose son, born with facial differences, enters a mainstream school for the first time.
Tom Hanks and Geena Davis star in this big-league comedy based on the real-life exploits of the All-American Girls Baseball League.
A "routine" space flight becomes a desperate battle to survive in this breathtaking adventure of courage and faith starring Tom Hanks, Kevin Bacon, Bill Paxton, Gary Sinise and Ed Harris.
Hopefully this list was helpful for your next family movie night !
If you want to go even further, check out this Family Movie Night Journal that is sure to make it even more fun!
Stuff for Adults to Watch…