Looking for gift ideas for the photographer in your life? This ultimate gift guide for photographers is perfect for this time of year!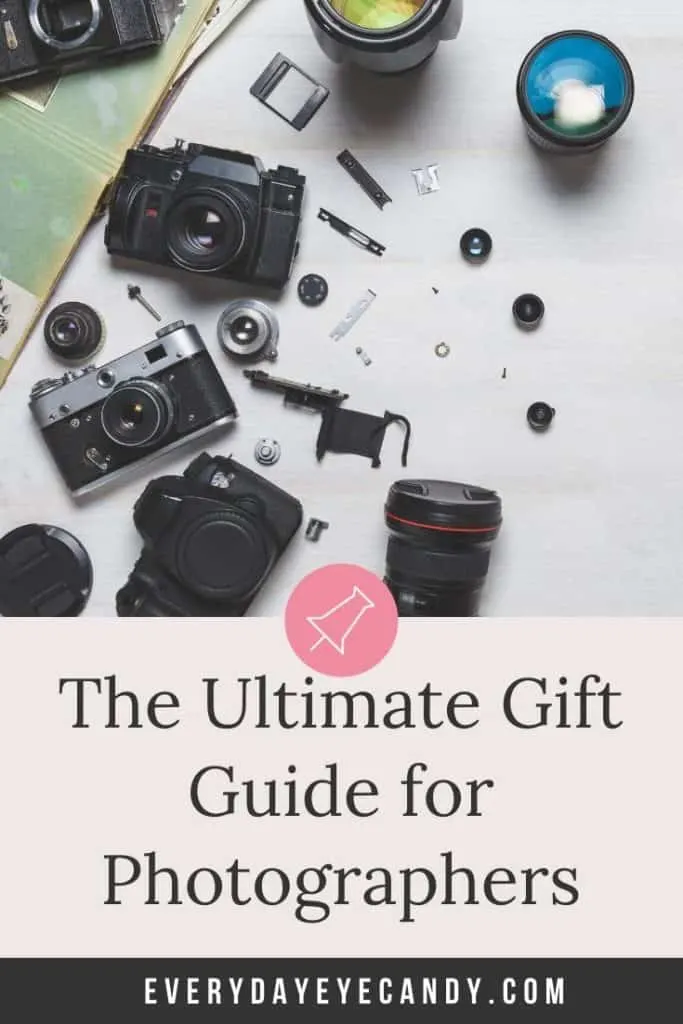 ( This post contains affiliate links. Clicking on a link may result in enough funds to keep me drinking holiday-inspired lattes)
The Ultimate Gift Guide for Photographers
Tis the season! I get asked all the time what I recommend as far as all things photography so I knew that it was time to make an updated gift guide for photographers. This guide is divided into sections so you can skip right to what you or the photographer in your life really needs to up their photography game.
So let's get started!
The Cameras
There are so many choices here. But I'm going to list 3. Three for each level of photographer in your life. Disclaimer: I am a Canon lover. So…..
For Beginners/for Travel
This is the little camera that could ( and secretly on my list for its small size). This is the perfect next step up from a point and shoot. It has built-in wi-fi and is an excellent option for beginners looking to get more serious about photography without spending too much money.
Intermediate( or you know a little about shooting in manual and want to start doing video)
When you are ready to go to the next level, the Canon 80D is your answer. With 24.2 MP , wireless connectivity, 1080P video capture, articulating touch screen and a weather-sealed body it's the perfect camera to grow into. It will give you awesome photos and it's great for video too!
Advanced( as in you know how to shoot in manual and you are ready to produce even better visual and video content)

Also on my personal wish list, this is the perfect camera when you are ready to move to full frame, ready to be serious about video and want stellar images. The price tag on this camera is HEFTY. But if you can swing it, well worth it.
For the Vlogger in your life

Vlogging/video is going to be BIG in the next year so a lot of bloggers are looking for the perfect vlogging camera that isn't' their smartphone. The main thing most vloggers are looking for are: size, weight, battery life and quality of the video. The Canon G7x has all of that and more.
The Lenses
The Nifty 50 ( Canon or Nikon)
This lens is perfect for any and everything you shoot. But especially for product photography and portraits. It's the first lens you should upgrade to, and perfect to ask for Christmas.
Canon 24-70 f/2.8 or Nikon 24-70 f/2.8 OR Tamron 24-70 f/2.8 for either Canon or Nikon.
Yes, all the options! This lens is just an all-around great lens for everyday shots of your kids, product photography, food photography or travel photography.
Must-Have Accessories
Backdrops
It's literally a roll of paper designed to look like wood, tabletops, marble or practically anything that you can think of. If you want to save money, but are still ready to up your blog photography game, try this before moving on to more expensive options.
When you are ready to up your food photography game, you HAVE to have one of these wood surfaces. They are gorgeous, they are portable. They are fabulous! Head over to their instagram to see examples and then head back over to order.
Basic Must Haves gifts for Photographers
I like the Kelly Moore Libby and the Kelly Moore Kate Bag and because it not only holds my camera but also my laptop. Perfect for travel, conferences and just a good workday at my local coffee shop.

White balance is a major key to making your photos look professional. To make sure your whites are white and there is no unwanted yellow cast in your photos, invest in a simple easy to use grey card.

You need a tripod. For video, for selfies, for overhead shots for food. Invest!!!
Because if you are serious about video, you cannot always use natural light and you still want to look good!
Friends…bookmark this list. Save it. Send it to a loved one. ASK SOMEBODY!! LOL Even if you don't get these for Christmas, save it for later for your own reference. Your photographs will thank you.
Merry Christmas!