This is the ultimate guide on where to eat gluten free at Animal Kingdom . Check out these restaurants in Animal Kingdom that will give you plenty of options.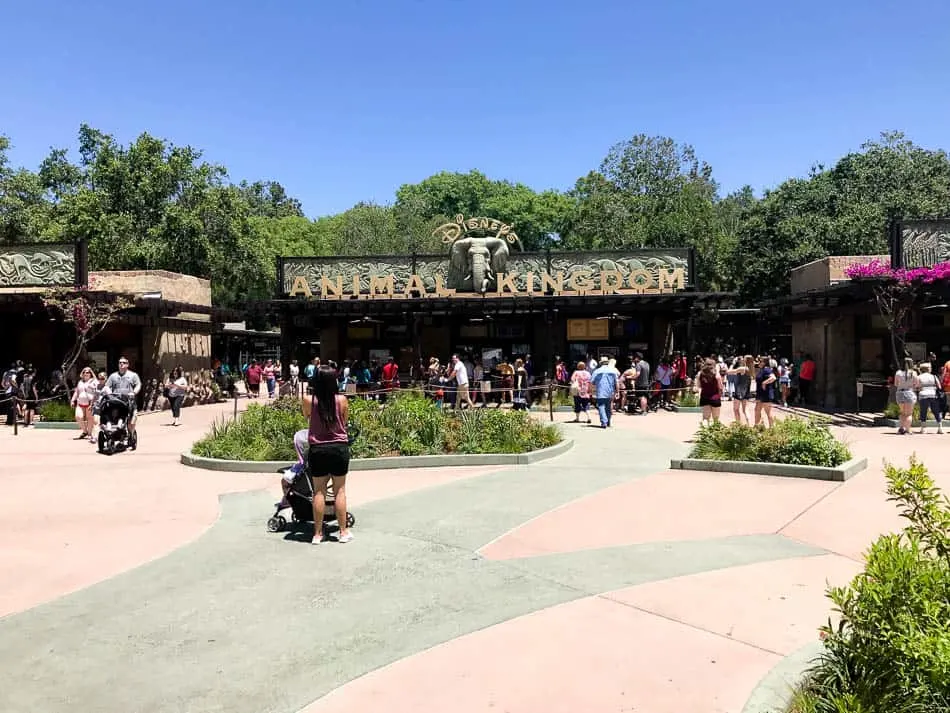 This blog post contains affiliate links. Everyday Eyecandy is a participant in the Amazon Services LLC Associates Program, an affiliate advertising program designed to provide a means for sites to earn advertising fees by advertising and linking to Amazon.com.
We have a lot of personal experience with eating gluten free at Disney World due to my son's allergy to wheat. Over the years, we have found that the theme parks at Walt Disney have great options for families with food allergies and special diets. But if you are like us, you like to plan your eating before you go to Animal Kingdom Park and want recommendations for the best options for good food! I am here for you!
Before you start, make sure you've read my Ultimate Guide for How to Eat Gluten-Free at Disney World. I update it every year. I've also written a guide to Gluten Free Disney Springs so make sure you check that out as well.
Things to Think about before you eat!
Ok, before we talk about my recommendations, let's talk about a few things to help your Animal Kingdom experience go well. Eating in Animal Kingdom with a food allergy can be challenging due to the different flavors and cultures highlighted in the park.
First, think about bringing gluten-free snacks and even meals to the park with you. You CAN bring food into any Disney Park.
You can also bring a reusable water bottle, there are refill locations all around the parks.
Before you go, remember that menu options can and often will change, especially when it comes to the gluten free menus at the parks. Many times it is a supplier issue and sometimes, it's just a menu change.
Ok Let's get started!
Where to Eat Gluten Free at Animal Kingdom
Quick Service Restaurants in Animal Kingdom
If you are looking for an easy option for food in the parks, Quick service restaurants are a great place to get gluten-free items. And the good news is that mobile ordering on the My Disney Experience app is a great option and easy to use since the allergy menu is now included as an option.
*note, if you have severe allergies or have never eaten at the Quick service restaurant before, I would recommend walking up to the quick service and talking to a cast member about placing an order rather than placing a mobile order.
1. Flame Tree Barbecue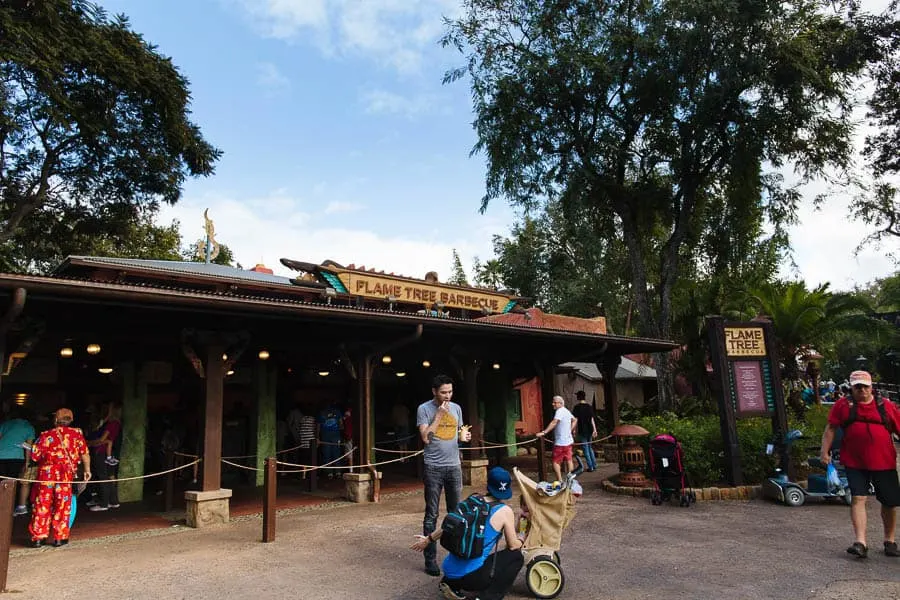 This is my personal favorite place in Animal Kingdom Park. Located in Discovery Island, the St. Louis Rib Dinner, a Ribs and Chicken Combo, a 1/2 Chicken, and a Smoked Pulled Pork Sandwich that are all gluten free.
2. Satu'li Canteen
Located in Pandora Land, the menu options feature build-your-own bowls with chicken, beef, tofu, and shrimp for protein and rice, noodles potatoes or salad as the base.
Think Chipotle but with unique flavors. There is indoor and outdoor seating.
3. Harambe Market
Located in Africa, Harambee Market has a lot of gluten-free options that are rice-based. French Fries are available on request and made in a dedicated fryer.
Gluten-Free Table Service Locations in Animal Kingdom
Table service at any park is usually best done by making a reservation in the My Disney Experience app. When you make the reservation, make sure that you note that someone in your party has a gluten allergy or dietary restriction. When you arrive, your server should also note it and ask if you want to speak to the Chef or bring you an allergy menu that has gluten-free food options on it.
4. Tusker House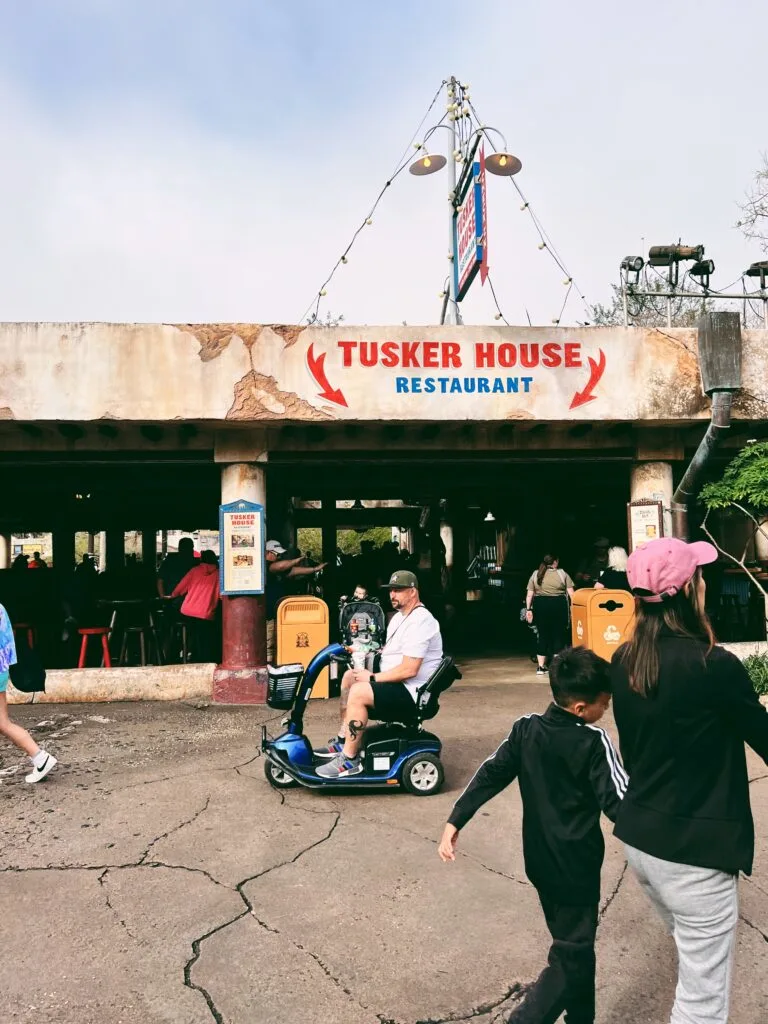 Tusker House is my new favorite table service restaurant for a character dining breakfast in Animal Kingdom. It is a buffet, but the waiter will bring you an allergy menu that will tell you what on the buffet is gluten-free. They will also bring you your own platter of gluten free waffles and pastries ( my son got a blueberry muffin and bread that he LOVED).
If you do not feel ok with possible cross-contamination, they will bring you something from the back. Just ask.
5. Tiffins
If your budget is on the higher end, Try Tiffins is a great sit-down restaurant for lunch or dinner. The allergy menu has great gluten-free menu items like Surf & Turf, North Shrimp and Grits, Tamarind-braised Short Rib, or Butter Chicken. There are also a good selection of appetizer and desserts.
6. Yak & Yeti
i've included Yak & yeti on this list even though they are run by a third party. You can still make reservations through the disney app. But i stress the importance of making sure your server is aware of your allergy when you check in. There is no allergy menu available on the app. you have to ask for a paper version when you get to the restaurant. This does make it hard to plan ahead, or to even see if there is something you want on the menu. So for children or non-adventurous palates…i would not recommend it.
Gluten free Snacks in Animal Kingdom

Last but not least, let's not forget about snacks! I'm going to list a few places I like to hit up to get the Best gluten-free snacks in Animal Kingdom
7. Tamu Tamu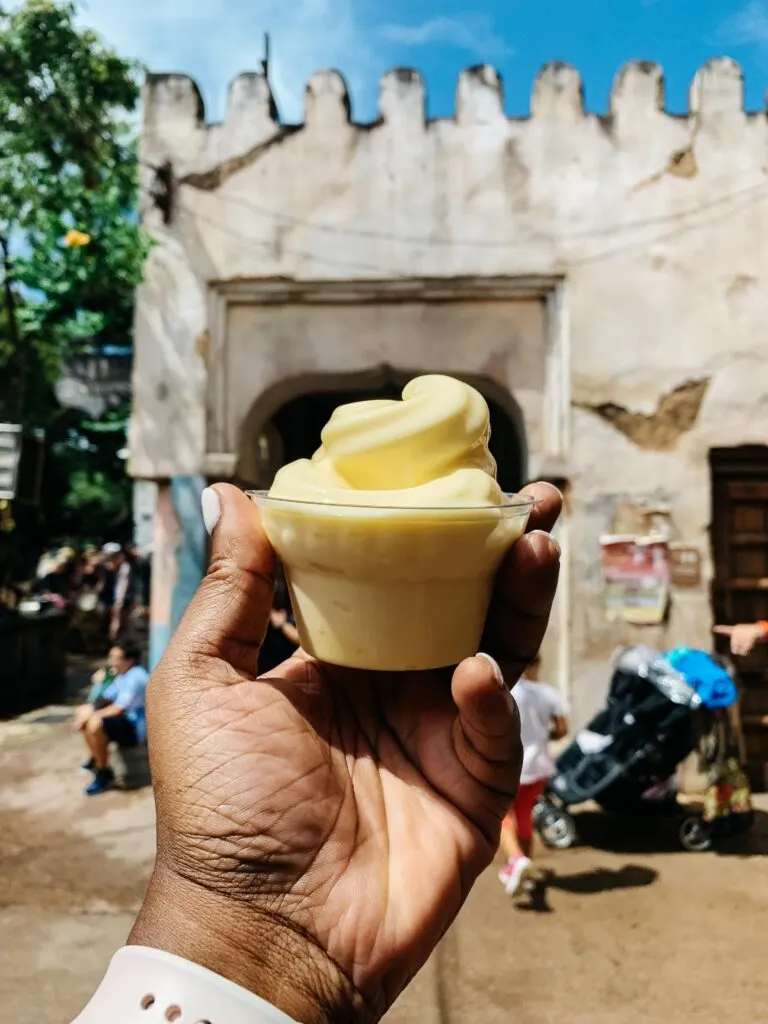 One of the most popular Disney Snacks, the Dole Whip, can be found at Tamu Tamu Refreshments.
8 Nomad Lounge
We cannot leave out Churros! Nomad Lounge has THE BEST Gluten-Free Churros that you can get in Disney World. Please do not miss them!
9.Harambe Fruit Market
At Harambe Fruit Market, you can find fresh fruit and Grilled Corn on the Cob. It's covered in butter and spices and delicious!
10 Pongu Pongu in Pandora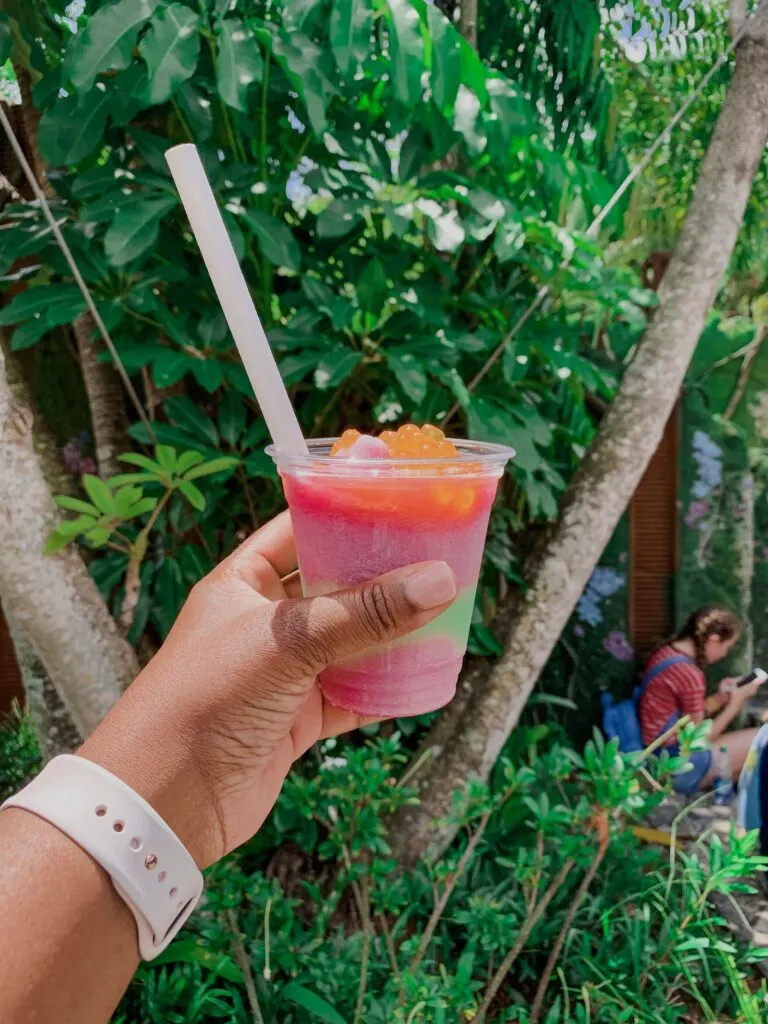 You HAVE to stop here and try the Night Blossom. It's a sweet and tangy slushy topped with boba balls located right when you get off of Flight of Passage.
So there you have Gluten Free at Animal Kingdom! I hope this helps you enjoy your time there.
If you want more gluten-free Disney Content, see my Gluten Free at Disney Springs Guide and my Ultimate Guide to Gluten free at Disney World!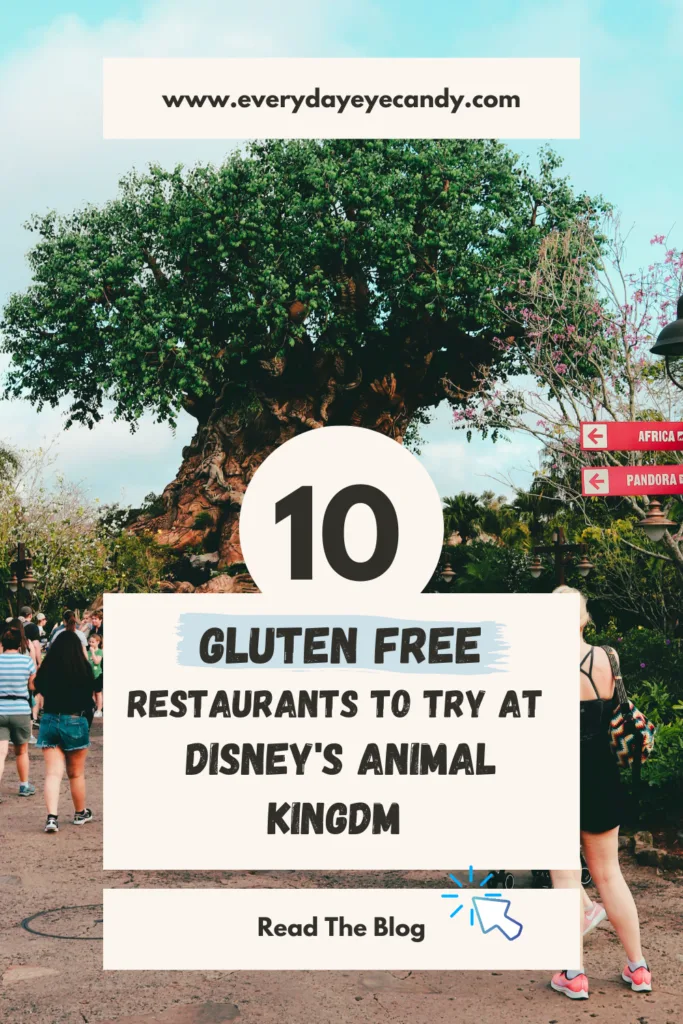 If you are thinking of going to Disney, Undercover Tourist is the trusted name for Discount Theme Park Tickets . Save up to $149 per ticket. Backed by 365 Day Refund Policy and A+ BBB Rating.