Looking for the Best Planners for Working Moms? Organize your home life, work-life, meal plan and complete your to-do list every day with these planners! This post has been updated for the 2023/2024 planner season.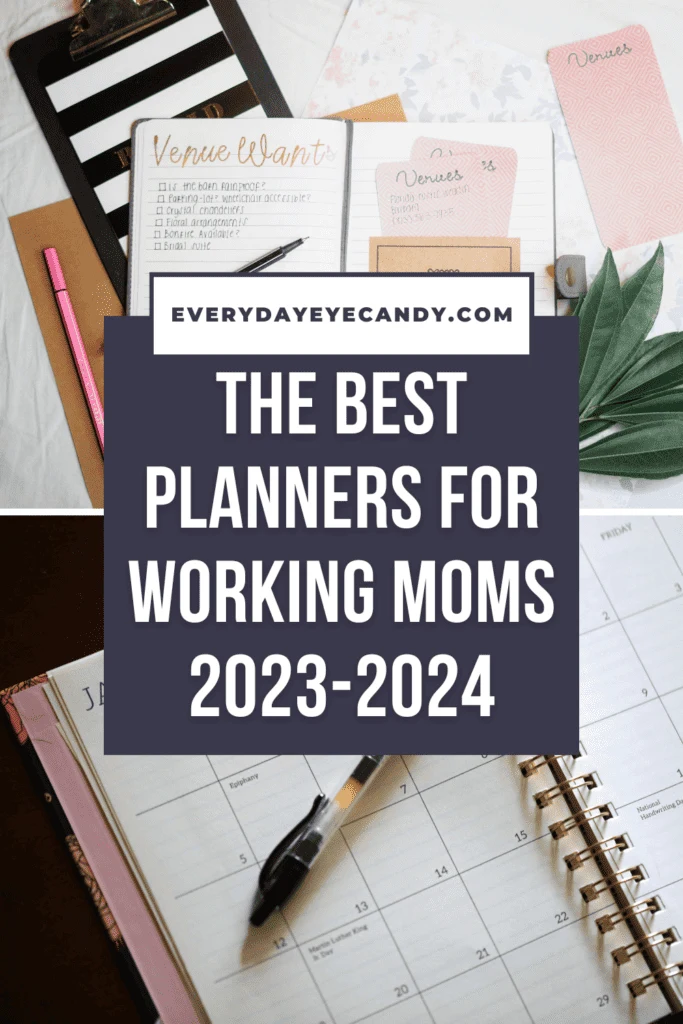 This blog post contains affiliate links. Everyday Eyecandy is a participant in the Amazon Services LLC Associates Program, an affiliate advertising program designed to provide a means for sites to earn advertising fees by advertising and linking to Amazon.com.
I've always been a planner kind of girl. And when I became a mom, and a working mom with her own business, I stepped my planner game all the way up! But I know that there are so many options for planners out there that it's hard to find the right planner for you. A lot of you are planner girls too ( to-do lists, checklists, calendars oh my) so I thought I'd share with you my list of the best planners for working moms. So if you are looking for a new planner, keep reading

Why I love a good planner
I started off long ago with a notebook and a pen. But as life evolved, so did the way I planned. My first paper planner was the Erin Condren planner way back in the day. But as life has evolved, so has my planner game.
One thing I've learned over the years is that there is no perfect planner. There will always be something that's not quite what you need. As working moms, we need a planner that can help us keep track of all of the mental load that we carry in our heads. The grocery list, the kid's schedules, Dr's appointments, husband's schedules, and our own projects.
The best planners I've found are the ones that allow you to do all of that, but still let you find time for creativity, and gratefulness and motivate us all at the same time.
And they need to be pretty too.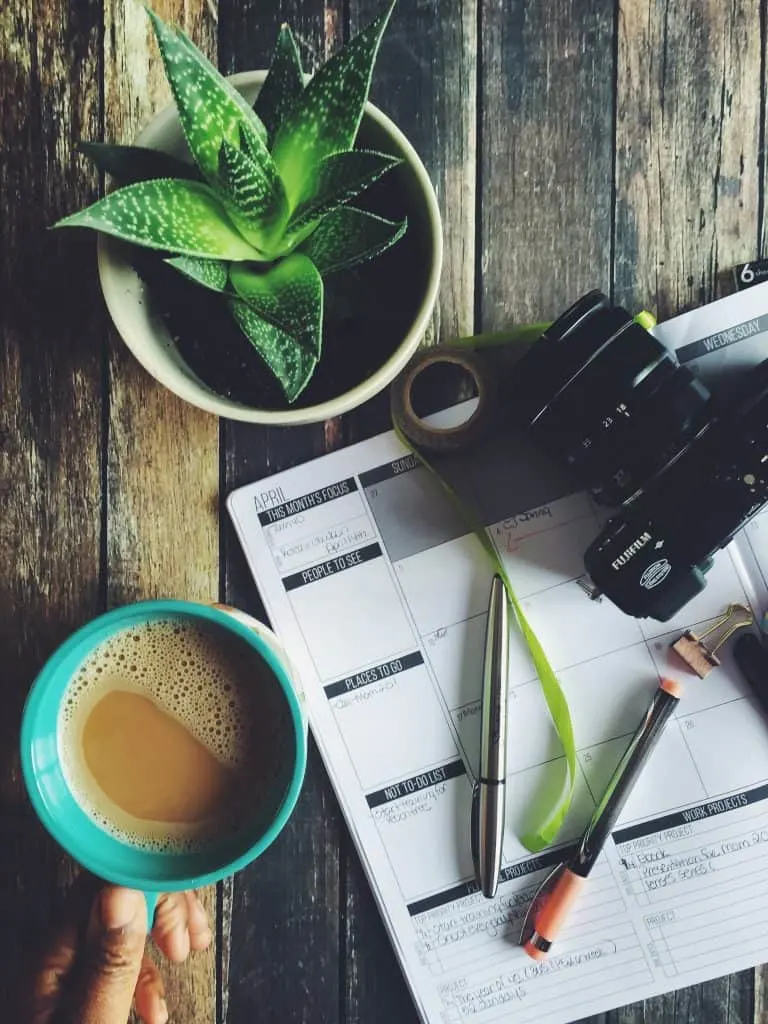 How to Pick The Best Planner
1. What's Your Budget?
Planners can get expensive! You can pay anything from $5 at Aldi to $60 for some of the bigger planners.
2. How Much Detail do you need?
What are the important things you need in a planner? Do you just need a monthly and weekly view? Do you need slots for days too? Or do you need room to journal, draw, play with stickers and plan your day? Do you want the times written in? Days? Or would you rather have an undated planner to use as you need?
3. What features fo you HAVE to have?
For me, I need space for taking notes, scheduling my day( a sort of hybrid time blocking), a space for meal plans and a to-do list for the day. Some people want space to track water intake or exercise or space for goal setting. Know what you NEED in a planner before you start to look.
4. Are you looking for a specific size?
Planners come in many different sizes. The more stuff you have in it, usually, the bigger the planner. Do you want to carry it around in your purse or are you ok leaving it open on your desk at home?
5. How much time do you have?
How much time do you have to invest in your planner? Are you using it to get organized AND as a creative outlet? DO you have time at the beginning of every week to add stickers and decorate? Or do you need something bare bones where you can just start putting your plans and important events?
Best Planners for Moms
The following planners are just a few of the many many options that are out there for busy moms, working moms and even a stay at home mom. All of them have great features: I have everything from the traditional monthly planner, to weekly pages or planners that help you write out your daily routines. I have chosen all of these because I have personally tried them all and no matter which one you chose, you will have a great planner.
Therefore, I've included the pros and cons of all of the planners here, just so you can get an idea of what may or may not work for you.
However, always remember that you don't have to stick to the planner you choose. LOL. I have been known to switch planners mid-year after my chosen planner didn't fit my lifestyle. For example, I've gone back to the same planner over and over again because it's the only one that has worked.
Ok. Let's get to my favorite planners for working moms.
Photo Credit: Erin Condren
The Erin Condren was the very first Planner that cost over $20 that I ever purchased for myself. I really think it was designed with the busy working mom in mind.
Pros
*3 Different Weekly layouts: there is a
Vertical layout with has 3 vertical boxes per day which is perfect if you do block scheduling or want to separate your to-do lists ( work vs home vs family)
The Horizontal Layout is perfect for academic schedules or those of us who write full sentences.
The Hourly: This is for those of us who have tight schedules and want to plan out every moment or black schedule.
*Many cover designs
*Colorful layouts.
Cons
*Not enough space. If you are a writer, or you take lots of notes all day, there is simply not enough room.
*Not compact. While It's not as big as some planners, you will need at least a medium-sized purse to carry around.
Photo Credit: daydesigner.com
. This was the second planner I moved to when I outgrew the Erin Condren planner.
This was the first planner that I ever used that had a daily schedule and view and it changed the way I plan. It is hands down, the best daily planner.
Let's go over the pros and cons!
Pros
*There is a monthly AND Daily view.
*Side-by-side space ( on the same page) for both daily appointments and to-do list
*Extra note space
*Space for dinner( meal planning)
*Area for a top 3 on your to-do list and your personal goals
*Space for daily gratitude.
*Tracking pages for monthly expenses, bucket lists and more.
Cons
*It's heavy. It's not something that you can easily carry around.
*If you take notes during the day or want to doodle and want to keep everything in one place, you will not have the room.
*there
Photo Credit: Michaels Stores
It's colorful, it's playful, its functional and users are RABID! LOL The best thing about a Happy Planner is that there is always a coupon for them. ALWAYS. I love the way you can add pages to customize it and make it your own. No two Happy Planners are alike.
Pros: *Price point. This is one of the cheaper planners out there. And if you have a coupon from Michales', your discount is even better *You can take things out and add others in. I loved this option. I like my daily pages and Happy Planner has Daily inserts with room for a to-do list and an hour view for the planner. It is one of the best customizable planners out there.
*Great if you like a weekly layout with 3 sections per day ( like Erin Condren)
*A large Happy Planner community online.If you have a question or want inspiration for your planner spread, THEY ARE OUT THERE Cons:
*It's HUGE. ( even though there are Mini Happy Planners. I used one this year)
*The pages don't turn as well as a wire-bound planner.
*Not enough space if you are a writer or a note taker
*No hourly view.
*The need to buy extra stuff if you want to personalize your planner. Inserts, stickers covers and hole punchers add up!
Photo Credit: www.amazon.com
I've always been intrigued by the Passion Planner. It's basic. It's a monthly view and a weekly view.
If you write a lot of detail about your day, the weekly spread columns for each day have daily appointments and priorities for each day.
What makes the Passion Planner unique is that it encourages you to create goals and make due dates for each step. It's perfect for goal planning and keeping on track.
Pros
*Affordable The price ranges from $30-$35
*It comes in a small and large size so that you can take it with you.
*there is a new daily version of the planner if you like the daily layout.
Cons
*If you write big, the line spacing is small.
*There are No monthly tabs
*No daily view in the regular planner, it's a weekly spread.
*And no traditional calendar view on the Passion Planner Daily Version.
Photo Credit: www.amazon.com
A Bullet Journal, or a Bujo, is the perfect journal for moms who have time and lots of creativity. Or just like to make lists.
Pros
*You can make your bullet journal as basic or as elaborate as you want. I've seen everything from basics lists to complicated calendars, to-do lists and trackers complete with calligraphy.
*The ultimate flexibility! You control your layout. You can choose monthly, daily, weekly. or nothing at all. You can switch it up every day if you want.
*You can basically customize your bullet journal/planner to fit your life.
*It's small. You can carry this anywhere
Cons
*YOU have to make a complete layout yourself.
*If you are really busy, it can be hard to find time to make a layout every week or every day.
*If you want to know HOW to start a Bullet Journal, just head here.
In conclusion, I want to remind you that even though it can be hard to go through all the planners for moms, you can do it! Choosing a planner is a personal thing, but hopefully, this post helps. This past year, my planner needs have evolved once again, and even I find myself looking for new options.
!
Related posts