Need to eat Gluten Free at Universal Orlando? Keep reading for this guide for options for gluten-free dining at Universal Studios parks, resorts, & City Walk.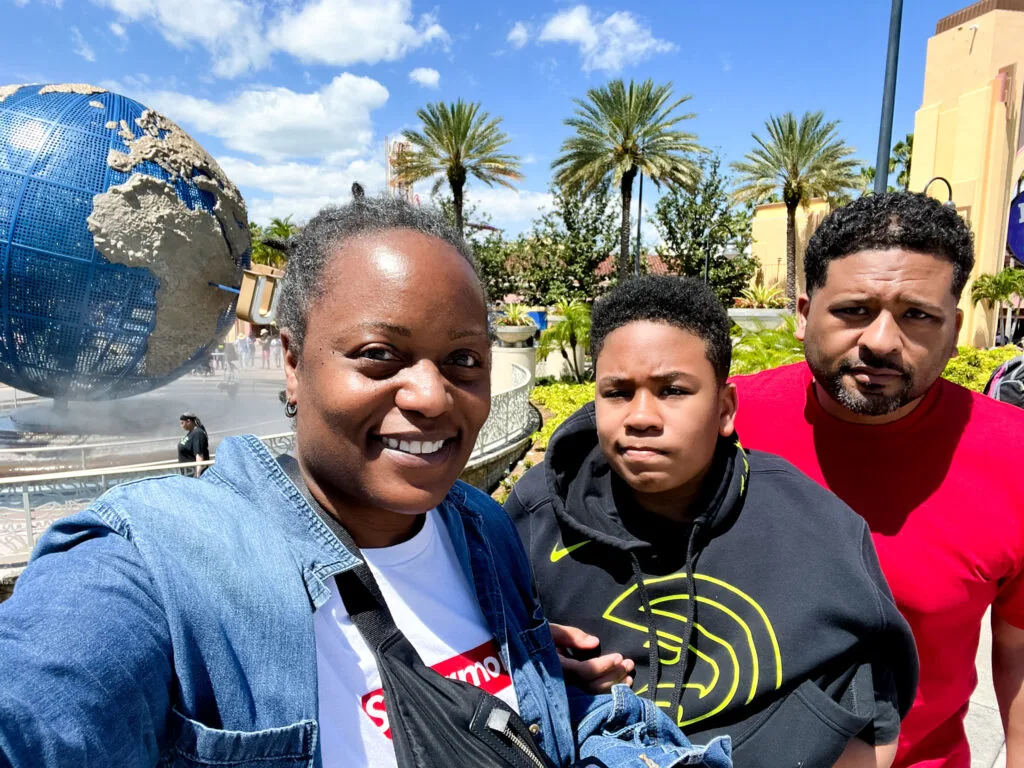 One of the reasons that I started writing these guides on gluten-free travel is that I got tired of the only gluten-free options for my child being dry chicken breast and a side of rice. Or salad. Try feeding that to a 5-year-old for every meal! There is an extraordinary amount of research that goes into almost every trip we make due to Pookah's gluten allergy, and as a mom I wanted to take that burden off of someone else.
Our Personal Experience
Before I start, let me be clear that Universal Studios Orlando is not Walt Disney World. So adjust your expectations. But what I will say is that Universal Orlando CAN do a better job. In this day in age, there really is no excuse for a family to go off-site to feed their child because the hotel restaurants can't or won't accommodate them with any gluten-free items besides popcorn and rice crispy treats at the Starbucks in the lobby.
We asked the concierge at our hotel about gluten-free options. She gave us one restaurant in the park and then told us about one more close by. She half tried. I emailed universal and got a vague reply about restaurants making accommodations when it simply wasn't true.
Dinner at our hotel was impossible because either they didn't know or weren't even willing to try.
The theme parks, while having a few great full-service restaurants with gluten-free menus or gluten-free options on their menu, lack in quick service restaurants with gluten-free options. When you are at a theme park, you don't want to waste your day sitting down in a restaurant for a safe meal.
But the good news is that there ARE options for gluten-free at Universal Orlando. With research and care and a lot of diligence, we ended up enjoying our time at the theme parks.
Before you go.
Research, research, research.
I hate to compare the two, but again, Universal Orlando is not Disney. You can almost wing it at Disney these days because they pay just that much attention to detail when it comes to food allergies. You can go in almost every restaurant there and find something safe and delicious to eat.
Not so at Universal Studios even though the allergy guide on Universal's Website certainly makes it seem like it's "easy "accommodating every taste" .
The good news is that you CAN find great gluten-free options at Universal Studios Florida! However, it requires much more research and planning.
And that's OK!
However, it's not easy and that is why I created this guide. so that you can have a bit more help than I did. While it takes a bit more work to find, there are some great options in universal parks.
Gluten Free at Universal Orlando: 15 Gluten Free Options to Try
Before we start, please remember that this is not an exhaustive list of gluten free options. Also, the information in the blog post is accurate at the time of posting,and due to supply chain issues or other things, can change without notice. Remember to ALWAYS notify a Team Member about any dietary restrictions ( food intolerances, gluten allergies or celiac disease) before you order.
Gluten-Free Dining at Universal's Islands of Adventure
Mythos Restaurant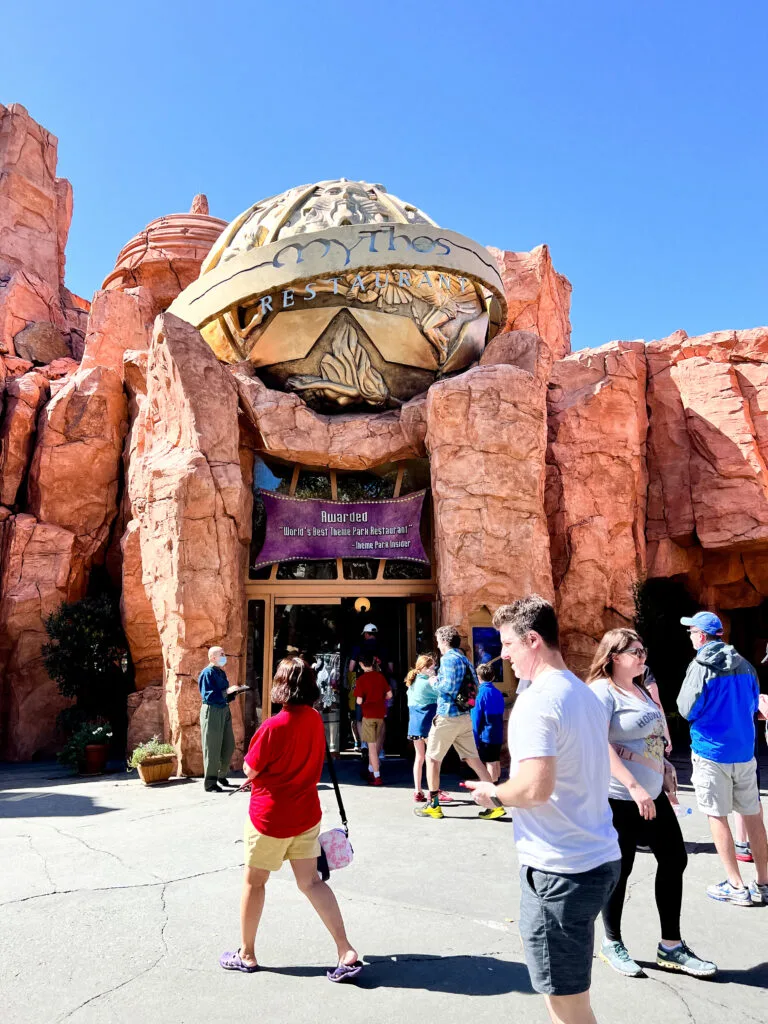 This greek mythology-themed restaurant is located in the Lost Continent in Universal's Island of adventure, Mythos has been voted the best theme park restaurant, and it's the best place to find gluten-free food at Universal Orlando.
Three Broomsticks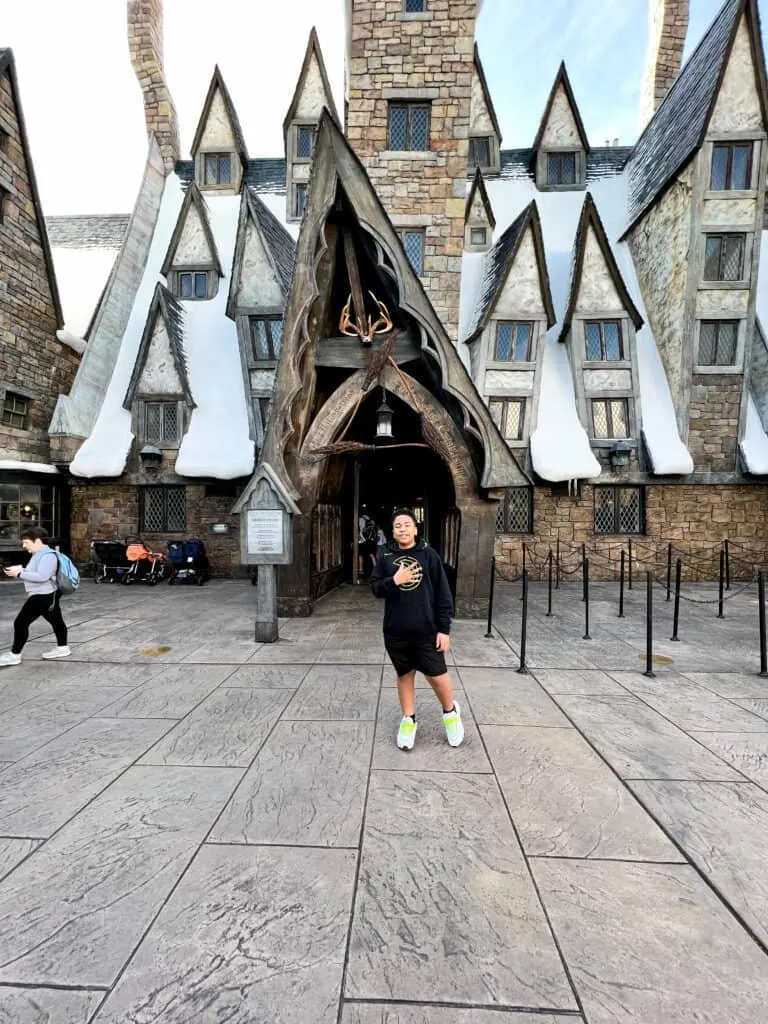 Located in the Wizarding World of Harry Potter in Hogsmeade, breakfast here is the best. They even have gluten-free pancakes. It is not listed on the menu but if you mention it when ordering, the head chef will come out and talk to you. They do have a dedicated fryer.
Burger Diggs
Also have a dedicated fryer for gluten free and have the option for gluten free buns.
Green Eggs and Ham Cafe
If you are looking for quick service options, Green Eggs and Ham cafe has a few gluten-free options that include the Pizza Tots, Who Hash, and the Green Eggs and Ham.
Thunder Falls
Great barbecue spot that has a dedicated gluten free fryer.
Gluten-Free Dining at Universal Studios Hollywood
Mel's Drive-In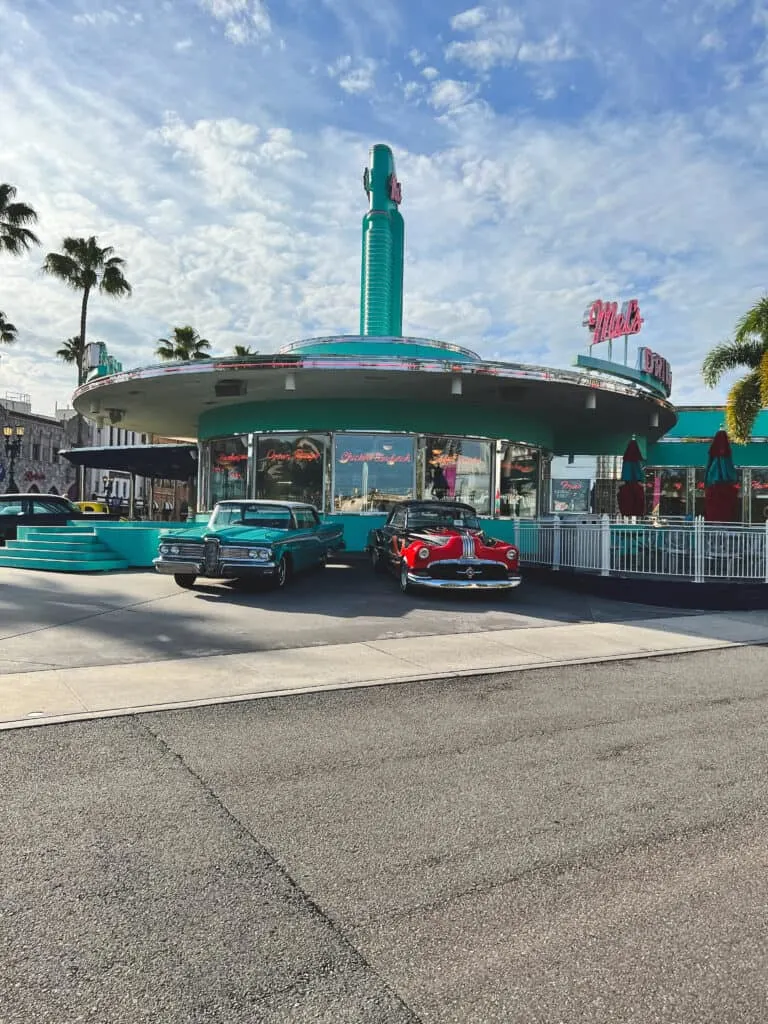 For a good burger on a gluten free bun and french fries from a dedicated fryer, check out Mel's Drive-In. The cool cars outside are the perfect photo op.
The Leaky Cauldron
Located in Diagon Alley on the Universal Studios side of The Wizarding World of Harry Potter, there is not much that they can custom make, but there are gluten free buns for the chicken sandwich and a dedicated fryer.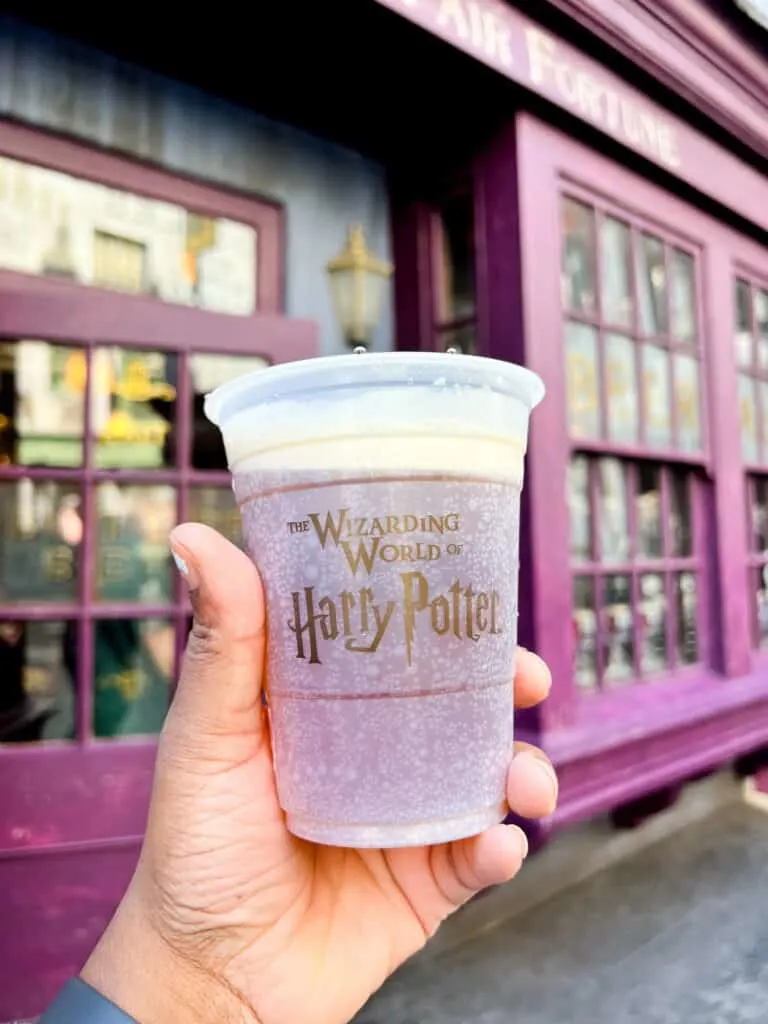 Also, don't leave without getting yourself a cold butterbeer! Note: All of the different kinds of Butterbeer are gluten-free! That means HOT, regular, AND frozen! The butterbeer ice cream is also gluten free as long as you get it in a cup instead of a cone.
Today Cafe
Today Cafe is a good option for a gluten free breakfast in the park. They have options that can be modified including Avocado Toast.
Gluten-free at Volcano Bay
Bambu
Typical burgers and chicken and Mahi sandwiches can be made with gluten free buns. Also, salad options are available
The Feasting Frog
Included this option because the nachos are gluten free if you request it without the chili
Gluten-Free City Walk
Margaritaville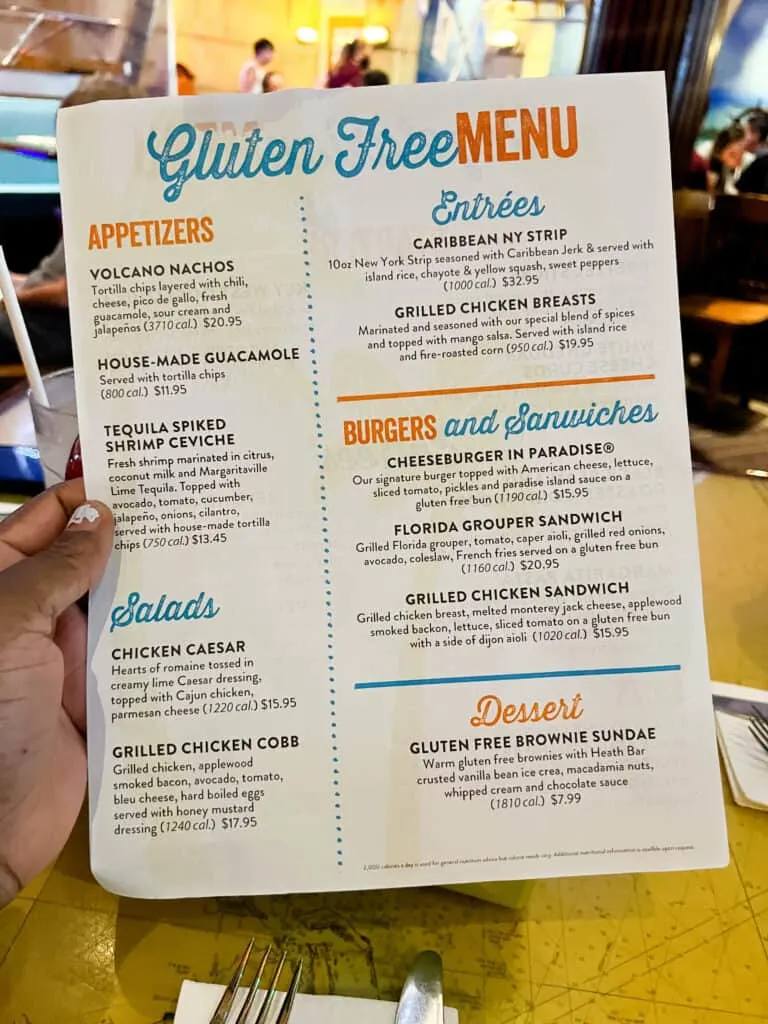 We ate here TWICE. They have a separate gluten free menu that is extensive. We loved the Volcano Nachos.
Hard Rock Cafe
There is also a full gluten-free menu here that includes a variety of salads, flatbreads, burgers/sandwiches, entrees (and even desserts (there is a Gluten-Free Brownie Sundae and Crème Brulee).
NBC Sports Grill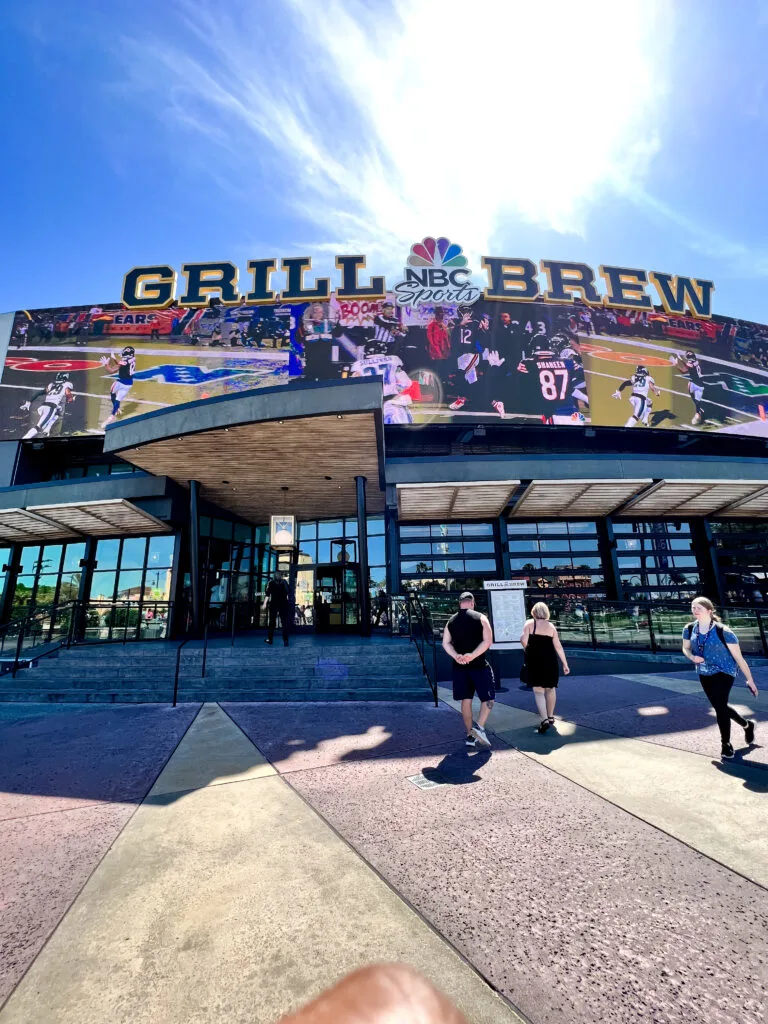 While no dedicated gluten free menu, they did have items that could be made gluten free designated on the menu.
Gluten-Free at Universal Resort Hotels
Cabana Bay
I'm listing the actual resort here because Cabana Bay, at the time I'm writing this, is one of the most accommodating Gluten free resorts that Universal Has. There are options available for breakfast lunch and dinner. And not just side salads.
Amatista Cookhouse
A great sit-down option located in Sapphire Falls Resort. It is easy to get to from the park if you take the water boat right to the hotel. Gluten Free items are indicated on the menu. We had a reservation and no wait.
Hopefully, this guide helps you enjoy your adventure at Universal Studios safely! Tell me, what's your favorite place to eat Gluten Free at Universal Orlando?