It's time for the 2019 August Eyecandy Photo a Day Project for Instagram!
Last year, we were all doing the CherishEveryday 365, but THIS YEAR, I'm back to my four times a year photo project.
I started to skip because life… but then remembered that I do this because…life.
I've gotten out of the habit of taking photos due to the increased emphasis on video on the gram. I'm like no one is taking photos, no one wants to share, everyone is more interested in videos of people dancing and pointing.
But friends.
I've built a community around these photo challenges and while I welcome anyone new , my gram photography community is my ride or die!
And since they wanted it, Im bringing the August Eyecandy back this year.
This is our fourth year and I can't wait to see how your summer is ending.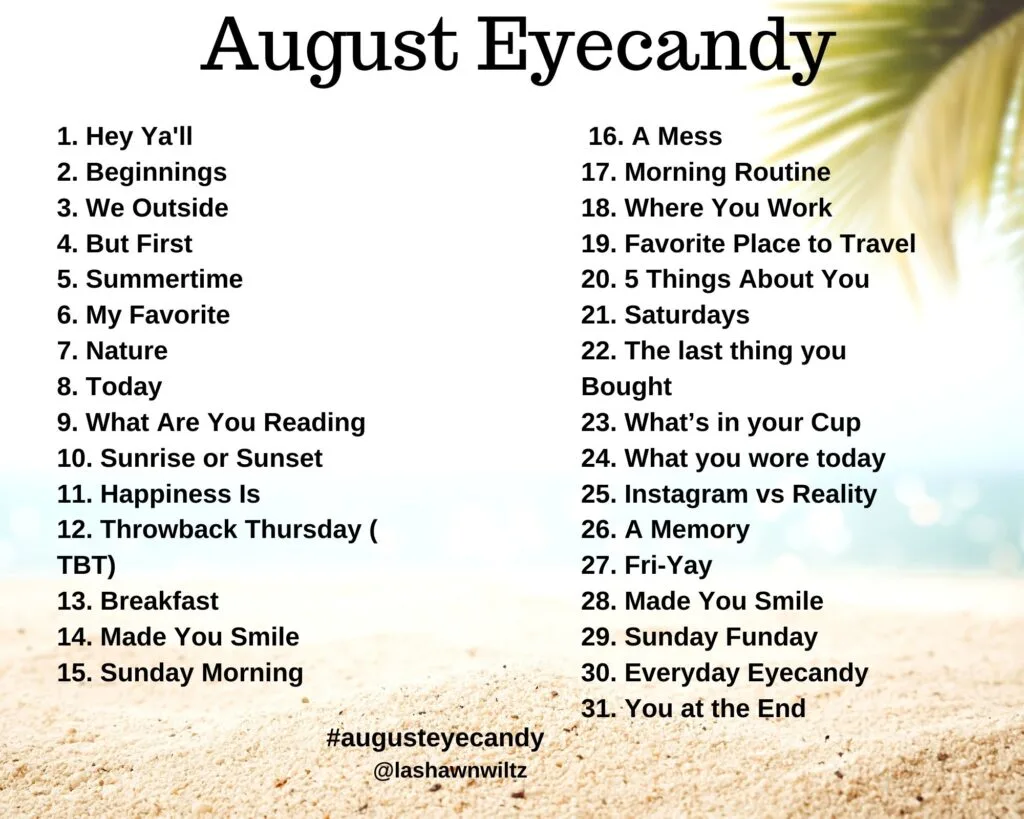 So how do you participate?
Simple: Just check the list every day and take a photo using the prompt as your Inspiration.
Then, share your photo on Instagram using the hashtag #augusteyecandy
Go through the #augusteyecandy hashtag to like and comment ot be a part of the community.
And new this year, I've started an Instagram account to share your photos! If you want a chance to be featured, TAG your photos #augusteyecandy!
I can't wait to see everyone's photos for August Eyecandy 2019!!! Make sure you are following me on Instagram @lashawnwiltz!
Pin this and share it with your friends so they can join too!