Should you stay at an off site or on site property when you go to Disney World? Check out this complete guide to off site vs on site at Disney World to help you plan your trip!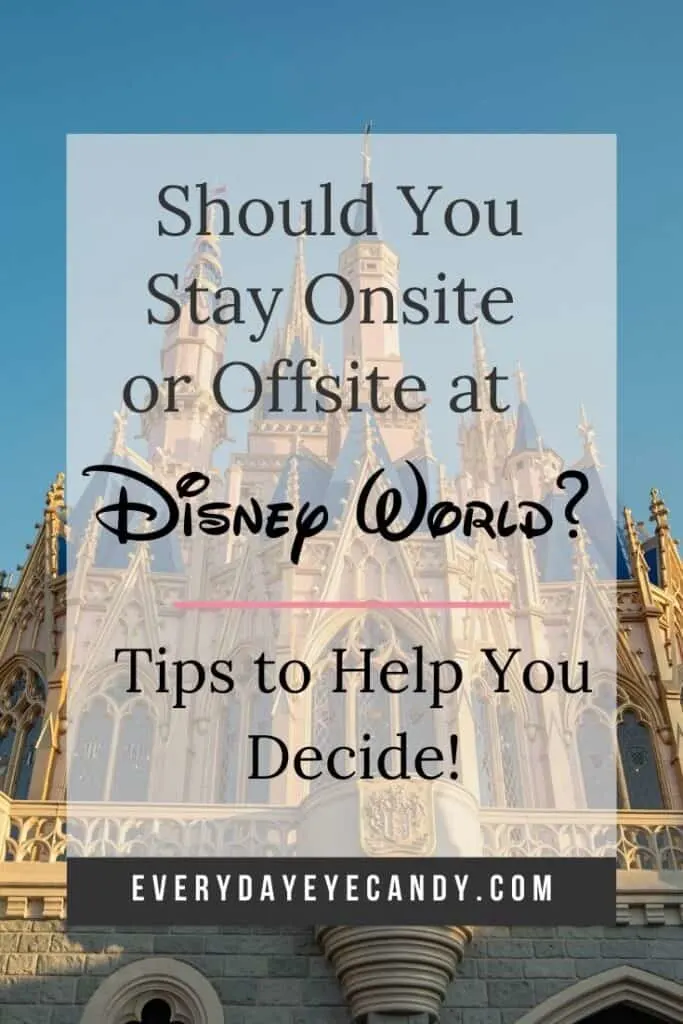 I admit, before our last trip to Disney World, I was an ON SITE snob. I had stayed off site twice, but always always preferred to stay on property.
But I realize that not everyone wants to have the same experience and that some people might actually PREFER to stay off site due to a variety of reasons! And so in the interest of giving you all the information you need to help you plan a trip to Disney with your family, I decided a post on off site vs on site at Disney World needed to be written!
Because making the decision of where to stay can be overwhelming and really is an important decision. Especially if this is your first Disney World Trip or the only one you plan on making. If you stay on property at a Disney hotel, you get access to some great perks, but with a price tag that can be hefty. Staying off property can give you a lot of flexibility, but will it still have all of the same Disney magic that you are looking for?
Both on and off property resorts and hotels can range from no frills to 5 star depending on your budget and individual family considerations.
So what do we mean by On Site Vs Off Site Disney World Hotels?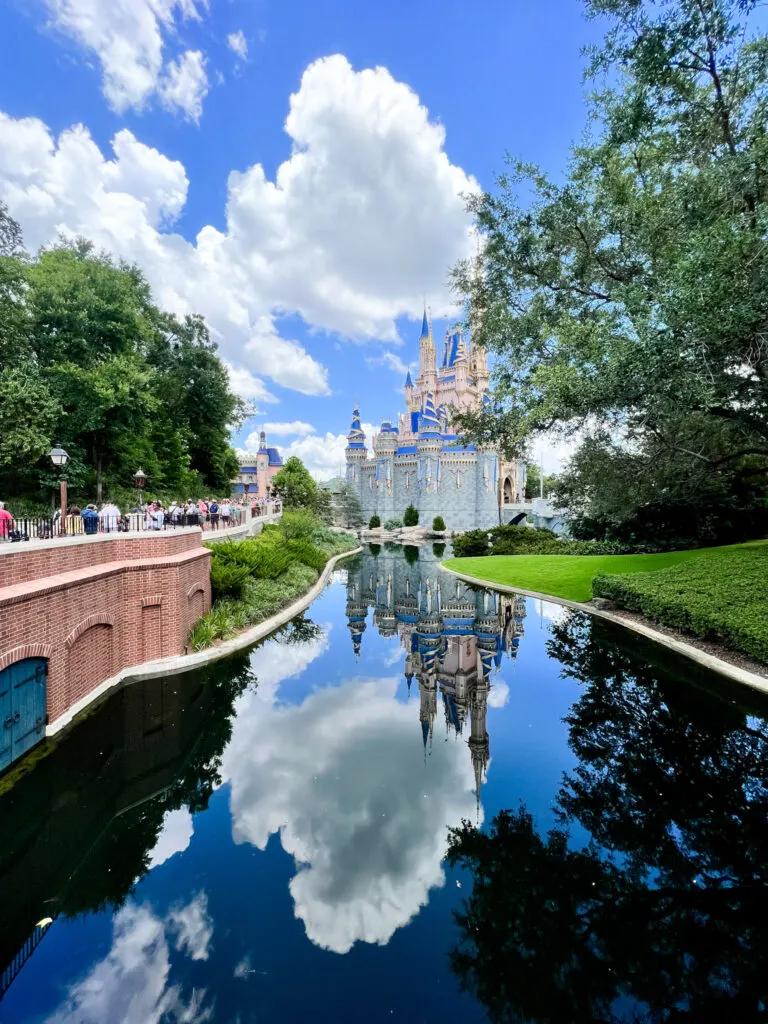 Ok, let's cover some basic definitions here:
An ON-SITE Disney Hotel or Disney Resort is a hotel/resort that is owned and operated by Walt Disney World. These hotels/resorts are located within the Disney World Resort and usually have "Disney" in their name like: Disney's Contemporary Resort, Disney All Star Resort, Disney's Saratoga Springs Resort.
An OFF-SITE Resort or Hotel is a property that is owned and operated by third party vendors and are located outside of Disney World property. These can include the Bonnet Creek Hotels and also, houses, condos and airbnbs for the purpose of this post.
AND there is a third category: Disney Good Neighbor hotels, which are a hybrid of on site and off site Disney hotels. These include: The Walt Disney World Swan and Dolphin and the Four Seasons Walt Disney World.
Benefits to Staying Onsite at Disney World!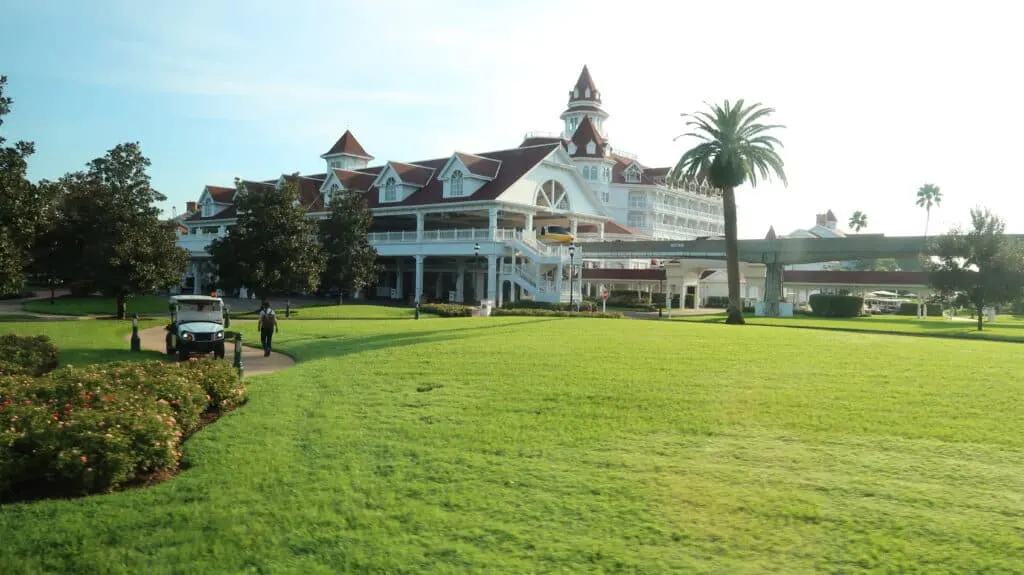 1.Early Park Entry and First Dibs on Lightning Lanes.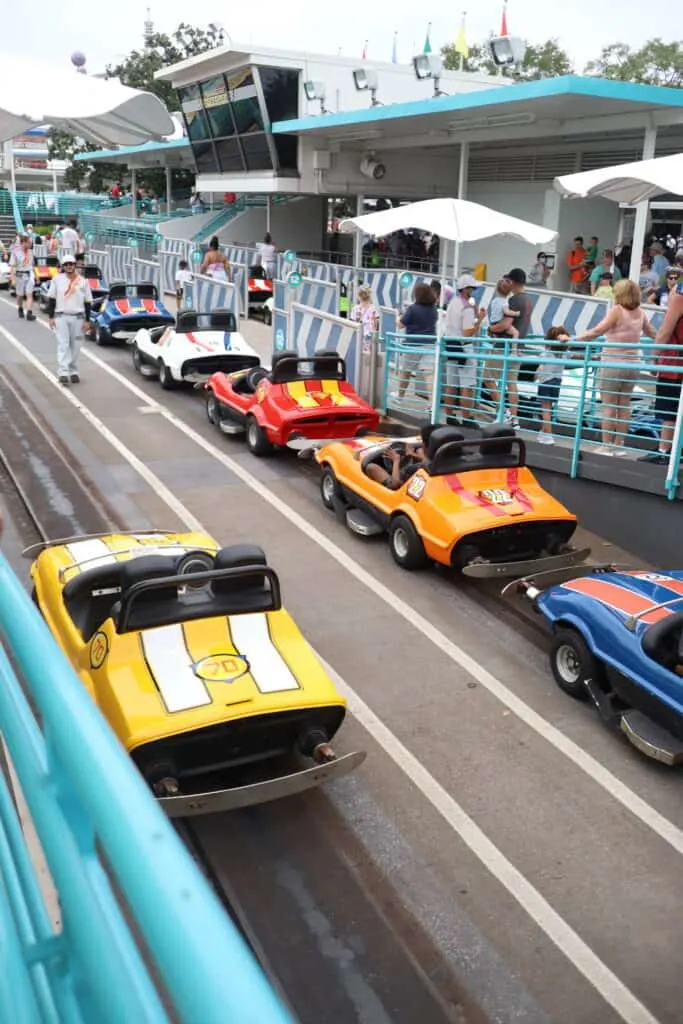 When you stay on site, Disney resort guests have access to early theme park entry. They are allowed to enter any of the Disney parks 30 minutes prior to park opening. This used to be called extra magic hours, but those went away during Covid.
Now each guest must have a park ticket and a park pass reservation for the park you are entering to get this benefit. The main bonus to this is that Disney Resort guests are the only guests who can rope drop any of the parks. Off-site guests are effectively locked out of it because they can not get in the park until 30 minutes later.
Why is this important? When the park opens is the BEST time to be at the parks. Lines are short and it's easier to get on rides.
Another advantage is Lightning lane access.
Disney replaced it's Fastpass + with Lightning lanes during Covid. And the jury is still out on whether or not this benefit is worth it.
Disney resort guests are able to make their Individual Lightning Lane reservations at 7am EST. Guests staying off-site have to wait until the official park opening time.( about 1-2 hours later) .
2. Free Transportation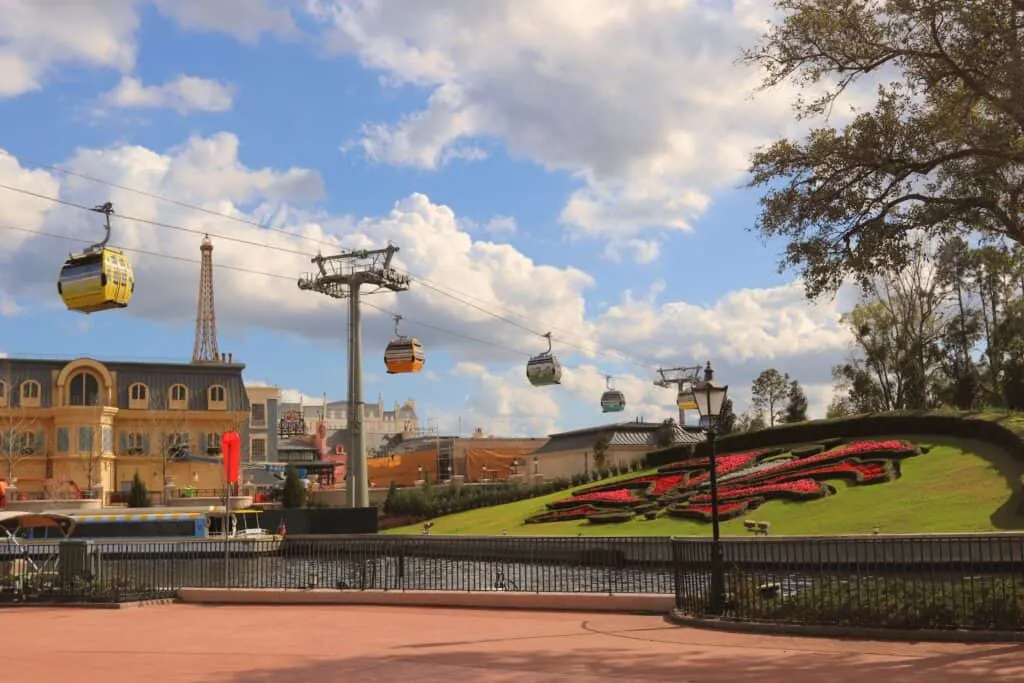 If you stay off site, you will have to drive to the Disney park parking lot,then take the tram to the monorail or the boat for one of these to THEN take you to the park. On a hot day or after a long hot one, this can be a LOT.
And you have to pay. But paying at one park's parking lot allows you to use that parking pass at other parks that too also.
Let me tell you how this can go: We were trying to get back to the parking lot after the fireworks at night at the Magic Kingdom and the wait to get on the boats and the train were long! It did however move quickly if you were willing to wait for the crowds to die down.
If you stay at a Disney property, Disney Transportation is in my opinion a big benefit. Yes, the system has it's issues ( long waits at peak time and crowding) but it's convenient.
If you stay at a Disney World Resort you really don't need a car. Anywhere you need to go on property, the Disney Transportation system ( buses, boats, monorails and the Disney Skylander) will take you wherever you need to go. ( This includes other Disney World Hotels, Disney Springs,and the water parks.)
There are even some resorts within walking distance to the parks like three deluxe resorts :The Contemporary Resort, The Polynesian and The Grand Floridian.
NOTE: There are NON-Disney hotels located on Disney Property! For example: The Swan and Dolphin is located within walking distance of Epcot and Disney's Hollywood Studios. And some hotels like Bonnet Creek are closer to the parks than some disney-owned resorts.
In general, Yes, once ON property, off site guests can use the Disney transportation system too, but it's getting TO the parks that's the problem.
3.Dining Reservation Booking Window Advantage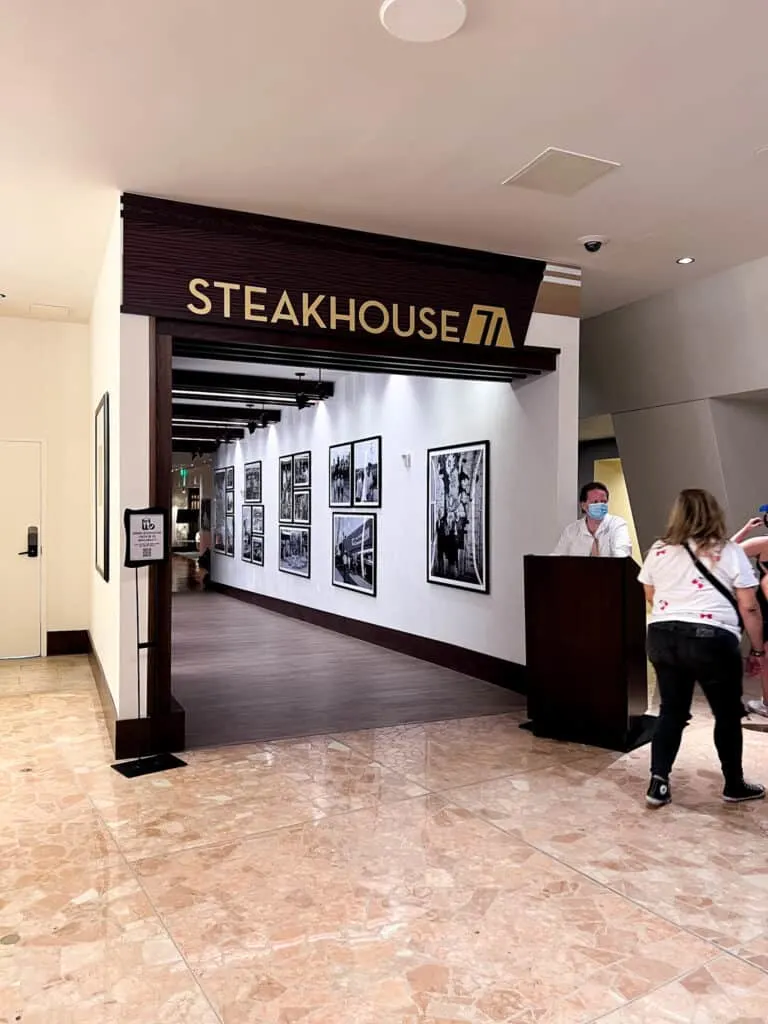 The window to book Disney dining reservations opens up 60 days prior to the date of check in for on site Disney Resort guests. When the window opens, Disney resort guests can book dining reservations for all of the table service restaurants they want for their entire trip.
Off site guests also have the 60 day booking window BUT, it's 60 days before each individual day that they want to book a restaurant. The bookings open at 6am, so if they have a week long trip, they have to wake up every day during that week at 6 am to try to grab the most popular dining reservations.
Disney resort guests only have to do this once, on day one. For hard to get bookings, this can be an advantage.
4.Being Immersed in all things Disney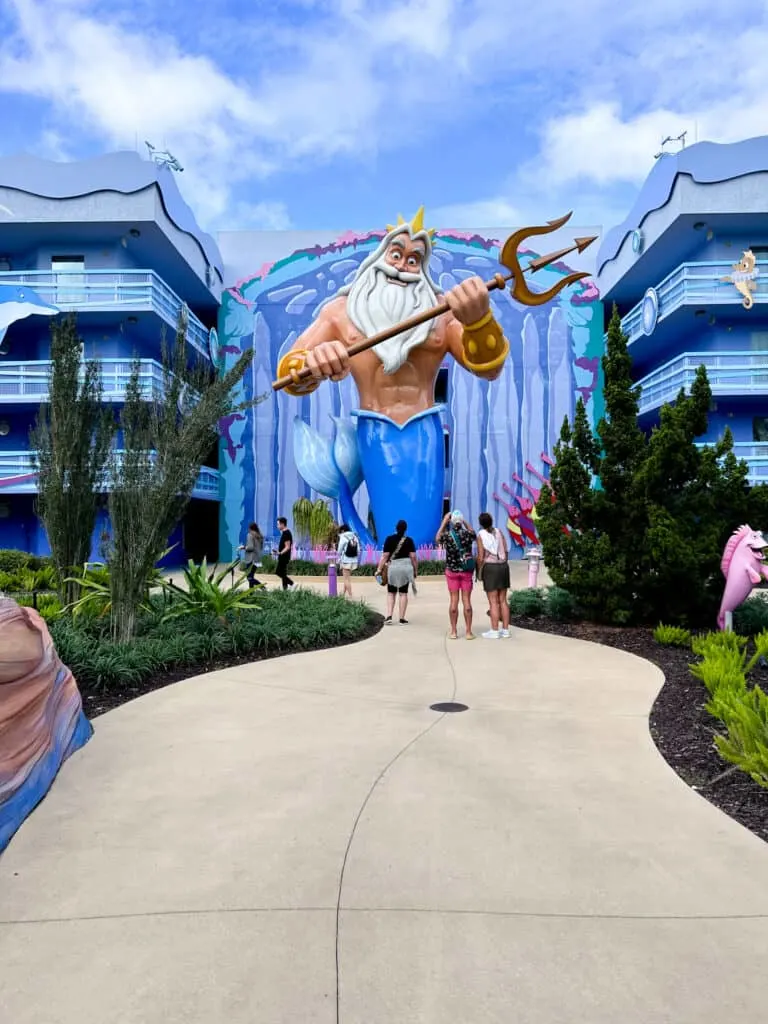 The best part of staying on site at a Walt Disney World Resort Hotel, in my opinion, is the complete immersion in the Disney Universe.
You are literally in a Disney bubble, surrounded by the magic 24/7. This is why Disney Fans LOVE this. Disney does such an awesome job at creating a magical environment that makes you forget your worries and just enjoy. EVERYTHING is Disney themed from the room to the food to the lobby to the gift shop to the grounds of your resort. It's an experience !!
And this cannot be duplicated when you stay off site.
Reasons to stay OFF site!
1.PRICE( more bang for your buck)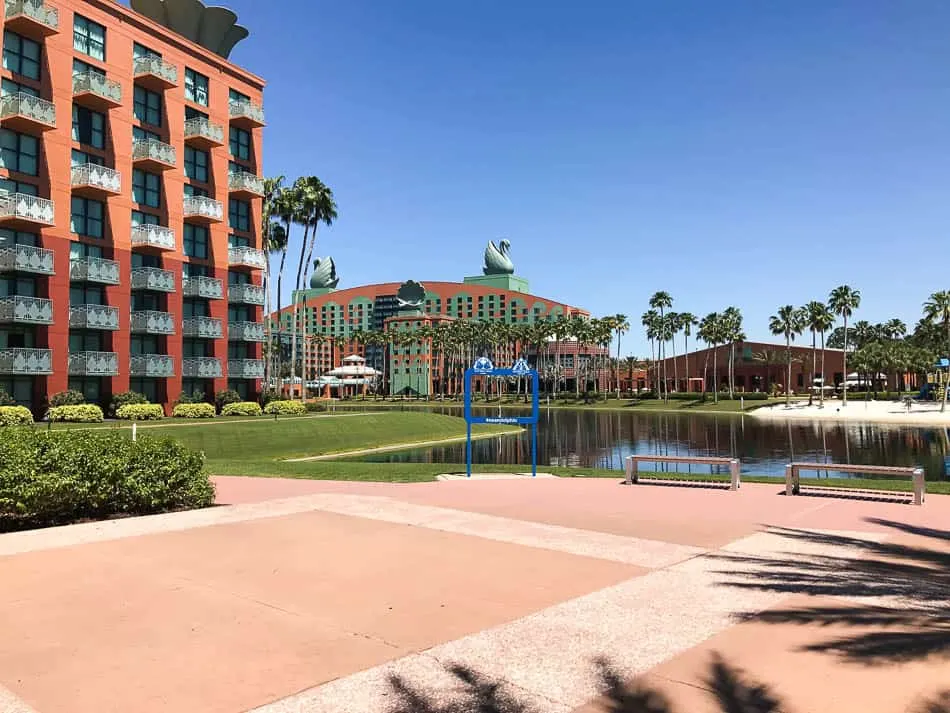 Let's just be honest and get this big one out of the way shall we? Depending on what time of year you are going, how big your family is or what discounts are available, the price difference can be big enough to make a difference in your budget and the quality of your trip.
But, if you have a very strict budget for your Disney Vacation, you will save the most money by staying off site.
In general, the hotel rooms and resort hotels away from Disney Property generally have more space for less money. If you do your research, you will be able to find a hotel that fits your budgetary needs and have excellent value. Also, consider checking out Airbnb, VRBO and Villa Direct. We stayed in a 5 bedroom 3 bath house with a pool 15 minutes from the park for waaay less than we would have paid for a On Site resort.
2.Food Costs
Staying off site can also help you save on the amount of money you spend on food! Because unless you book a Disney Vacation Club Hotel room with a kitchen, you will be eating out for every meal staying on property. But if you stay off property, you can book a room/suite with full kitchens or kitchenettes for far less than you would on property ( that more bang for your buck point). You can also have your groceries delivered ( which can really help with snacks and bottled water).
Another thing to consider is that a lot of off site hotels include free breakfast. This can be anything from fruit and pastries to waffles, pancakes, bacon and eggs. Disney hotels…do not.
But eating your breakfast off site every morning can save a ton on money vs having breakfast in the parks or at one of the dining options at a Disney hotels. And if you have a large family or a family that eats a lot, staying off property and not taking your meals in the parks or resorts can save a ton of money. The areas surround your hotel/home/resort will likely be surrounded by a large variety of restaurants and fast food options.
.
3.Other Orlando area attractions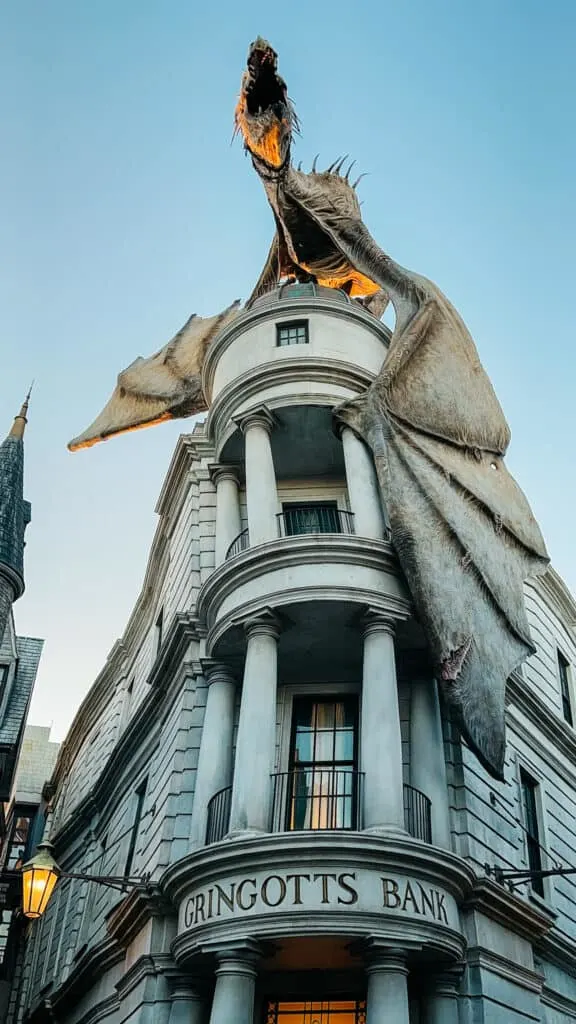 If you are planning to visit other orlando attractions like Seaworld, Universal Studios Orlando, Lego land or the beach, it will be more convenient to stay off site.
We have done this before, snuck in a beach day in between park days and even did a day at Universal Orlando to break it all up.
4 More Flexibility
For the most part, when you stay off site, you can tailor make your Disney Vacation and accommodations to be suited to your family and their needs. Remember, we are not just talking about other off property hotels! Remember, there are vacation homes, suites at hotels, and condos all available at various prices to accommodate whatever you need. We decided to rent a vacation home when we went with my in-laws this summer and everyone had their own room, we had three bathrooms, a full kitchen, an activity room( pool and foosball) , washer and dryer several tvs and even our own pool.
So if you need to accommodate a large group and stay in budget, keep these options in mind. A good deal can always be found that can accommodate your entire family.
So should you stay Off Site Vs On Site at Disney World?
I can see both sides, because depending on the situation, both have worked for us! Because while i love being immersed on site at Disney, I also love having the options that being off site gives you ( food flexibility, room to spread out and a break from the parks).
My best advice is to choose what works for you and YOUR family. The point is to have the best Disney vacation possible, and that is totally possible no matter if you stay off site vs on site at Disney World! I hope this has been helpful for you!
Enjoy your vacation!